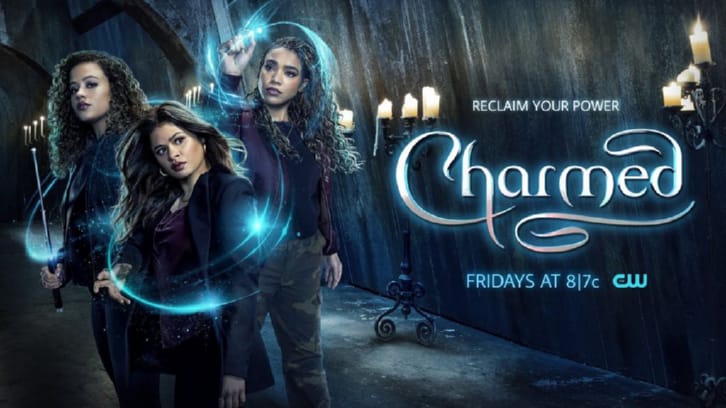 Charmed's season 3 got a lot more complicated during the latest 3 outings in June. With some good laughs, interesting storyline choices, and some baiting season 3 is slowly closing its door with a couple of stories overlapping. So let's dive into what happened in the last three hours of our Charmed lives.
Perfecti Is The Enemy of Good
Episode 14 was definitely a banger. The episode combined strong magic, interesting and a couple of laughs, and the show's biggest twist so far. The episode was written by Christina Pina and Carolyn Townsend and directed by Joe Gallagher.
Right of the bet the episode introduced some good magic and accelerated the episode's progression by putting Mel into a magical coma, as a counter to the Perfecti's spell. The idea of the magical candles creating a protective barrier from the Perfecti was smart and the sisters mentioning Brujeria was a sweet nod. But this nod made me realize why was the sister's Book of Shadows full of Western magic when it was made by their Puerto Rican ancestors who practiced Brujeria. Another "small" plothole in the not so peculiar writing of the last two seasons.
But that aside, Mel was having a chilling time in her coma. She was so out of this world that her future self was able to transfer their unborn belly into Mel's uterus. It was an interesting choice from the writers and a good way to incorporate Melonie Diaz's real-life pregnancy into the show. It was most definitely not what I expected to come out of this episode. I have to give major kudos to Melonie Diaz for the great use of screen time during this episode. The moment she revealed her "new" baby bump to her sisters was so precious and delicate, the way she embraced her duty so radiant and proud.
Meanwhile, in the land of the not comatose people, Macy and Maggie geared up with Celeste and Harry for a fight against the Perfecti. Kate Burton is such a great addition to the cast, Celeste is the magical support and guidance the sisters needed so much. I am happy that Covid didn't prevent Kate from stopping by and give the sisters (and Harry) the support they've needed. Also, I really appreciate Celeste's notion of protecting Harry's wishes. It was a good follow-through to the story introduced in the previous season.

The episode progressed quite fast with Macy and Celeste building a Golem, while paranoia was creeping up on Harry and while Maggie went all Abigail Caine on Fenrick. Rupert is really good at playing high-wire, the way he went through his delusions and interpreted them was just cracking me up. On the other hand, Poppy showed some great comedic acting skills as she balanced a Maggie-induced version of Abigael. It was an obvious contrast between the always so serious Abigael and the though eye version she gave us in this episode.
The eventual face-off between our crew and the Perfecti was quite surprising and I fairly enjoyed all the twists that unfolded along the way. The way Mo and Aladria switched from certainty to fear was just brilliant. I expected a bit bigger blowout between the sisters and the Perfecti but buts were kicked hard so it felt satisfying and no Potentia trium this time around (screams internally)
Other Tidbits:
- Nurse Ruby was great. More Ruby is always better, I hope her character will be explored more during the upcoming episodes/seasons.
- Also was that the first scene between Ruby and Harry. Seeing Ruby so heartbroken over Mel really hurt.
- Why didn't the Perfecti just kill Mel? Felt a bit gullible, didn't I?
Schroedinger's Future
Episode 15 was another good episode but as most of Charmed's episodes didn't live up to the potential it had. Stuart Gillard directed the episode written by Bianca Sams and Blake Taylor.
Time travel stories are some of my favorite things to watch on TV or read in books. The spectrum of possibilities, twists, and turns you can introduce with this storytelling is unlimited and glorious. So did Charmed's time travel expedition hit all the right notes? Not really. In last week's episode and this one, the writers mentioned the butterfly effect but they really didn't dare to play with it. Cause even the transfer of Mel's magical baby and curing Mel's magical allergy should have repercussions that would've changed the future the sisters visited beyond imaginable. If the Baby helped them cure the allergy and defeat the Whispering evil, the future should've changed instantly as a new timeline was born that exact moment. So with this out of the way, let's dig into what went down in "Schroedinger's Future."
In the first heavily Melby-centric outing since the season 2 finale, the writers went all out and wrote some really beautiful stuff for our leading lesbian couple. At this point, I really don't understand why the writers didn't make Bethany Brown a regular. Her interaction with Melonie is just so soft and really gets me every time. The setup within this episode was really good, they moved from a Mel who doubted her capabilities and herself to her questioning Ruby and their future to resolving it as the episode progressed. The baby is a curveball, it changed Mel's life throughout and her putting pressure on herself and her relationship with Ruby felt like the natural progression of the story. Ruby opening up to a reluctant Mel and getting blocked as she tried to open up was really frustrating. At the same time, I've appreciated Ruby's patience and willingness to prove she is there to stay, no matter what. The moment it was revealed the magical allergy was gone felt a bit underwhelming but still hit the note as Mel and Ruby locked eyes. Their moment on the porch swing was just breathtaking. The atmosphere, the energy of the actresses it just all fell perfectly in plays.
Meanwhile, Macy and Maggie were on a road trip to 2026 to find future Mel and find out more about the evil they are about to face. Things fall well into place as their journey progressed, with them seeing how the future looks, encountering future Abigael, death of future Abigael, facing the obstacles, and the infected Macy. Generally, it all worked really well, but it still left me wanting more. For the journey to have a bigger impact, for the sisters to be more prepared and empowered, for it to make more sense. Yet, I think the events of these episodes left an impact on Macy and Maggie that will transcendent into the future stories.
On the other hand, Celeste had her hands full with Harry. Teenage Harry was annoying but also adorable and relatable. The writers obviously enjoy writing these stories for Harry and Rupert really gives his all while going bonkers in front of the cameras. Celeste "smothering" Harry was really charming and their bond is really so strong and gave both characters proper progress and development. The synopsis for 3x18 already revealed Celeste will be back and I can't wait for it.
Other Tidbits:
- I just grin from ear to ear when they use this many spells and rhyme away. The show really should explore the magical world more and not try to introduce some super monsters each season. And we need more of the magical bugs on missions.
- Can we find out more about Ruby, her mother, and her active powers? But before that give us the backstory on Marisol and Dexter and the sisters.
What To Expect When You're Expecting The Apocalypse
I definitely wasn't expecting this turn of events, that's for sure. Or did I? The reveal of Jordan being possessed by the Whispering Evil was a surprise but also wasn't but what definitely wasn't a surprise is that the sisters again got character development far away from each other. Let's dig into the episode written by Joey Falco and Carrie Williams and directed by Joe Gallagher.
Should I drag an episode where all three sisters got a decent character development only cause they''ve got it through interactions with secondary characters? Probably not, and I wouldn't if this was a one-of-a-time thing. But the writers are continuously perpetuating this notion of splitting the sisters up and taking their connection for granted. It is just a major shame cause the leading ladies have incredible chemistry beyond the fact that they are extremely talented and that their interactions write pretty much on their own. But apparently not as the writers take every opportunity to avoid it.
Mel still had issues with accepting her pregnancy and having to face two bickering Jameson sisters surprisingly helped. Abigael reminded Mel that being the fierce/empowered witch is what her baby needs and what will make her the best possible mother. It was funny seeing the always composed Mel being emotionally overwhelmed and struggling to put that crib together. It just felt so honest and moving, Melonie probably related so much to Mel's condition give it all a more natural fear. Along the way, the writers played with quite a bit of Abimel baiting (ICYMI Abimel is the shipper name for Mel and Abigael). The girlfriend nod, Abby calling Mel's baby Ours, it was all layered very thick, embarrassingly thick. I know the Abimel pairing has a great following online but I personally just don't feel it. Yes they've had some cute moments, especially during 2x17 (Search Party) but I don't see Mel with someone like Abigael, but that is just my opinion.
Mel regaining her time witch powers was a powerful moment, but a little bit tainted by the foolish writing. It was odd that the Demon didn't recognize Abby and that she didn't try to put him in his place after his first or second attack. I found Jessica Sipos as Waverly very sweet and endearing, her and Abby fixing their relationship was a good step forward. Revealing that Francesca is after Waverly's child was another gut punch and I really hope that we can wrap this whole messy arc with Macy facing Francesca. What I am also annoyed by is that Abigael's redemption seems to be hanging on the thread of her returning Macy's demon powers. It feels just so underwhelming, as the writers once prove how clueless they are while writing Abigael scenes. The writing feels just so wasteful and unearned like we have this idea, we are shoving it down your throats and you should accept it as we don't intend to improve our writing.
While Mel was trying to conquer a crib, Maggie and Mel faced the Apocalypse in a very weird fashion. The events in Safe Space escalated fairly quickly as an infected Jordan was making his way through the humans of Safe Space and simultaneously setting the sisters on different wild goose chases. Eventually, I felt bad for Macy after the Jordan reveal. She really trusted him and it all fell into the water after it turned out the Whispering Evil was just playing with her. On the other hand, Christin Park knocked it out of the door as an infected Swan and Macy's speech to her just broke my heart. The love and appreciation she has for Swan are just so immense. I am glad the writers reembraced Macy's struggle with her darkness. Seeing future infected Macy left a scar on Macy and think it will eventually blow up in next week's episode as she will go face to face with Francesca and be once again tempted to embrace her darkness.
A major shout out to Jordan Donica for his performance during this episode of Charmed. He usually is very spot on, but Jordan Horacio Chase is the cool and kind type, the Whispering Evil is just a cocky baddy that finally got out to play. This story is really worth playing more with it as Jordan Donica was just brilliant in his interpretation of the Whispering Evil. Only during the rewatch I noticed so many gesture changes and overplaying from the Whispering Evil, compensating for not being Jordan Chase and it just cemented Donica as a tremendous actor for me.
Maggie's character progress as well came far away from her sisters. We once again watched her twirl with Jordan and herself once again reassuring herself that she doesn't need sexy time with Antonio but that she needs to get hugged by Jordan. It is great to see Maggie getting so far and evolving emotionally, so she is at the point that she doesn't need reassurance from a man. It was just a bit annoying that she didn't talk with her sisters about her feelings, instead, she shared her deepest fears with an emotionally wrecked Harry.
Other Tidbits:
- I know the Elders were lushes but Harry saving a kid was enough for them to make him a Whitelighter? Come on writers you can do better than this. Also, the budget for that scene should've gone to something more productive.
- The Whispering Evil aka Kunugmubuya Abayan, I dig that the writers are digging into African mythology. Doing more of these small arcs might be a good choice going forward.
- Am I the only one underwhelmed by how easy the allergy is gone? I know the writing is a bit inconsistent since the start of season 2 but the payoff should've been way better.
That's a wrap on my side guys. What are your thoughts on the very eventful 3 outings? With only two episodes left the Charmed ones have a lot to work to do and probably gonna deliver a new family member. #Charmed returns from its final hiatus in 7 days, the 16th at 8/7 central on the CW.