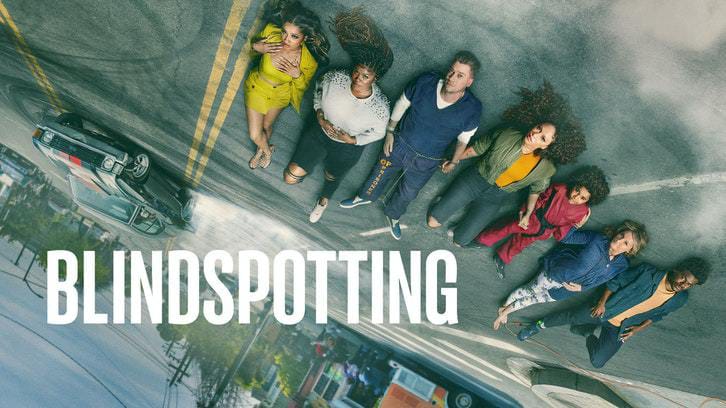 We're here again to talk about Blindspotting! Last week we couldn't comment on everything so this week we're back with a double review to analyze Beaches Be Trippin and Ghost Dad and, goddess, these episodes are gold! Ashley finally opens up to Sean about Miles and herself, as well as getting a little closer to Trish. Ready?
Here we go!
Ashley feels pressured. Not telling Sean the truth about Miles and Mile's questions about it have her on edge. She's trying to avoid facing the truth, why she can't talk to Sean. So what is the best when we feel with no way out? Hallucinate and relax!
Janelle, Trish, Ashley and Jacque take the opportunity to take a psychedelic journey through hallucinogenic mushrooms that reveals some uncomfortable truths about themselves. In the middle of the beach, they find a safe environment in which they feel that they can open up without being judged, unlike what happens in their day-to-day lives.
Trish was honest about the pressure she feels, the way her character explodes, she's aware that she's too incisive at times and gets angry easily and that it alienates the people around her. And Ashley… well, she finally accepts what she feels. It's a lot of pressure, it's like a weight that she has on her chest that won't let her breathe.
She's scared. Once she's honest with Sean, she will have to face that her son hates her and she will no longer be able to have those quiet times with him, everything ... everything will revolve around what is happening.
And she needs a part of her life, even a small one, not to revolve around that. She needs those few moments when she can breathe, when she can forget what is going on. She may sound selfish but ... those moments are what allow her to get up one more day. If she didn't have them, there would only be emptiness and something unknown that she's afraid to face.
These raw feelings bring Ashley and Trish together in a way they didn't expect. Until that moment, Trish saw in Ashley a person who she didn't understand and who had failed and now, she understands that she is much more. Ashley is hurting and scared and lonely. At the end of the day, there is not much difference between the two.
As for Ashley, she saw Trish as a somewhat capricious girl who believed she knew everything about the world when she really didn't know anything. But now, she realized that Trish is afraid of many things too and she is aware of things about herself that Ashley had to struggle to figure out. Both complement and need each other, even if they don't admit it.
I have found interesting the hallucinations of all with mushrooms. Judges against Black women. I think it's a social criticism of the prejudiced, racist and patriarchal justice. And I love that
Blindspotting
doesn't hesitate to make things clear in such an original way.
On the other hand, and against all odds, Earl gets a job thanks to James ... and his love of punctuality.
Speaking of Earl, he, Janelle and Nancy have an interesting debate about what it means to be POC in a white society that only favors whites. I cannot do more than listen and learn.
I don't have nothing to add. I'm a Spanish white girl so it is not up to me to take the voice in this, just listen, just learn. Because only by listening and learning can we move forward. Only then can we change everything that we must change and avoid going back there. Only then, will we be able to know what the real problems our society faces are and begin to solve them.
So during the whole scene I was like that, attentive and with an open mind to educate myself. I'm glad I was given the opportunity to do this.
Ashley, for her part, has on her mind a conversation with Miles that brings uncomfortable truths to light. She knows that she has to tell Sean the truth, she doesn't want to keep lying, she can't keep living like this ... but she always makes excuses for not doing it. But they are just that, excuses.
But excuses, like lies, have a very short life. You cannot cover the sun with one finger. And that conversation with Miles is cathartic for Ashley because she makes her admit what she was struggling so hard to admit. Fear continues to dominate her. Fear and guilt.
Ashley feels guilty because she knows Miles could be out of jail in a lot less time if she just… told the truth. And she feels guilty for having kept quiet and left him there, for having abandoned him, in a way. She didn't want to do it but she felt it was for the best. The best for Sean.
But… what if Miles hates her for it? She loves him too much to have to face his hate. Looking at this, what would Miles have wanted her to do? I think he would have wanted just this. That Ashley was out, with Sean, so that he would have at least one of her parents with him, that's why he didn't give her away. But that doesn't remove the blame for Ashley.
Knowing that you can help someone get out of jail and not doing it is… it's a very great weight to carry on your conscience. But if Ashley feels that weight, if she feels that guilt, it's because she's a good person, otherwise she would not feel any remorse.
And this is tough, it's horrible, and it's unfair to everyone involved… but it's best for Sean. Miles is sacrificing his freedom for him and for Ashley and she… she's sacrificing a part of her conscience for their child.
Because sometimes life is too cruel and makes us choose between two terrible, unfair and painful decisions. That is what happens here.
Aside from this, Ashley is also afraid that Sean will hate her and that everything will become too real when she tells him because she will not have turned back. And Sean might hate her for a while but… it's something they have to get over together. Sean will understand… eventually, because he will understand that sometimes life is this raw and horrible.
And yes, everything will be more real when Ashley tells Sean the truth but reality is not something that disappears because we want it to. They deserve this conversation. They deserve the truth.
So Ashley finally tells Sean the whole truth about Miles. And I loved this moment between mother and son. Special, tender, beautiful and sad at the same time.
PS: Do anyone else jump when Earl grabbed Janelle's hand? And her face… I'm dying because something happens between them!
And this is where our
Blindspotting
double review ends. We will be back next week with a new one. Stay tuned!
Agree? Disagree? Feel free to share with us in the comments below!