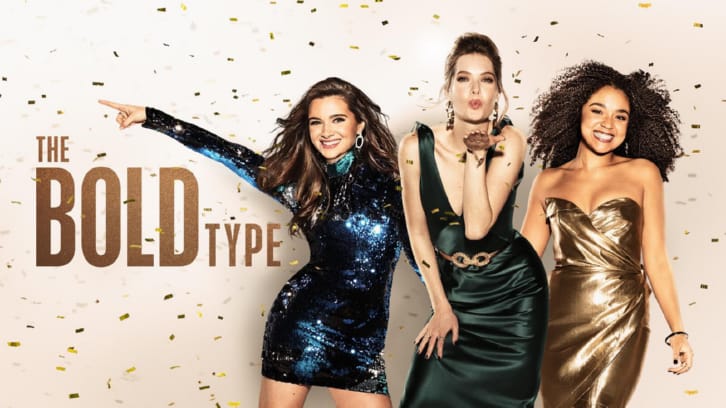 This week on The Bold Type, Richard reaches out to Sutton just as she stars therapy to sign the divorce papers. He tells her he's started the process of adoption. She signs the papers, then they sleep together. Kat pitches her idea for an interactive magazine to Jacqueline as a way to get feedback. Jacqueline offers to take it into Scarlet and give Kat a huge budget. Kat accepts. She and Adena get back together. Jane starts her training with Jacqueline and excels. Jacqueline asks her to take over as editor-in-chief.
Idiots: And I say that in the nicest way possible. I mean, after all the heartbreak the divorce papers are signed… and now they fall back into bed with each other. I mean, the same issues as before are still there. Honestly, this is another one of those examples of why this season should've been longer. I just don't think Sutton is far enough in therapy, nor that they are really in the right place to be getting back together. Had this happened five episodes later, with still enough episodes left for a proper conclusion, I would've been fine with it. But now… I'm scared about how all of this is going to turn out.
So proud: Jane has come such a long way. I was feeling the same way Jacqueline was this week. I loved seeing her excel. And sure, she struggled a bit but not nearly as much as I expected she would. I loved the comment that Jane, Kat, and Sutton were going to run Scarlet one day. I really would love to see that (flashback please). I do wonder what this will mean for Jane's writing. Looking at how busy her schedule was while filling in for Jacqueline, how will she ever find the time to write an article. They didn't bring this up this week but I wonder if they will in the finale. And that bodyguard. I wonder if we'll see him again because there was definitely some flirting going on there.
Living the dream: I'm so glad that Kat has her career back on track. I was surprised by Jacqueline's offer though. Part of me wanted to see Kat make it away from Scarlet. But Jacqueline did really give her a dream offer. And then there's Adena. I did think it was a bit sudden, them getting back together. Part of me wanted them to talk first, before hooking up and I'm really hoping we'll get that next week. But finally!
One left: I can't believe we only have one episode left of this show. I'm definitely going to cry next week. But there's still so much left to do. Jane's storyline is pretty much wrapped up. I think we'll just get to see her officially start as editor-in-chief. But for Kat and Sutton, there's still a lot to do. I still want a lot more on Kat and Adena's relationship. And then there's that whole mess between Sutton and Richard which I still don't think can be wrapped up in just forty minutes. And of course, we better get a lot more scenes with the girls together. I don't want it to end yet.
Best quotes: Kat: "Jane, look at you. You are thriving, baby."
Sutton: "I'm not going to be afraid anymore." Kat: "I'm proud of you."
Oliver: "Is Katherine back?" Jacqueline:" She is. And I have this gut feeling that she is really gonna to be an asset to the future of Scarlet." Oliver:" Those three are gonna run this place one day." Jacqueline: "Yeah, they are."
That's it for this week. Check in again next week for an all-new review and let me know in the comments what you thought of this week's episode.
Please be respectful in the comments, any unnecessary rudeness isn't welcome.