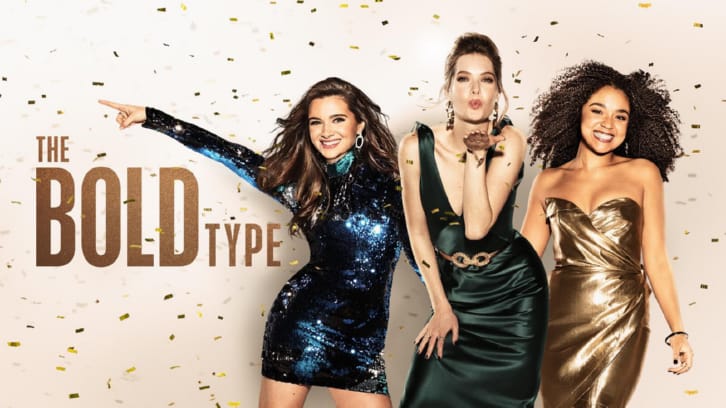 This week on The Bold Type, the girls take a bit too many mushrooms and start tripping. Oliver asks Sutton about her drinking and she realizes she may have been overdoing it. Jane realizes she should just be herself rather than attempt to be Jacqueline. Addison decides to stay and Jacqueline tells Jane she wants her to take over while Jacqueline is on vacation. Kat quits her job at the Belle to focus more on activism.
Moving up: Last week, Jane thought she was failing as a mentor. This week she finds out Jacqueline is grooming her to take over her job in the future. Now that's progress. I guess if we'd had more episodes, this would've been a more gradual thing. Just another thing we can blame on the Freeform execs. But it has made me wonder about what the series finale will look like for Jane. I'm wondering if maybe there will be a time jump at the end and we get to see Jane thrive as the new big boss. I would certainly enjoy that, and given how little time the writers have, it might be their only option for a satisfying ending.
If only there was more time: Speaking of satisfying endings… Judging by next week's promo, Richard is coming back into the picture. But how? We only have 2 episodes left, what could they possibly do here to reconcile. This is what I'm assuming they'll attempt. I mean, this was kind of a closed chapter for Sutton, wasn't it? Unless Sutton working on her drinking problem includes getting closure from Richard. He did ask for a divorce through someone else, which means Sutton never had that final face-to-face. I'm glad they addressed her drinking this week. While I don't think it was at spiraling proportions yet, it's good that she was confronted with this early on. You don't always have to wait until someone hits rock bottom. It's probably a good thing Oliver didn't realize she was also high.
Taking a risk: I'm very proud of Kat for taking a risk this week. She was not meant to be a bartender. She's so good at the social media thing, at raising awareness. I'm glad she decided to focus on it full-time. Even though that will mean she'll be tight on cash for a while. But luckily she has two very understanding roommates. I really want the show to end with Kat back in an important, well-paying, position, doing the things she loves. She deserves that.
Don't try this at home: I really wish all these breakthroughs hadn't been the result of drugs. I'm not sure this was sending the right message, though it was hilarious. But how many of us would actually be able to pull ourselves together enough to sit in a meeting? Certainly not me.
Best quotes: Jane: "So how did I not know you keep shrooms in the freezer?" Kat: "Cause you don't cook."
Jane: "I think we might need an ambulance." Sutton: "Flashing lights, people in uniforms? It's a maybe for me. It could be fun."
Andrew: "Me and Jane? I don't know. You know, she got that, like, try-hard, overachiever, obsessed with Jacqueline thing. It's just a little annoying." Kat: "So you hate each other because you're the same person?" Andrew: "Excuse me, what?"
That's it for this week. Check in again next week for an all-new review and let me know in the comments what you thought of this week's episode.
Please be respectful in the comments, any unnecessary rudeness isn't welcome.