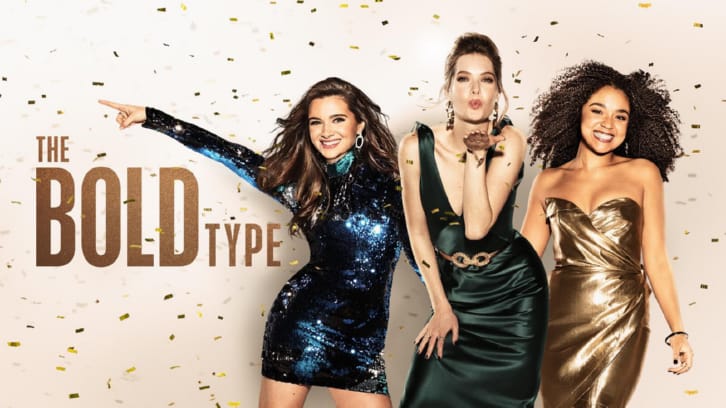 This week on The Bold Type, Jane finds herself in trouble when it turns out the source from her big article is telling someone else's story. Sutton finds out Richard is coming back to New York but he wants a divorce. Kat runs into an old friend who is struggling to find a job after a conviction, which gives Kat a new idea that involves Adena. Alex takes a job at Pinstripe.
Now that's luck: For anyone else, what happened to Jane in this episode would've been a career-ender. She got so incredibly lucky. Not only because she has a great and forgiving boss but also because the woman they spoke to helped them out. I really thought that this was it for Jane's career. So what happened here? It's not like Jane to make a mistake like this. Did she rush through it because of the pressure? Was she too distracted by Scott? Either way, I doubt this is the last we've heard of this. But I thought she was really brave for owning up to it. Especially since she could've easily let Jacqueline take care of it.
Sad, but expected: Somehow I thought that with this being the final season, the writers would find some way for Sutton and Richard to reunite. And yes, I thought this despite knowing how unlikely it is that they'd solve their pretty unsolvable issues. The writers really did throw the one thing at them that can't be talked out. You either want kids or you don't. There's no compromise and there shouldn't be. I hate that Sutton had hope in this episode. I'm not sure what she expected him to say but it clearly wasn't this. And I hate that the writers did this to them. I realized something the other week. This show has had 3 really great ships and the writers have done irreparable damage to at least two of them. For Sutton and Richard, it's kids, for Jane and Ryan, it's the cheating and I have to admit that they also sort of ruined Kat and Adena for me in season two with the open relationship thing. I'm hoping that at least the latter can work things out. They've been apart for a while now, Kat has been out it the world, and these two will never just be friends.
Can't wait: Speaking of Kat, this episode showed just how good Kat is at the whole social media thing. It's about damn time that she got her career back on track and I'm hoping that the idea she got at the end of the episode will do just that. She might not be able to come back to Scarlet. But I hope that we'll get to see someone appreciate how talented she is.
That was surprising: I wasn't surprised that Alex got a job offer from Pinstripe. I expected it, actually. But I was surprised that he took it after Jacqueline offered to match it. I personally wouldn't have left a great company where I have friends that are like family. But I understand that he wants a new challenge. I do hope we'll still see lots of him in the remaining episodes.
Best quotes: Sutton: "You should've seen what I did to everybody else. Terrible choices for Sage and Andrew. I can't believe what I did to Alex." Kat: "Khakis?" Sutton: "Sweater vest."*gasps*
Sutton: "Why do you love Scarlet?" Andrew: "Oh, because my happy space is this place between, like, perfectionist and control freak, so I don't really have that "check your filter" light that most people have in their brain. But at Scarlet, I can be who I am, how I am. And Jacqueline. It's always gonna be about Jacqueline."
Jane: "You are so smart, you know that?" Sutton: "Yes."
That's it for this week. Check in again next week for an all-new review and let me know in the comments what you thought of this week's episode.
Please be respectful in the comments, any unnecessary rudeness isn't welcome.