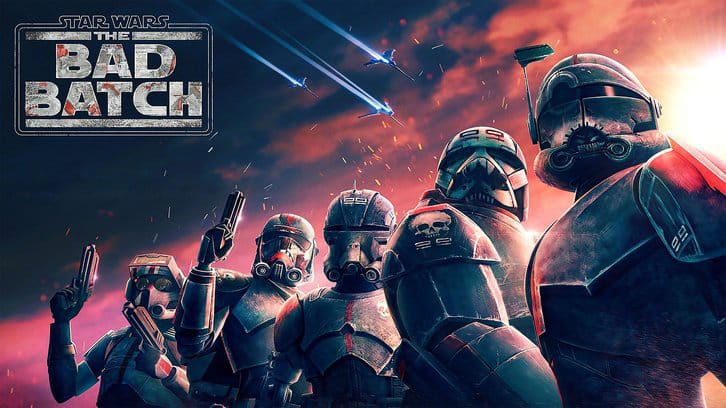 The Bad Batch's latest, Rampage, falls a bit flat on its face – the episode is pretty much the latest example of a show that can't quite work out what it wants to do or what its target audience is, aiming for a mixture of both kids and adults and failing at struggling a line; the clones themselves make too many mistakes for a so-called experienced group of veteran soldiers, and Omega feels a bit too naïve even for someone from her background – it's a clash of rinse-and-repeat narrative that doesn't massively advance the plot, and in fact – these sixteen episodes are starting to feel more like a hindrance than a help.

If the previous episode was a solid example of the series' formula, Rampage was an example of what a below-average episode of The Bad Batch would look like. "solid but unremarkable" seems to be the series' watchword so far, as fun as the characters' humour was. It helps that now that we've known the characters for several episodes and are a bit familiar with their strengths and weaknesses as a unit by now, but what follows is almost a bit predictable because of that.

This week's guest star is Rhea Perlman's Cid who sets the Bad Batch up with the rescuing of a child Muchi who has been captured by slavers. I did like Omega getting introduced to the darker side of the Star Wars universe in a way that the Master codebreaker told Finn about the weapons merchants that funded both the First Order and the Resistance in The Last Jedi, and it now feels like she's very much at home with part of the group and they're counting on her to bail them out of trouble now. On a similar note, Tech mentioning that there was no data to compare this mission to past events firmly puts all the characters in new and familiar territory, and they make up for it with a smarter game plan that includes giving Omega a comm link.

The Zygerrians bring back a connection to The Clone Wars arc with kidnapping Ahsoka. It's a blast from the past – they're not the most developed of antagonists here, but they're a lot more effective this time around, especially for what looks like monster of the week villains. The twist about the Rancor (remember them from Return of the Jedi?) being Muchi was a nice surprise as well as the connection to Jabba added some late game excitement to the episode, even if it's an example of Star Wars overplaying its hand a bit with the inter-connections across the entire universe.

Now the Bad Batch have friends in the form of Cid and a valuable source of income that they can rely on for jobs to earn their keep. For now, she isn't talking about their status as prized bounty – but Fennec potentially has a lead to draw them in if she wants to – and I'm sure this won't be the last we'll see of Cid.