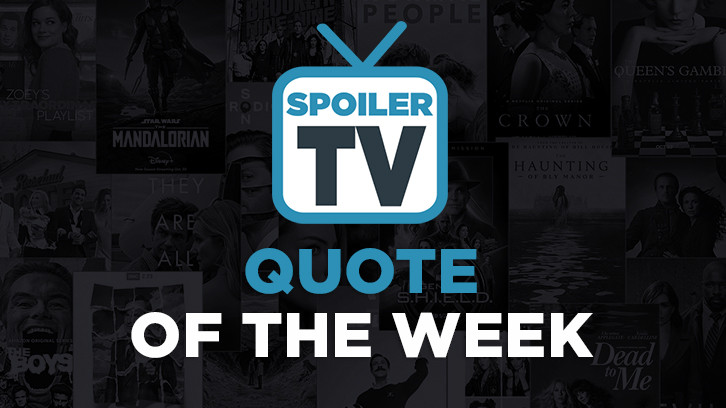 A weekly feature highlighting the best quotes on TV as picked by the Spoiler TV team. We'd love to hear your picks too so please sound off in the comments below.
The Bold Type -
1. Sutton: "You're gonna work all weekend, aren't you?" Jane: "Nope, just when Jacqueline's not looking."
2. Jane: "You made a mistake. That does not mean that you're a terrible person." (Jamie Coudeville)


Chicago PD -
1. Kim: "Don't die."
2. Hailey: "We're bringing him in. After everything that you have spat at me, that I can't handle it, that I'm not gonna be able to sleep at night, that I'm not you. You're right, Sarge. I'm not you. But I am here now, and there's no going back. So you go cross whatever line you're gonna cross, but you remember that you are dragging me to the other side with you."
3. Hailey: "I love you, Jay." Jay: "I love you too." Hailey: "You're just so...decent. And I just--" Jay: "Hey. Hey. It's okay. We're gonna be okay." Hailey: "I don't wanna be without you." Jay: "You're not gonna be." Hailey: "Maybe we should get married. I'm serious, let's get married." (Jessica C)
1. Dante Sr.: "You're looking for the line between right and wrong. But here's the cold hard truth. There is no line. There's just a grey area, and it's different for everyone. So you have to decide who you're going to be and what you're willing to do to get justice."
2. Delilah: "You don't work for a charity do you?
" Robyn: "Delilah. There are some things that you don't understand."
Delilah: "Yeah there are. For starters, who are you?" (Prpleight)
NCIS: Los Angeles -
1. Admiral Kilbride: "Is there not one of you that doesn't have some tie to Russia? Put your hand down, Beale. You don't even work here."
2. Callen: "Now you're scaring me." Nell: Good, you should be scared. You should ALL be scared. Because I am the Nellverine." (Don't mess with Nell. - KathM)
3. Eric: "What do you think? A little over the top?" Nell: "You have a Batmobile." (Eric gets a new car. - KathM)


Pose -
1. Elektra: "Darling, this is an honor more important to me than my 1104 trophies which are in storage right now because they clash with my new furniture." (
Elektra is going to be a Maid of Honor! -

KathM)


Superman & Lois -
1. Lois Lane: "Maybe when we're on a first-name basis."
2. Jonathan Kent: "Yeah, I know, it's a lot keeping a secret like that. I know."
3. Clark Kent: "You know, you're really good at this." (Raina)