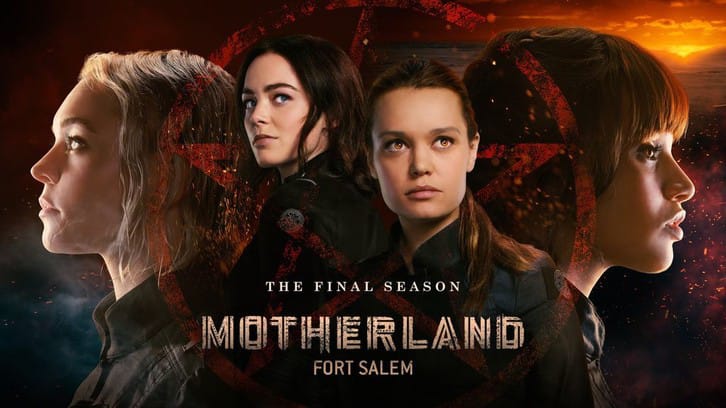 SPOILERS FOLLOW! DO NOT READ UNLESS YOU HAVE SEEN THE FULL EPISODE!

After what felt like a never-ending separation, the witches of Fort Salem finally returned to grace our screens. When we last left the Bellweather unit they had been separated with Raelle (Taylor Hickson) and Abigail (Ashley Nicole Williams) presumed dead by the Army (though the audience knew they survived), Tally (Jessica Sutton) was a Biddy, Scylla (Amalia Holm) was reunited with Willa (Diana Pavlovská) who just so happens to be Raelle's mom, and the Camarilla had become the new big threat. A lot happened in that last episode of the first season and this episode didn't miss a beat falling right back into the story and picking up with each character.
The episode followed through on Tally's Biddy storyline allowing the audience to experience what being a Biddy is like from her perspective. It was good that they didn't just instantaneously change her back to her youthful appearance. Plus, that makeup and prosthetic work they did on Sutton was so beautifully done it needed a little time in the episode to be appreciated. They let her place as a Biddy carry on just long enough into the episode that the impact on her was visibly making it understandable why Alder (Lyne Renée) released her. A real concern coming out of last season was that the writers were going to carry on the Biddy storyline for multiple episodes and drag it along. Thankfully that didn't happen and, as is usual for the writers on this show, they handled this plot point perfectly. They left just enough fallout from Tally's time as a Biddy to set up some great potential storylines for the season. They made it a point to make it known that Tally still shares a bond with Alder so that seemingly set up the potential for the others to call into question her loyalty later in the season. The whole nightmare sequence clearly demonstrated that the bond is still strong within her. Hopefully, the show will continue to expand on that, especially since they definitely need to follow up on the meaning of the nightmare as it surely has bigger implications than currently known.
While Tally was on her own journey, Raelle and Abigail, who barely escaped their brush with death in the season finale, found their way home with newfound abilities in tow. Abigail made a very compelling argument as to why Raelle should trust her, being willing to risk everything for someone does earn them the right to request blind trust, but, honestly, telling Alder the truth of their new abilities could very well come back to bite both of them in the butts. This new ability has set up a major storyline for them both this season and clearly, it is going to be honed and developed as a weapon, at least if Alder has her way about it. What exactly this new ability is going to fully evolve into is anyone's guess at this point, but it's definitely going to be a big part of the season and these characters. The only time the audience had seen the new power activated was when the two of them were together in dire circumstances, but Abigail's reunion with Adil (Tony Giroux) demonstrated that even separately they can each tap into some element of the new power. Alder is certainly going to make things difficult for them given how valuable they may become, but hopefully, Petra's (Catherine Lough Haggquist) renewed appreciation for her daughter will allow her to shield her daughter and Raelle from a lot of what Alder may throw at them. Very interesting things are surely ahead for these two.
Elsewhere, Scylla's storyline has now fully evolved beyond Fort Salem, which also sadly means a solid confirmation that for the foreseeable future she and Raelle are indeed no longer an item. But given how sad Raelle looked to tell her dad that they had broken up, hope may still exist for them to one day reunite and rekindle their profoundly powerful love. Until then, however, Scylla has a bigger purpose as Willa's new recruit to take on the Camarilla. By Willa's own account, she broke with Spree leadership to warn all witches of the Camarilla following the Brussels attack that she barely survived. Does this mean Willa is on the verge of going rogue from the rogue organization? Anything is possible, she has a track record with switching sides, so who knows with her. For now, she still seems to clearly have a deep belief in the mission of the Spree, but she also values witches as a whole enough to warn them all, even those in the Army. That sort of compassion for witches as a whole could prove very valuable of a trait. The writing has been on the wall since last season, the only way the Army and the Spree will survive the Camarilla is to work together. Scylla and Willa are top contenders for those that will eventually work to bridge the gap between the two rival organizations. Until then it should be fun watching Scylla get to flex her abilities as she serves under Willa to try to get to the core of what is going on that is allowing the Camarilla this opportunity to return with such a vengeance. Since Anacostia (Demetria McKinney) is still tracking Scylla, as seen by the fetch, she could also play a big part in the inevitable event that will bring both sides to a ceasefire agreement while they deal with a bigger threat. This plot point holds a lot of promise for big explosive things to come, including, with some luck, an eventual Raelle and Scylla reunion.
Speaking of reunions, this episode was full of them. The reunion of Raelle, Abigail, and Tally was very well done and was a stunning display of the beautiful connection Hickson, Williams, and Sutton share. These three actresses wasted no time sliding right back into their characters and reminding the audience why the world fell in love with this unit in the first place. The other big reunion of the episode was between Adil and Abigail. With Raelle and Scylla on the outs at the moment, these two are the only major love story, for the core group, so it was good that they wasted no time establishing how deep their shared love is. Though it seems like Khalida (Kylee Brown) would prefer they weren't so close. Despite how cold she appears to be, she is almost always right on point, so if she sees something not right with their union, it is a reason for concern. Another reunion was between Abigail and her mom, with the latter even taking interest in Raelle. It showed how deeply affected Raelle was by everything she went through that she actually sunk into the embrace with Petra. Even the most badass witches sometimes just need a hug after a near-death experience. But Raelle's biggest reunion may have come when Khalida returned her mom's charm to her. Edwin (Hrothgar Mathews) was very purposely written to explain that the charm will always find Raelle because that is how much her mom loves her. An inevitable reunion with her mom is clearly in the works and that could end up being one of the most impactful reunions of the season, likely only to be overshadowed by the inevitable Raelle and Scylla reunion. All of these reunions were give a place in the episode for a reason. These are likely some of the bonds that will be most tested this season which means things are about to get messy for all of these characters.
This episode also saw the introductions of Victor Webster as Vice President Blanton Silver and Mellany Barros as the Vice President's daughter, Penelope Silver. The episode didn't spend a ton of time on either of them, but enough to know that VP Silver will be a pain in Alder's side especially since Penelope was confirmed to be of the blood. For an untrained witch, she showed a lot of promise. With training she could definitely be an asset to the Army, pending her dad doesn't cause too much trouble for Alder.
This wasn't the biggest or best episode of the series, but it did do a great job of setting up the Season 2 storylines and reuniting the characters. Abigail, Raelle, and Tally will be attending War College. Scylla is working with Willa and based on previews Anacostia will join her storyline sometime soon. New witches are being found. New powers are being evolved. Alder's whole world is on unsteady ground and the Camarilla are stirring up unrest surrounding all witches. A tense truce to deal with a common enemy and a gruesome war are likely coming at some point. This episode exists to set up things to come and it did a good job of doing that while still reminding the audience of how special and unique every aspect of this show is, even during one of their tamer episodes. They seemingly got all of the setups out of the way with this episode, and seem poised to launch full force into a wild and intense season, so buckle up, because this is just the start of what promises to be an exhilarating and emotional ride of a season.
Be sure to tune into the next episode on Tuesday, June 29th at 10 pm ET/PT on Freeform.
Until the next episode, be sure to drop down the comments and leave your own thoughts on the episode. What were your favorite parts? What do you hope to see happen this season?