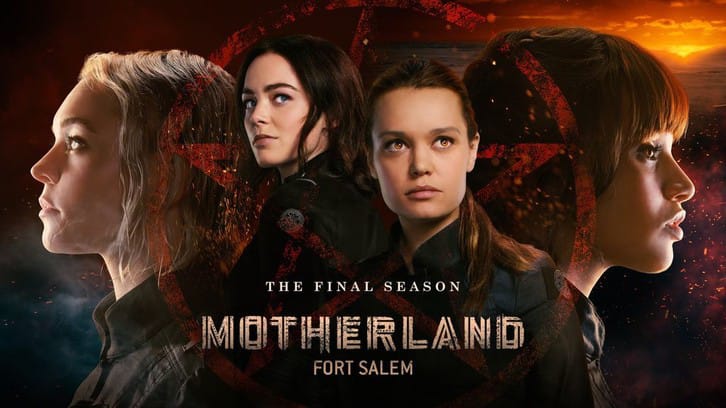 SPOILERS FOLLOW! DO NOT READ UNLESS YOU HAVE SEEN THE FULL EPISODE!




Motherland: Fort Salem got off to a bit of a slow start last week and while this wasn't an action-packed episode it was certainly a busy one. Maybe a bit too busy. This is a typical hazard of any series that inhabits such a mythology-rich world. Setting up things takes longer and requires more finessing to get everything to fall into place properly. There were definitely some interesting twists, new pairings, and new characters that all combined did make this a more interesting episode than its predecessor.

Perhaps most interesting of the reveals in this episode was the full revelation of the impact the Mycelium has had on Raelle (Taylor Hickson). From the moment she first touched it last season it was pretty obvious that fleeting moment was going to be something that impacted the character for a long time to come and that has proven true. For the most part, the specifics about the Mycelium are still rather mysterious. What is known about it is that for reasons unknown Raelle was one of, if not the only, person to ever have direct contact with it and live to tell the tale. Even more than that, they seem to be fundamentally bonded. What makes Raelle so special? It is a question that certainly needs answering along with a dozen other questions about the Mycelium itself and what exactly it is.
Izadora (Emilie Leclerc) and Alder (Lyne Renée) are both clearly fascinated by the Mycelium indicating that there is so much more about it than we currently know. Of particular interest was the scene where Izadora and her assistant were dissecting the artifact from the Tarim battlefield and the eyes of the former (and now very not alive) human Camarilla soldier shot open and began to repeat the words Raelle was speaking. The fact that where the brain of that individual had once been was now consumed by Mycelium material was wild and fascinating. It all calls into question just how bonded Raelle and the Mycelium are. After the whole near-death experience how much of Raelle is witch and how much of her is whatever the Mycelium is?

Thanks to Izadora's utterly cruel test, we also now know that it was very likely Raelle and Raelle alone that saved her and Abigail (Ashley Nicole Williams) on that fateful day on the battlefield. However, it does seem that Abigail's involvement in everything is being dismissed a little too easily. Even having seen the Mycelium act to protect Raelle and not Abigail during the test doesn't dismiss all potential for Abigail to have been changed. During that fateful moment when the blast encompassed the battlefield, Raelle was only alive thanks to the life-force bond Abigail initiated. While the full force of the Mycelium may not manifest through Abigail like it does Raelle, it would seem silly to completely dismiss the possibility that Raelle and the Mycelium could have caused some fundamental change to Abigail while they were bonded during the blast. When Abigail and Adil (Tony Giroux) made love in the prior episode they made a point to show how much it amplified her power. The ground literally shook across the fort. Abigail was clearly deflated to realize she may not have any special power, but this is Abigail so that self-pity won't last long before she starts to dig into what she must surely feel deep within herself. This whole Abigail didn't acquire anything special plot point seems like a false flag to deflect the audience from focusing on her amplified powers. It seems safe to take a wild guess in the dark that this is not the last we have heard of the blast and the effect the Mycelium has had on Abigail in addition to Raelle.
On the topic of bonds, Tally's (Jessica Sutton) bond to Alder allowed for the return of the jungle nightmare. Or, is it a nightmare? It is starting to seem more like Tally has somehow picked up a residual memory from her time as a Biddy. This episode dove deeper into the jungle memory and introduced the audience to a mystery soldier who seemed to use very Spree-like tactics in a time that seems Pre-Spree. This exposes a very perplexing possibility. Is the mystery woman one of the early founders of the Spree? It would certainly be a big twist if Alder and a founding member of the Spree once fought shoulder-to-shoulder. That fact would also, perhaps, help to play a part in the treaty that is going to have to eventually come into play if the Spree and the Army are going to survive the Camarilla. Also of interest is why only Tally can see the mystery woman in the portrait she discovered in the museum while showing Penelope (Mellany Barros) around. Someone went to a lot of effort to hide her from history and any character that is set up like that is poised to have an extraordinarily large impact on the overall story. This is a character that could shake things up in massive ways and it'll certainly be fun to piece her story together until the inevitable moment where she is introduced in the present day. No way Alder is the only one left from those days. This mystery witch could very well end up being the most significant new character of the season.
While perhaps the most significant, she wasn't the only new character this episode introduced. This episode introduced some of the War College professors, Mother Tongue Professor Channing Grafton (Nikolai Witschk) who taught the cadets a meaningful lesson with Adil's help, and Off-Canon Professor Major Magda Verger (Patricia Drake) who is not only terrifying in her own right but also has a sick sense regarding how to test her pupils, both provided some very challenging lessons to the group. While they may appear from time to time, of most direct impact to the Bellweather Unit was M (Ess Hödlmoser) who stands as the head of their new War College unit the Sekhmet Coven. They seemed to take a significant interest in Raelle. The way M looked at Raelle during each of their encounters can either be read as pure curiosity, as they played it off, or could M have more of a romantic interest in Raelle? Could this be another setup to build up a little tension for the inevitable reunion with Scylla (Amalia Holm)? Hopefully not, the Raelle and Scylla connection is just too sacred to the very heart of this series to add in any additional people, but there was a little something in M and Raelle's encounters that makes it impossible to fully rule out that the writers may play around with that dynamic a bit. Hödlmoser is a brilliant addition to the recurring cast, but, hopefully, they get a storyline for M not centered around romance, well, at least not romance with Hickson's Raelle. Thankfully, for now, Raelle is very smartly keeping things close to her heart by only trusting Abigail and Tally. It just needs to stay that way right up until she is reunited with Scylla.

Then there was Gregorio (Praneet Akilla) who was brought into the story because of his history with Abigail, but the majority of his material was with Tally. With the Raelle and Scylla pairing on the outs for the moment, that has left the show with just the Abigail and Adil pairing as a main love interest couple, but even with Khalida (Kylee Brown) agreeing to leave him behind for now while she searches for their new home within the Hague nations, their future seems uncertain. As such it is wise for the show to perhaps start ramping up a new pairing. Besides, Tally has been through so much, she does deserve a little romance that, hopefully, won't end as badly as her first real romance did.

Gregorio and Tally are such opposites, but so are Abigail and Adil, so they could work. While Sutton and Akilla have a unique energy together it is still too early to know exactly what the writers have planned for their characters. One thing is a near certainty, Gregorio is a part of the Sekhmet Coven, so he isn't going anywhere, and there is a lot the writers can do with him. As a witch of the male persuasion, he brings a unique perspective and it will be fun to see what the writers do with him.
While this episode had a lot going on and it was all pretty interesting, the best part was when the story finally allowed for Scylla and Anacostia (Demetria McKinney) to be forced into a situation where they had to work together. Holm and McKinney, in many ways, are the duo that made this episode stand out. From the moment the show first brought these two actresses together in powerful scenes last season it was clear they are a powerful acting duo. Pairing them up in a storyline that has the potential to have a profound impact on the entire series was a stroke of genius.
These two worked together like a well-oiled machine as they worked undercover to get to the bottom of Scylla's new "friends" Bonnie (Emma Pedersen) and Shane's (Juan Riedinger) involvement in the movement that appears to be directly tied to the Camarilla threat. Even though Scylla was forced into the partnership she was still able to fall into a good flow with Anacostia. It is interesting that despite how well they worked together, Scylla still wanted to abolish their partnership. Perhaps it is because Anacostia has seen a side of Scylla that not even Raelle really had the opportunity to see. Anacostia sees the person Scylla is under all of the anger and hate for what the Army did to her parents and that seems to worry Scylla. At the core of it all, these two women aren't all that different. Anacostia immediately honed in on the remorse Scylla felt when she entered the site of the mall massacre that she facilitated in the series premiere. She has seen Scylla as more than a Spree agent and sees the potential in her both for good and evil yet still has faith in her. Anacostia isn't ready to give up on her as the Army has and that is why these two have so much potential to have a significant impact on the series as their shared storyline continues to evolve.
When Scylla and Raelle inevitably reunite it is very likely to be because of Anacostia. Both women care about Raelle and what happens to her. There is no doubt that if they think she is in danger within the control of the Army that they will stop at nothing to extract her. After the conversations that Willa (Diana Pavlovská) and Scylla had regarding Raelle it is only a matter of time before Raelle is reunited with her mom and her ex-girlfriend. Both Willa and Scylla had their reasons for the actions they took regarding Raelle, but both reunions are likely to be emotionally charged and the writers surely won't let this golden opportunity for top-notch emotional work from Hickson and Holm go unfulfilled.
Overall, this was a strong episode that was crammed with a lot of information. Perhaps too much information. There was so much dumped into this episode that it was overwhelming at times trying to process each bit of information. This is an episode that will probably be best appreciated by watching it at least twice to take in everything. It was a definite improvement on the season premiere, but it showed that the show was still trying to get into gear so that they could double-down on the main plot and charge full force into what is ahead. The story is definitely getting more interesting by the episode, so it'll be exciting to see what the next episode holds.
Be sure to tune into the next episode on Tuesday, July 6th at 10 pm ET/PT on Freeform.
Until the next episode, be sure to drop down the comments and leave your own thoughts on the episode. What were your favorite parts? Where do you think the story is heading?