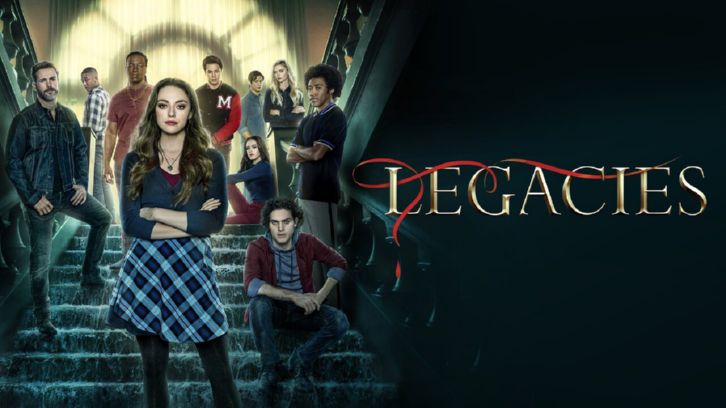 This week on Legacies, Hope ditches Josie and Lizzie and takes off with Clarke. They happen upon Cleo and Landon. Landon then eats Cleo and reveals he's actually Malivore. Lizzie tries to set up Hope with Ethan, but he asks her out instead. Josie tells Finch about her dark days. MG and Kaleb save people from a car wreck.
Enough already: I've just about had it with the writing on this show. Landon dies, comes back, dies again, comes back, it's a fake Landon, comes back, fake Landon again, …
When does it end? It's just become this endless loop of Hope and Landon drama. You know, it has actually made me miss love triangles because that would've at least given Hope something else to do but the writers won't even consider another love interest for Hope (even though she's had so many potential ones running around on this show). It's tedious to watch when you don't care for Hope and Landon's relationship, which at least half the fandom doesn't. And I can't imagine the Handon fans are too happy with writing like this? This show needs a serious change, otherwise, they won't just have fans jumping ship, but actors too.
I'm so conflicted: At the beginning of last season, I would've loved the idea of Lizzie and Ethan together. But now… I don't know. That feeling is still there, deep down. And they do interact well, but part of me feels this would've worked better as a friendship. This storyline was mainly just a wasted rom-com opportunity. I mean, Lizzie spent the entire episode gushing about Hope. Was it really that much to ask for Ethan to say "Do you like her?"?
Wasted potential: MG and Kaleb are such a great duo but I don't think the writers really appreciate what they've got here. I get them wanting to do good, but these characters could do so much more. You've got two vampires, one of them a ripper. You have backstories that we haven't gotten yet. A vampire community at school (is there any left?) that we haven't seen since the first season. Families that we never see. Yes, they're great with comedy. But they are also more than capable of handling some serious storylines.
Why? Let's face it, this wasn't a finale. As a regular episode, this was okay. But as a finale, it was far from okay. There's no closure to the storyline. I still don't get why after giving them a 20 episode order, they suddenly ended up with a 16 episode season after all. Have they learned nothing from last year? I would've even settled for a several-week break if only we could finally wrap up this Malivore storyline and move on. But now, chances are it'll get dragged out through season 4. I said earlier this year that I was going to write an article about things I would change about this show, and I have every intention of sticking to that. Because it's way too much to squeeze into a review. The potential for better is actually what kills me. IF there was no potential, I would've quit already.
Season 4 wishes: Rather than speculate on what season 4 will bring (more Malivore, more Handon drama), let's list some wishes. 5 things I want for my birthday in October.
2. A girlfriend for Hope (doesn't have to be Lizzie or Josie, you can bring Maya back).
5. No more musicals/Star Wars hallucinations/whatever they'll come up with next.
I'll be lucky to get one of these.
Best quotes: Lizzie: "Take him back to the school and let the grown-ups deal with something for once."
Josie: "I'm starting to think that traumatized is my permanent resting state."
Josie: "What kind of promise?" Hope: "Panda promise."
That's it for this season. Let me know in the comments what you thought of this week's episode.
Please be respectful in the comments, any unnecessary rudeness isn't welcome.