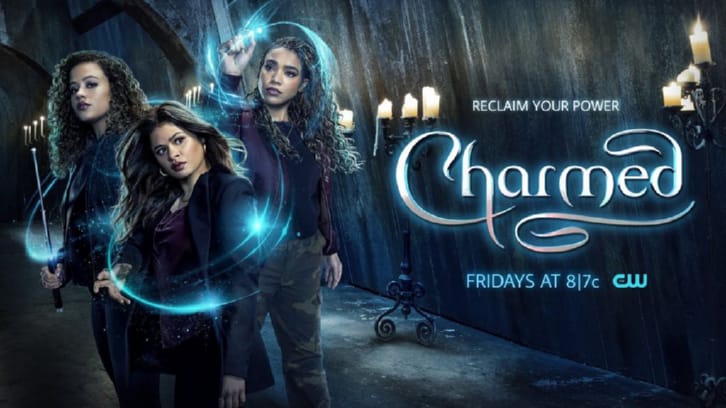 After a small mental hiatus, I am back at giving my 5 cents on the latest Charmed episodes. So sit back, possibly enjoy my rant and join the discussion online or in the comment section below.
Spectral Healing
The filler-ish episode filled thicc British accents and ghost possessions, served its purpose. It prolonged the season for 1 more outing and delivered progress on some B stories of the season. The episode was written by Tommy Cook and Nicki Renna and directed by Jacquie Gould.
In principle, I don't have anything against filler episodes. In an eighteen-episode long season, there has to be the occasional filler and if executed well it can be a lot of fun and quite enjoyable. And while this episode had its strong moments and delivered decent laughs and soft moments, the construction of it all is what made this outing faulty. Going on a mission to summon Marisol without Mel just didn't feel right. I understand Covid regulations and limited resources but the essence of Charmed should be their sisterhood and going through situations like this together. And while it is "okay" for them to split the sisters up during regular missions but doing a story as delicate as summoning Marisol without one of the sisters, no matter which one, felt wrong.
Other than that the ghost possession story worked really well. Sarah Jeffery was brilliant as she portrayed Daisy and Roger and switched between the characters in under a second. She really brought the energy of both characters and the writing complimented her acting abilities so well making the scenes transition so well and delivering every line so well. The adlibs fitted perfectly, major kudos to the editing team. Macy helping Roger and Daisy find peace was a nice notch this episode, providing them some consolidation and letting them move on. The use of Antonio during this episode worked just so well. The writers toned his character down a bit and made him more approachable so that he fit the sisters' energy more and made the episode pace more smoothly.
As the spell eventually worked and Marisol's spirit possessed Maggie, I've teared up. I was waiting so long for a real scene between the two that when I've heard Valerie Cruz's voice it just caught me out of the blue. Thank you writers for that one. I can't stop thinking about Sarah's performance within this episode, the variety she showed and the way she changed her energy while portraying each ghost brought all the right feels. Especially, the moment when she channeled Marisol's energy. It just showed how deeply Sarah's understanding of the characters goes and how talented she is in expressing all these different characters. I do hope we eventually get an episode where the sisters will talk with Marisol and give the sisters the closure they need. Marisol's words to Maggie were a really sweet nod and Maggie finally accepting her feelings for Jordan is something a big part of the fandom is waiting for.
Marisol giving Macy advice about Harry felt a bit out of place. Out of all the things they could've talked about and go through, talking about Harry at that moment just felt misplaced. It was sweet though to see Marisol is still watching over her kids and know how this Harry situation is affecting her Macy. Meanwhile, in a secluded part of Britain, Harry and Mel had to face a demon spawn in their mission to obtain some mortal male Westwell DNA. And while the Demon spawn moments provided for some chuckles, the story didn't provide much. I am still annoyed by this mortality storyline and Harry throwing away his powers. I just rolled my eyes when he asked the sisters' for approval. It felt just so cheesy and the writers gave themselves an okay for pursuing this story. Yes, the sisters are powerful witches that don't need Harry but what about all the other witches and generations that need guidance. And even though I find the way of creating the Whitelighters an abomination, their purpose wasn't bad. They had a goal.
Using Jill and her wife in giving Mel some clearance about her current relationship status with Ruby was a solid moment. And while it did feel a bit out of the blue and unearned, the I love Yous between Mel and Ruby were quite sweet. The two of them have neat chemistry and I hope the writers will give them more focus and let them develop their romance on screen.
In a prison far away, Abby was taking on the Tomb of Chaos. The vicious Tomb put on their A-game so Abigael would eventually surrender. It was a majorly pleasant surprise to see Diane Farr in the role of Francesca. The way she had power over Abigael and the way she manipulated her was truly heartbreaking. Francesca was truly hypocritical though, the way she judged Abigael while being the one who had a Baby with a Demon just showed how wrong her ways were. This episode just as the follow up has given dimension to Abigale's character but it did feel hardly manipulative. As a fan of Once Upon a Time, I stand by their notion that evil isn't born it is made but when you want to deliver this type of story and make us empathic to a character like Abigael, the writing for it has to be a lot better. But more on that in my thoughts of Chaos Theory down below.
Other Tidbits:
- Seeing Macy still being all sciency about the allergy was a delight.
- Major kudos to Jaquie Gould in directing that spell. It looked so wonderful.
- James'/Harry's son Carter still being fertile in his 60s was quite the "twist"
- Mel pulling the Bruja's Ladder out of her bag was so badass. Oh, I miss Josefina dearly.
- Antonio pulling that my ex was a witch joke? Coincidence? I hope not so.
- Mo saying FYI just gave me life. Aryeh-Oh is just brilliant in this role.
Chaos Theory
Episode 13 of this season was indeed chaotic, and not only in theory. The Trial of Abigael Caine was a lot to handle and a lot to swallow, but it also set up the stage for the season finale while revealing the real villains of the season. Ken Fink directed the episode, written by Aziza Abu Butain and Sidney Quashie.
Jordan Donica's work in this episode, despite all its flaws, was magnificent. From the moment he appeared on the screen till the big face-off at the end he brought his best to this episode. From the initial confusion to the realization of his imprisonment to the mental torture during the trial, Jordan hit all the right nods. The writers did a lot of damage over the last couple of seasons but if they did one thing right it's the progression of Jordan's character. Yes, the final scene with him leaving was painful to watch as it broke my Joggie heart but it was understandable. Maggie told him many times he shouldn't join them on their adventures and he should stick back, but he deserves time to process the trauma he went through. Also was I the only one who squealed when Maggie and Jordan hugged.
Before getting to the actual trial, I wanna give a shout-out to the Casting Department. Diane Farr was a perfect Francesca, so vile and heartless, one couldn't think one couldn't embody that amount of despicable. Also, The Perfecti Mo and Aladria were cast just as good, Aryeh-Or and Heather Doerksen are just so good in the roles.
This episode was a throwback to all the good and bad Abigael Jameson Caine did over the last two seasons. The writer's love letter to the flawed character they've created. Pushing and pulling through the good and the bad Abby lived through and it was an emotionally draining episode, especially during Francesca's testimony and the revelations coming out of it. To cut the discussion short I've had issues with the writing, it was manipulative and unbalanced. They were dumping so many emotions and baggage into one episode to force compassion and give Abby's trauma a crash curse. It felt like the writers wanted to rush through the trauma just to make Abby relatable and force our compassion. As often the writing failed the character and the show as they've tried to explain all of their writing choices for a character in under 40 minutes.
I am a firm believer of the earlier mentioned notion, evil is made and not born and it is surely fitting Abigael. The trauma she endured during her childhood shouldn't be taken lightly and the actions of her parents certainly made her who she is today. But forcing a character through all the trauma just for dramatic effect isn't healthy writing. Also what I've missed here is an "I am sorry." An apology to the sisters, a sincere moment showing where Abigael is coming from would've been a good stepping stone to build her redemption on, a. At this point, the writers have shown what direction they are taking with Abigael so they better deliver on it.
I don't have issues with the show giving focus to Abigael, side characters serve to enrich the journey of the main characters. And instead of seeing how the Charmed ones advocating for Abby affect them, it was all about pilling up the emotional baggage. The wonky roads the writers take in portraying her story feels personally unsatisfying. The sloppy way they've created the drama about Macy's powers, the revelations of Abby's feelings for Mel, her stopping the Demon world to attack witches. It all feels just so convenient and I am no fan of convenient writing. In the end, it all comes down to personal preferences of storytelling, I guess.
Other Tidbits:
- Why didn't Maggie use her powers on Jordan to give him some emotional stability?
- Mel's face when Abigale confessed her affections towards her, yikes. No one saw that coming.
- I do hope Jordan returns sooner rather than later.
Chaos Theory concluded with The Perfecti revealing they are now going after the Charmed ones and will do anything to destroy them. What are your thoughts on the events of the last two outings? What are you expecting in the final 5 episodes of the season? Sound off in the comment section below. Catch an all-new episode of Charmed on Friday, June 11th at 8/7 Central on the CW or on the CW App afterwards.