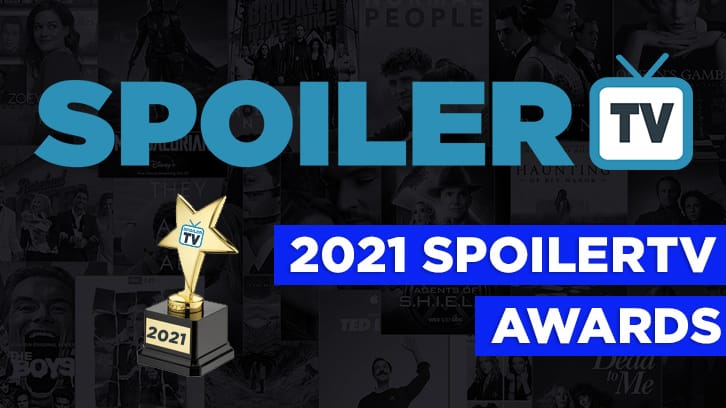 After 11 days of nominating and voting, it is time to announce the winners of the 2021 SpoilerTV Awards. Just click on the box to see the winner and 2 runners-up, and then sound off in the comments below about your favorites. Total percentages can be seen on the individual voting pages. Also, this year we added "least favorites" to the list and asked for your opinion about these categories. The overall vote was close but more people voted not to include least favorites in this contest. Thanks for sharing your opinion on both sides of the matter.
Also, don't forget to check out the rest of the SpoilerTV hiatus contests. The
Episode Contest nominations
are open until Friday. Then comes the Character Cup in July and the huge Favorite Show Competition in August. There's lots of fun to be had this hiatus so keep checking back with SpoilerTV throughout the summer.
Poll Results:
Tiebreaker Polls
Interesting Stats:
-added 8 new categories including New Show You're Most Excited For, Favorite Finale, and 6 "least favorite" categories
-Two shows remained tops in their category for both years: Prodigal Son for Favorite Crime Drama and The Simpsons for Favorite Animated Show
-6 switched categories: Prodigal Son was the Favorite New Network Drama winner last year, Bob Hearts Abishola was the Favorite New Network Comedy winner last year, The Mandalorian got 2nd in Favorite NEW Non-Network Drama, Iain Armitage (Young Sheldon) was 2nd place in Favorite Young Actor, Jane Levy (Zoey's) was third place again last year but for Favorite Drama Actress, and The 100 was 2nd for Favorite Sci Fi/Fantasy Show.
-Ted Danson got 4th place in Favorite Comedy Actor this year for Mr. Mayor and 2nd place last year for The Good Place.
~~~Shows Barely Missing the Podium This Year
MacGyver missed 3rd place by 1 vote in Least Favorite Finale
Law & Order:SVU missed 3rd place by 2 votes in Favorite Crime Drama
The Equalizer missed 3rd place by 3 votes in Favorite NEW Network Drama
Family Guy missed 3rd place by 4 votes in Favorite Animated Show
~~~Shows That Won For Both Favorite and Least Favorite Categories
1. When Calls the Heart: Favorite Non-Network Drama (2nd), Favorite Finale (winner), Least Favorite Finale (2nd), Most Disappointing (2nd), Least Favorite Character (2nd) ***This show resolved a longtime love triangle in the finale so reactions were split among shippers.
2. Supernatural: Show You'll Miss Most (winner), Favorite Sci Fi/Fantasy Show (2nd), Favorite Finale (3rd), Least Favorite Finale (3rd), Least Favorite Character (winner)
3. Young Sheldon: Favorite Comedy Actor (winner), Favorite Comedy (2nd), Least Favorite Comedy (3rd)