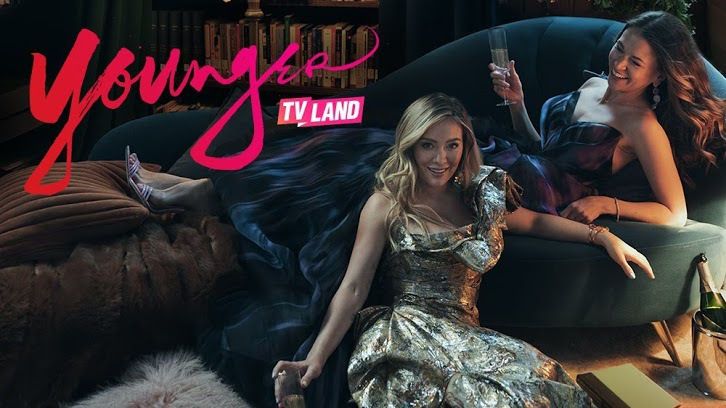 With only three episodes left in the final season of Younger, Liza and Charles finally have the confrontation we've been waiting for, and damn did it hurt.
First, ugh, Kelsey. Lauren (of course) finds out that Kelsey is seeing Clare's ex, and while it's fairly understandable, why won't she just come clean to Clare about seeing Rob?
It's the Maggie situation all over again. If Kelsey would just tell Clare now instead of having Clare find out later in some random happenstance, which I'm sure is exactly what will end up happening, Clare might be more understanding.
Josh and Lauren are right though, no matter how cute he and Kelsey are: ovaries before brovaries.
Elsewhere, Quinn somehow found women's bottoms with pockets big enough to fit her audacity, and are we sure she's not the villain?
If I had just gotten out of a relationship with a man I loved and was with for years and his next pick asked me to talk about the gift she got for him, I would be in jail. Liza is so much better than me.
Look, maybe it would make sense if Quinn and Liza were old friends – but they're not. There's always been a bit of a divide between the two, so the fact that Quinn thinks it's appropriate to go to Liza about Charles shows what kind of person she is, and what kind of person she thinks Liza is.
On the better side of things… for now… Charles and Liza are working together again. Ugh, when Susan said "it'll be a double date!" it was enough serotonin to last me through the week. And when they're alone in the office together after hours? Work husband and wife, please become real husband and wife, thank you.
While the end of this episode – which I'll discuss shortly – makes Charles and Liza's future look extremely bleak, the rest of the episode tells me that the writers are still rooting for Charles and Liza as much as we are.
When Liza is yelling at Charles, telling him that he did have all of her, despite what he believed, she says, "I wish I didn't love you." Not I wish I hadn't, or I wish I loved, I wish I didn't love you. So in this present moment, Liza does love Charles.
It's not very hard to put that together. I'm sure Charles did too, especially since he then had to drive home alone for 40 minutes thinking about that conversation.
It doesn't seem like Liza was really angry at Charles and that's why she didn't want to drive with him, it seemed like it would've hurt too much. So she got an Uber for a 40-minute drive. I did that recently, and it is not cheap, y'all.
Now for the end of the episode… goodness Quinn is something else. Looking back, Quinn never directly said that she was using Charles to have her perfect marriage image. However, when she spends a lunch break telling Liza that she would never get married, and then she tells Charles she would've said yes, it's clear that that's exactly what she's doing.
Quinn is a liar. She's a cheat. She's using Charles, and honestly, she's using Liza too. Insinuating that Liza should be there to talk to Quinn about Charles is underhanded and condescending.
A friend said to me that it seemed like he went to Quinn's event after his conversation with Liza as a dig at Liza. Not that she'd ever really know – but the Liza in his mind would know.
The Liza that consumes his thoughts, who can't leave him, would know. With all this being said, there's really no possible way that the writers would tease us for this entire episode with Charles/Liza, only for, in the end, him marrying Quinn.
Regardless… Alexa, play "good 4 u" by Olivia Rodrigo.
What did you think of the episode? Do you think they're setting up Quinn and Charles to get married? What are your thoughts on Kelsey and Rob? Are they ever going to give Lauren a girlfriend to be happy with? Let me know in the comments below!