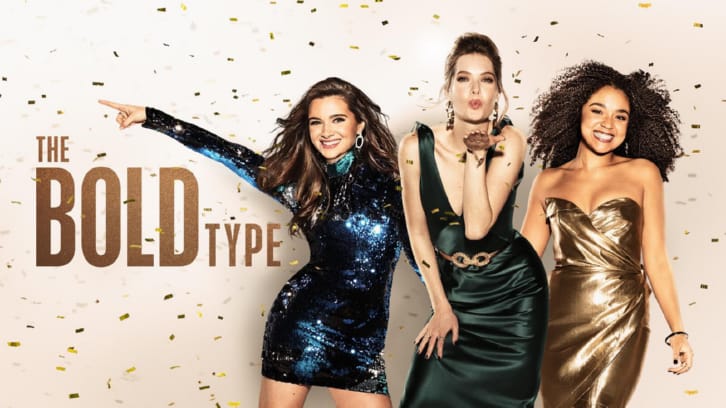 This week on the season premiere of The Bold Type, Sutton is still hurting from her relationship with Richard falling apart and drinks a bit too much which almost gets her into trouble at work. Jane throws herself into her article and admits to Scott that she has feelings for him. Kat ends things with Eva. Alex finds out he got someone fired.
Please tell me you're joking: So, I just learned that this season only has six episodes… what the hell? How are they supposed to wrap everything up in only six episodes? There's a chance that I learned about this months ago and blocked it out. I mean, this is like Nikita all over again. And I think this will especially be a problem for Sutton's storyline. There doesn't seem much hope for her and Richard now. Their issues are a bit much to resolve in what are now only five remaining episodes.
Oh thank God: You know, with this being the final season, I believe I said something last year along the lines of "they better fix this mess." Well, it looks like we've gotten rid of one problem already. Bye, Eva. Don't let the door hit you on the way out. I was very proud of Kat. They just did not work as a couple. It's one thing for a couple to disagree on a few topics, but they were on completely opposite sides to very important issues.
A mess: I knew that Sutton would be a mess but I didn't think it would be quite this bad. She flew hard into the alcohol and she was very lucky that people covered for her or she could've lost her job. If she didn't have Kat and Jane to rely on, I would be very worried. But I have faith that they will pull her through this. They know she's hurting but they also won't shy away from telling her when she goes too far.
Trainwreck waiting to happen: Oh Jane. Right now she's still handling this thing with her writer well, but… I can already tell that this is gonna cause an issue in the future. I want her to be happy, I really do. Especially after all she's been through. But she's his boss and the last thing I want is for her to get in trouble at work for this. Which she's already going to be in now that one of her sources is called into question.
Good advice: I really love Sage. We've seen a lot of Alex throughout the seasons but not as much of Sage. Which is a shame because she's brilliant. And she was absolutely right this week. Sometimes people do or say something stupid. But people change and they shouldn't have stuff from years ago thrown at them. I know I've said stupid things in the past that I then regretted. I think we often forget that no one knows everything. The important thing is that we learn and educate ourselves and try to do better in the future.
Best quotes: Sutton: "You're gonna work all weekend, aren't you?" Jane: "Nope, just when Jacqueline's not looking."
Jane: "You made a mistake. That does not mean that you're a terrible person."
That's it for this week. Check in again next week for an all-new review and let me know in the comments what you thought of this week's episode.
Please be respectful in the comments, any unnecessary rudeness isn't welcome.