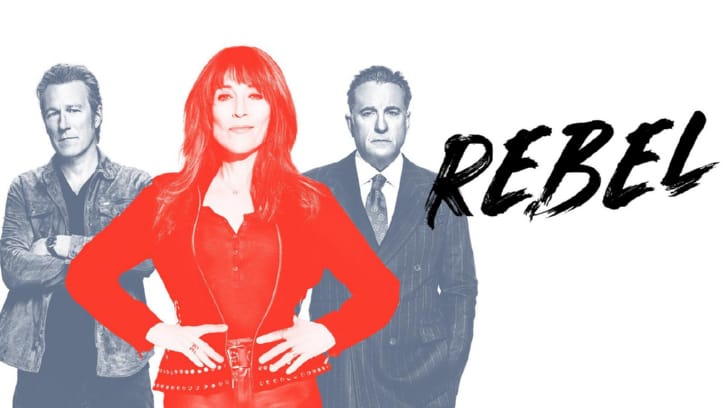 After a one-week hiatus Rebel is back again smashing her fair share of flower pots and threatening every capitalist business owner that comes in her way.

Rebel
are. Not because the actors or writers lack talent, it's because there simply is no time to go deeper. There is no time to pay attention to details. There is simply too much going on in an episode. This often results in human stories ending up just being byproducts rather than the main focus of the show. Ditching the additional case Rebel has to deal with every episode and focusing on the Stonemore storyline and all the people involved in it instead, might bring a certain depth to the show that is currently missing. Sometimes less is more.
Another aspect that was irritating to me about the San Bernardino storyline is Grady's presence. The main reason he so desperately wants to divorce Rebel is her unending dedication to her job. He is sick of her choosing all kinds of random people over him and over his need for home cooked meals. Why then is he dropping everything he is doing the moment Rebel announces they were going to San Bernardino? Why does helping out the people affected by the tragedy seem almost as important to him as it is to Rebel? Why does he suddenly care? Sadly, none of these questions get answered in the episode which makes the entire storyline seem even more unrealistic.
In the meantime, Helen is at the hospital answering questions about all the symptoms she has been having due to the the faulty valve. It is of great importance to document every little detail if they want the study to be diagnostically conclusive. When Helen is asked what the most painful thing about the heart valve is, she answers without hesitation: "the guilt." She talked her daughter into getting the Stonemore valve and is now blaming herself.

Misha: "I put the Stonemore valve into a lot of people. I recommended it to even more people. I thought I was helping them just like you thought you were helping Maddie. It's not our fault, Helen. It's their fault. So let's prove it!"


A further storyline that was squished into this episode is the one of Lana's marriage. Her matrimony was not only news to us but also to her herself. Years ago, when she still was hooked on drugs, she apparently married a guy in a blackout. Now her "husband" tracked her down as he needs her to sign divorce papers. However, the two sorta get along really well. Will they even want to go through with the divorce in the end? I wouldn't be so sure about that.
Toward the end of the episode, Cruz admits to Rebel that the firm indeed has financial problems and that he wants Helen and her fellow plaintiffs to find a new lawyer. Rebel, however, insists Cruz needs to stay on the case. She is sure they'll find a way to come up with the money. When Curz receives a settlement offer from Stonemore shortly after, he feels relieved but Rebel knows that it is more than unlikely that Helen and her people would even consider accepting a settlement. After all, it would mean the heart valve stays on the market and will be put into thousands of more people.
The episode ends with Nate trying to call his mom to inform her about Helen's failing liver. Rebel, however, consciously decides to ignore her phone (and consequently her work) for a few hours to spend time with Grady. They kiss. Looks like I got excited about the divorce too quickly.
Even though the show has its flaws and still needs to find its footing, I am very much looking forward to every single episode. Fingers crossed the people responsible will find a better balance between quality and quantity. I'd rather there is less going on in an episode than having it glutted with several storylines which all cannot be explored properly due to the lack of time available.

Make sure to let us know what you think of the episode in the comments below!