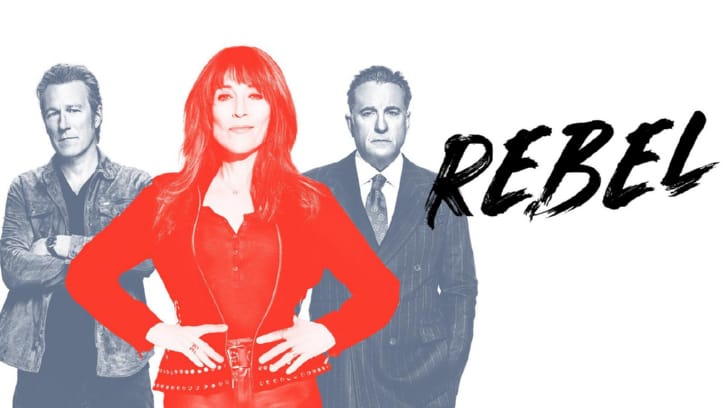 Right after its fifth episode aired last Thursday, ABC decided to give freshman show Rebel the boot and canceled it. The series was not performing as well as they hoped it would and instead of giving it some more time to establish itself, the show was dropped right when it was about to find its footing. It is not news that the world of television is harsh and ruthless but canceling a show with so much potential after only a few episodes seems particularly mean. It is undeniable that the show has flaws but there really are not many TV productions out there that win an Emmy for their first few episodes. In fact, several popular shows had a weak first season but they were given a chance and consequently turned into masterpieces (e.g: Buffy the Vampire Slayer, Parks and Recreation, Seinfeld…) It almost seems like ABC's expectations for Rebel were all the way up the Empire State building since the show is (loosely) based on the famous Erin Brockovich's life and has the network's most successful drama show runner, Krista Vernoff, in charge. When the show did not turn out to be an overnight hit they seemed to immediately have given up on it. They did not wait for the remaining five episodes to air before making a decision on the show's fate. I am not knowledgable enough about the television industry to judge whether the show was given a fair chance but from my point of view, as a viewer, it sure does not look like ABC was willing to give the series the time to find a wider audience. Announcing the show will not be renwed even though there are still five episodes that are scheduled to air makes the impression the network is taking the easy way out. They probably wont put any more effort into promoting the show which will make it especially hard for the series to gain new viewers despite the fact that it seems to get better and better with every single episode. However, the more viewers the show draws in in the reamining episodes the better the chances ABC will reverse the decision or, better yet, a streaming service will pick up the show.
Fans of Rebel are trying to safe the show with a petition! Make sure to check it out! It already has quite a few signatures.

While I criticized in my last review that the show sometimes tries to cram too many storylines into a single episode, I am delighted to say that episode five did not evoke that feeling. It felt more balanced than previous episodes. There are two storylines happening simultaneously but it feels organic and not forced. The two stories do not distract from each other but come together nicely in the end.

So ultimately it was the teenager who has no income of her own who saved Helen's life and thereby risks her own future. I know not everyone is going to agree with me on that but I very much applaud Ziggy for that selfless action.
While Helen is in the OR getting her heart valve replaced Maddie is in labour. The young woman is in pain and on top of it completely terrified to lose her mom. Even before Rebel came up with the money for the surgery she promised Maddie that Helen will be ok. A very risky promise if you ask me. Thankfully, though, Rebel was right. Helen's surgery went well. It turns out the heart valve they removed from her body shows signs of deterioration which is something that is NOT supposed to happen. When Helen's doctor Misha (Abigail Spencer) wants to take a closer look at the valve it is gone. Someone stole it from the hospital. Rebel is furious! This faulty valve was going to win them the case!
This episode was my personal favorite of the show so far! Share your thoughts on the episode and on the show's cancelation below