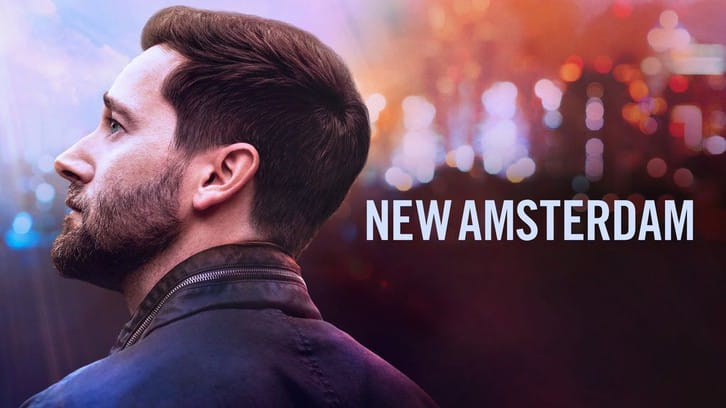 "Fake news" seemed to be the theme all through this New Amsterdam episode, with varying degrees of severity as to the impact on people's lives. The episode packed a lot of action for the NA team, and quite a bit of emotional distress too. Let's dig in!

When a cohort of residents appeared in the ED with the exact same symptoms because, in part, of a lack of access to information, Max's fix du jour was on full display again. I know I've complained about this several times this season, but it's getting so tiring. Not that Max shouldn't try and fix whatever global crisis needs fixing, but it's just not realistic that he'd be able to do it in one episode, and having the "fix of the week" schtick is becoming quite dull as far as narrative devices go. I realize this is New Amsterdam's MO, but somehow it never felt this forced or redundant during the first two seasons. If he's so good at finding miracle solutions in under 40 minutes, kindly have Max fix the scripts and compelling storytelling on his own show, please and thank you.
a few episodes ago
. Chance, who doesn't have any close family members to rely on anymore, seemed to be counting on Iggy as more than his therapist. Which ended up making Iggy very uncomfortable and was frowned upon by the hospital anyway, doctors aren't supposed to become friends with their patients. Whlie Iggy very delicately tried to set some boundaries with Chance, who otherwise was doing great at getting his life together and making amazing progress, Chance took it very hard and swallowed cleaning supplies that burned his throat. Almost every week, Iggy gets hit with these heartbreaking cases that leave an impact that's not easily overcome. These last few episodes, Iggy's eating disorder hasn't been as much at the forefront of his storylines, but I wonder if this particularly overwhelming course of events won't trigger him again (I hope not, but recovery isn't a linear path with no relapses, unfortunately).
You panic-bought a firearm, and left it loaded and unlocked in the proximity of your daughter. And when she got hurt, you tried to cover it up by filing a false police report based on race — a felony in New York. I'm not done. Because then, y'all had the audacity to claim that all lives matter while the police were combing the streets profiling black and brown faces — faces like mine, which apparently don't matter enough to you.
On the lighter side of messing up, but with what I suspect will be dramatic consequences for the neurology department, Dr Kao failed spectacularly at hiring the best fit to replace Vijay. After seeing a few problematic candidates (although I'm pretty sure the red flags Agnes noticed weren't as bad as the giant crimson banner that appeared when the new hire made her speech), enter Dr Romy Lucio, one of Agnes's medical heroes, whom she'd actually studied during her education. With literally no questions about her qualifications, motivations, management style, aspirations for the department, nothing, Agnes hires her on the spot. In her defense, she didn't want to be interim chief, and she certainly didn't want to do the hiring either. But Iggy delegated the job to her, so to be perfectly fair, he's partly to blame too. Dr Lucio starts her job (on the spot, apparently) by making a speech about how terribly Vijay had been doing as the former chief, "running the department into the ground" and that she's going to course-correct that immediately. Um, aside from what Vijay may or may not have done with the department (I honestly have no idea since we didn't see him acting as chief that often), when someone had to leave for medical reasons, after suffering though heavy procedures and almost dying, leaving a 35 year legacy at the job.... there is certainly no need to list all the ways Dr Lucio believes Vijay failed at his job. Based on the horrified look on Dr Kao's face, she instantly realizes what a mistake she's made but honestly, who hires someone just because they admired them from afar, without knowing them? HR 101, hello!
- Is it real?
- It is.
- It's just that I'm not really good with living things.
- I disagree.
It all feels very domestic, in more than a just roommates way... especially when they end up holding hands at the very end of the episode.
So,
New Amsterdam
fans, what are we expecting from these developments? How is Iggy going to cope between what happened with his patient and the new chief of neurology? Is Mina finally going to come around and behave? As usual, sound off in the comments!