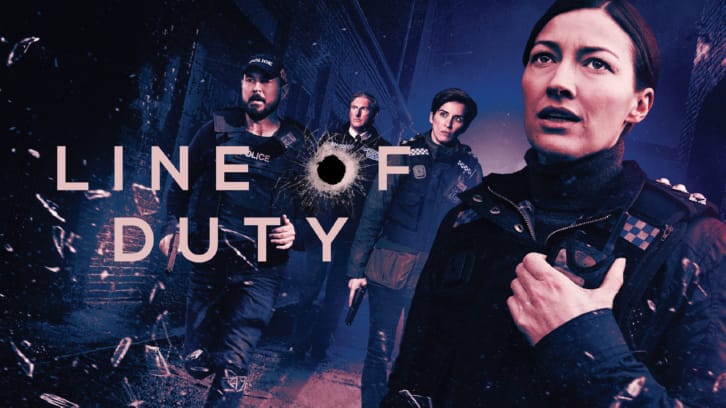 Line of Duty Series 6 Episode 5

Line of Duty had quite the episode in its fifth outing, following on from the memorable shocking twists of the fourth. This run of episodes are among the best the show has ever done; as the series really feels like it's reaching the endgame now. It's hard to believe there'll be another season after these two episodes, and everything feels like it's falling into place.

Kate has been in danger ever since Ryan put a gun to Jo's head, and much of this episode was about pushing Jo to breaking point: how far would she go before enough was enough? Orders from the mysterious "H", the Fourth Man – gave us plenty of information about Jo's intentions. She had to kill Kate; and work with Ryan to do so, Ryan, who's already been tagged by AC-12 as a corrupt officer.

But AC-12 are facing problems of their own, one of the best guest villains of the last few years of television returns with as smug of a face as ever, Patricia Carmichael, to launch a last-minute coup of AC-12 and take over the operations, accelerating what we knew was coming when Ted Hastings was warned about the impending closure of AC-12. It's hard to see the organisation lasting much longer; and Ted knows this – he's been told by higher-ups, who are banking on him finding out the leak in tome before AC-12 is closed for good. Will time run out for everyone to get their man? We're this close to the endgame now, we surely have to be – and the answers have still very much kept us firmly in the dark.

The aftermath of Jimmy Lakewell's murder gave us some information in the police convoy from the last episode where Steve was told Gail Vella was asking questions about Lawrence Christopher, who died in police custody in 2003. This gives them a new lead to follow as Line of Duty uses this week's episode to tackle institutional racism and reprehensible behaviour that the police officers involved in Lawrence Christopher's death, and it does so with a sheer devastating touch that is one of the more powerful moments of the series. Chloe's powerful delivery of "how could anyone be okay?" left a mark, things moved into place pretty quickly from there as we eventually learned the potential identity of H: Marcus Thurwell, played by James Nesbitt (what canny scheduling of the BBC to put Nesbitt in the unrelated Bloodlands playing a dodgy police officer prior to Line of Duty). Thurwell could potentially be the top dog here, especially with links to Spain in the past. But it wouldn't be Line of Duty without the show throwing another curveball at us, which we'll get to in the next episode review.

I do like the revelation that Tommy Hunter is a blood relative of Jo – it places a further emphasis on connectivity and answers as the characters search for the truth. Line of Duty has linked pretty much every case from every previous season together for this one, it's all paying off – which made this cliffhanger at the end all the more worrying as final season mode potentially means any of its stars are at risk. If Line of Duty does continue into Season Seven in some form, and it might given its record-smashing popularity viewing figures that saw episode six gain over 50% of the entire televised viewing share that night, I would expect a restructure in AC-12. Maybe even an entirely new cast of characters, should the series regenerate ala Doctor Who or Skins.

As ever with Line of Duty the show brought its a-game to the table in terms of cliffhangers and this one was very much one that kept me on edge until the rest of the week. Whilst Kate's fate was spoiled by as of yet-unaired scenes in the pre-release trailer featuring Kate, it was certainly a nail-biting cliffhanger that had the entire nation in uproar – making Ryan Pilkington the most hated fictional person in the UK for a week; Falcon and the Winter Soldier's John Walker never really stood a chance, did he?

Line of Duty Series 6 Episode 6

In the series' penultimate episode (potentially the last ever penultimate episode?), Line of Duty kicked into gear with a resolution to that cliffhanger that left Ryan Pilkington dead, and Kate and Jo on the run in a Thelma & Louise type absurd start that reminded us of why we fell in love with Line of Duty in the first place, it blends the line between realism and high stakes thrills, and gave us plenty of that and then some. It's almost a shame to loose Gregory Piper because he's just too good of an actor, but at least we have Anna Maxwell-Martin still around as the primary (for now, at least, antagonist for AC-12). She's earned Dolores Umbridge comparisons over the past few weeks or so and it's clear that she rivals Imelda Stanton's hateable villain, and Line of Duty goes two for two in that regard. If Carmichael was the breakout character of last season, this season is Ryan's, but Maxwell-Martin reminded us as to why she's here to stay.

Much of this build-up led to the ultimate surrender, but not without its difficulties – Jo recognised the game was up, but Kate, quick as ever to spot a rat, suggested that there was no way that they could have been found so quickly and someone had to be tipped off of their whereabouts. Initial suspicion goes to Steve – but it's later revealed that Carmichael bugged all the cars on AC-12, against the wishes of Steve and Ted.

And what followed was an interesting interview with Jo, one of the series' longest yet, with Carmichael in the room the three were no closer to getting any answers on H or Jo's involvement as a bent copper. Her insistence to prove herself that she wasn't bent led her to finding out the truth about her parentage in an authentic reaction that made it clear she'd been manipulated from the start, from a very young age with Tommy Hunter utilising his family connections to persuade her to join the police force. If you took a shot every time Jo said "no comment", you'd be dead before the end of the interview – but before it dragged on for too long, the show was able to give us enough to keep us guessing.

One of the boldest moves of the series was casting James Nesbitt as Marcus Thurwell, the man in Spain who, until being found dead by Spanish police in his home with his other half, was a candidate for the identity of H. But as ever, a cunning trick denied us of an Adrian Dunbar-James Nesbitt face-off, and pulling the rug right from under us was a genius move, and perhaps the ultimate misdirection cameo appereance, easily the best example of a bait and switch that we've had thus so far.

Everybody is facing final warnings in AC-12. Although Kate is cleared for active duty, Steve gets a final warning on his missed appointment. Ted ultimately concludes that some cases, no matter how big they are, just slip away from them at the last minute. When they were this close to finding the Fourth Man, they slipped away from them again. Jo is behind bars for now, being visited by two dodgy coppers who remind her that they know where she is. With one episode to go to tie everything up, we're no closer to the truth than we were several episodes ago. But the stakes are higher than ever, and Line of Duty is about to bring its run of excellent episodes to an end.

Line of Duty concludes tonight and is available to stream on BBC IPlayer now in the UK.