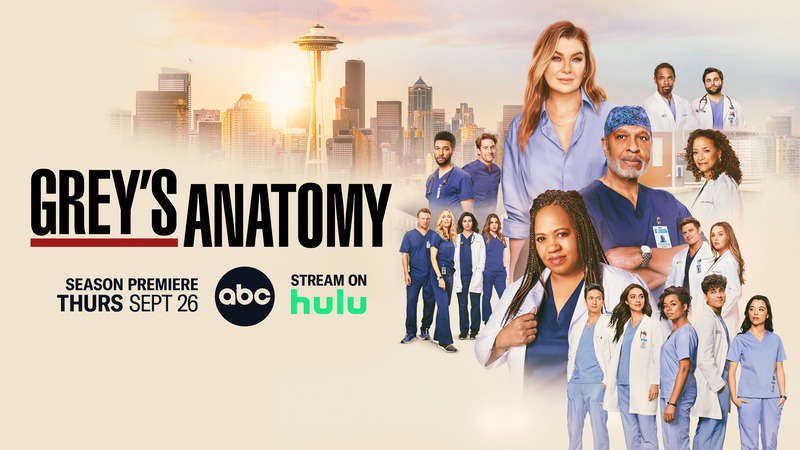 *Writer's Note: Due to personal reasons this delay happened. I am truly sorry for it.*
After the Lexi-Marc-centric episode, Grey's seemingly decided to keep on track and deliver a bunch of strong and focused episodes. And most importantly got our Girl out of her Coma. Let's dig into it ep by ep.
Sorry Doesn't Always Make it Right
Coming off the Lexi-Marc-centric episode, this one had a tough job to provide a decent enough follow-up. Still, the outing provided strong stories and character moments, filling up the void provided by the lack of Meredith. The episode was written by Julie Wong and directed by Giacomo Giannioti.
Amelia and Linc were the major focus of this episode and I loved all about it. The chemistry between Catarina and Chris is always just spot on. Them having the house all for themselves and it turning into a "pitty" party was a neat twist. And even though I would've preferred some steamy scene between the two hotheads, them facing their internal struggles and having some emotional growth instead paid really off. Seeing just how little Amelia needed to have a breakdown, was a perfect showcase of many of us during this pandemic. Amelia often had a tough time taking care of herself, taking care of 4 kids and a "husband" certainly had to show itself. But seeing that Amelia felt secure enough to mention her addiction struggle to Linc just shows how close they are and how much she trusts him and how close they grew during this current quarantine. The beauty of their relationship is that there is barely any judgment, yes there is the odd look at each other, but they look at each other as the person they are now and not the person that they were. Linc being this perfect Ken doll baby daddy was just a cherry on top of their relationship.
Linc's proposal attempts and Amelia's reaction to it were hilarious, that was just another show of how great their chemistry is.
The trauma Couple storyline was cute and weird. And just when you think Grey's has played all their "injured" newlyweds stories they come up with a weirder one. I usually don't enjoy Owen's scenes as his stories feel forced most of the time. The interaction between Owen and Miranda worked well, their opposite energies worked well as they've provided context to both sides of the story. The outcome of this story is what I've enjoyed the most. Owen opening up to Teddy and giving her the support she needed felt just right. Teddy doesn't need any more beat downs, she needs that support and while I wished we were done with the Teddy-Owen stuff but if they continue this type of storytelling I am all for it.
Week after week, I am more into the Hayes-Jo friendship. Their unapologetic way of communicating feels refreshing and the way they are unknowingly supporting each other feels great. Jo's struggle to talk to Meredith was a great call back to the long road the two of them went together. In retrospect, Mer was there during so many crucial moments for Jo, that made this story relatable. Mer waking up just to tell Richard about Jo was a neat way to make it a full circle. Hayes fight for his patient was just as inspiring. Hayes is turning into a more solid character week in week out, no wonder Christina "picked" him for Mer.
Last but not least, Jackson got some pushback from Intern Mama Ortiz. The passion Lisa Vidal put into Ortiz's words just transferred so well over the screen. Avery being clueless as always was a bit annoying. It just so often the case with Avery, he is giving the temporary fix put a patch on a breaking damn.
Sign O'the Times
Despite the lack of Meredith, "Sing O'the Times' felt like a peak Grey's episode. The way Grey's unsubtly touches a topic and creates connections between all the stories, just to send a bigger message is just captivating. Michael Medico directed the episode, written by Jase Miles-Perez.
Grey's told many Black Lives Matters stories over the years and especially in season 17, they put a big notion on how the healthcare system and the government neglect black lives. In this episode Grey's tackled a different side of the Black Lives Matters movement, the Protests. I felt sad seeing how Bailey prepped the Hospital for possible casualties. Knowing that things would escalate and that it will breed violence is just sad. But it's part of the reality we all live in. Seeing how different patients experienced the protests and how quickly the situations turned into violence.
Brining in Phylicia Rashad for this episode was the key ingredient for a great episode. The energy she brought to this episode was something else. She had like 3-4 scenes but she made each of them about her. Nell was a force and the way they elevated her story and fight through this episode just felt so important. Also, it was a message to ignorant people telling them that protests didn't start last year, people are marching and fighting injustice and police brutality for longer than most of us know.
Jackson's take on protesting was another good pov to tell. Confronting Catherine was another misstep from Jackson, at least the way he did. Catherine Fox is a force and is deserving respect. Yes, they weren't protesting but it isn't the only way to invoke change. Telling someone to do their job better but never being the one to take on responsibility is cowardly. When asked to become the head of the Avery Foundation, Jackson runs as fast as he could. So don't point fingers when you never lifted your hand before. But his actions lead to the big Japril episode on the 6th of May.
Winston's story is what left me teared up and unsettled. How traumatic it has to be for people of color to live in America? Racism of course, stretches past the borders of the US, but the current echo coming from the US is hitting hard all over the world. Winston's change of face and energy the moment he heard that car siren, told so many stories. All the scenarios that went through his head and the mental state he went into to keep himself alive were just petrifying. Antony Hill delivered splendidly during his and his reaction on the road alone after the police left felt so relatable. The pain and fear were palpable through the screen, the tremble in his voice just made it that much real. Kelly McCreary's Maggie was just as impacted. I found it really wonderful to see her call out to Richard. He might never be her dad but he is her Richard. The security he provided to her was just everything for her in that moment.
The use of Hayes during this episode was good. They've used his position as a white male and challenged his views and made him learn through the curse of the episode felt really important.
I appreciate that this season is also giving Schmidt the needed development. Schmidt always got some focus and character growth but this recent growth as a surgeon we are experiencing just means the world. The way he heard Mer's voice and how she guided him through the situation was just a great moment. The way the show gives Meredith her rightful dues through Schmidt and Jo just feels right. Off-topic, it had to be weird to shot those scenes in the hyperbaric chamber. Ellen just lying there with "intestines" flying around.
Miranda had it just as rough this week. Her patient was an idiot and having to take care of him and trying to talk sense into him after losing her mother to Covid was such a tough task. I know there are many non Believers and everyone has the right to believe or not to believe in whatever they want. I personally question how Covid was released but you can't lie about it being out there. Miranda showing her compassion despite the rude way her patient behaved just shows what great a person she is. That moment between Miranda and Teddy was worth it. Covid affected so many people and healthcare workers saw so much bad and the consequences of Covid will last longer than this pandemic.
Good As Hell
And she is back. After an 11 episode pull and push (it definitely felt longer), Meredith returned from the beach. Michael Watkins staged the return behind the camera and Zoanne Clack put it down in writing.
At the beach, Mer had an extensive talk with "Derek". I don't see the beach as a ghost plane, I see it as part of Mer's brain where she hid from all the pain she experienced. And all the talks she had on the beach is with people she missed and them telling her what she would expect them to hear. It felt weird that Mer needed so much convincing to come back to her kids. Yes, the beach was beautiful and peaceful but after all, she went through; Mer would never consider leaving her kids or sisters.
Still, the beach scenes with Meredith and Derek were just everything. One of TV's couples with the best on-screen chemistry and each scene during this season felt like he never left the show. I know Patrick left as it wasn't working for him anymore, but sometimes I wish they wouldn't have killed him. Let him be somewhere doing his projects, stop by occasionally and just let them be. Them talking about the kids, Amelia, his mother, their past, and her future, brought all the feelings. It is unbelievable how the small ways they've interacted without even touching felt so intimate and captivating.
The show using Zola more with every season is one of the greatest developments over the last couple of seasons. Zola embracing Mer and being there when she woke up just made me tear up. The mother-daughter duo should definitely get more focus. Zola just as Mer carries the weight of the world on her shoulders. It was a nice touch from Meredith to say "We Love You Zozo."
Could I watch an episode of Jo and Hayes chatting by Luna's incubator? I certainly could. Jo vs Miranda was a pleasure to watch. The two hotheads going up against each other was fun. Miranda being protective of Jo was sweet. She eventually supporting Jo was the only possible outcome I've expected from this show. Miranda's speech about being a powerful Black woman, hit all the right notes and Chandra Wilson once again delivered it without batting a lash.
The Amelia-Linc moments in this episode were just sweet. Amelia's need of couping via surgery, Linc being overly protective of Amelia, them going home together just purr perfection.
Leave it to Owen to make the death of a patient all about him. I talked about the ramifications of Covid on the healthcare workers in this review and previous, but fuck Owen's reactions just feel so over the top. Crashing stuff, making stuff feeling insecure and unsafe, just left me annoyed. The show really has to take a step away from this overemotional Owen and let him just be. In contrast, his scenes with Teddy worked so well this week. Just being there and doing more with his actions than aggressive words worked so well.
That is a wrap from me. What are your thoughts on the recent Grey's Anatomy episodes? Which one was your favorite? Which storyline did you enjoy the most? Share your thoughts in the comment section down below.