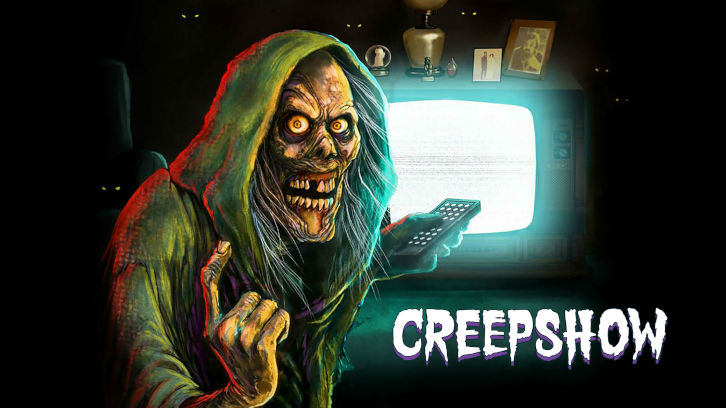 SPOILERS AHEAD - PLEASE DON'T READ UNLESS YOU'VE WATCHED CREEPSHOW 02.05! Yes, you've been warned!
Thanks to a certain - possibly former - rock star being accused of sexual assault by several famous women and having his filmed segment removed long before airing, the second season finale of
Creepshow
only features one, surprisingly long episode that is big on technological innovation and small on surprising twists.
In one of the best examples of wish fulfillment Shudder has produced yet (sorry, Joe Bob Briggs), this episode featured not only a Doom-like first-player video game based on Night of the Living Dead (I seriously wish this game were real - and I don't even play video games anymore), but also Jeepers Creepers' Justin Long playing Simon, an inventor who invents a device what allows its inhabitants to sync up any film on streaming serviced called "Immersopod" and be able to live a virtual reality fantasy where they can actually walk around and interact with the characters in the same film. Director Greg Nicotero chose Horror Express with Christopher Lee as the main title Simon gets to experience first hand. Yes, Night of the Living Dead is also featured, but that came off to me as too expected since it is in the public domain (though it seems that Mr. Nicotero still had some issues clearing rights to both films, according to some interviews).
However, anyone who remembers the film version of The Lawnmower Man or Virtuosity from the 1990s knows any horror story with virtual reality in it usually ends up in tragedy. This is no exception. Simon's wife, Renee (The Good Place and Barry's D'Arcy Carden) realizes that she has suddenly become the "other woman" in this unexpected thrupple and gets quite jealous of Simon giving all of his attention to his simulations. She even goes so far as to accuse him of using her for her family's money, which he used to build his prototype. My only comment on that was, "well, why'd you give it to him in the first place? What you think he was making with it?" As you can expect, this escalates when Simon starts declining offers to spend time with her so he can interact in the VR simulation world more. Pretty soon, marriage counseling becomes out of the question when Renee sets a violent trap inside the machine using a few features Simon probably didn't want her to know about.
The video game design here recalls the basic design from such nearly-forgotten 2000/10s films, like Hardcore Harry and Kung Pow. Per usual, you felt that AMC could've granted more of a budget for this episode, but watching how Mr. Nicotero blocked the recreation of Horror Express more than makes up for it. I was actually dazzled watching the new footage mixed with the footage from 1972. What results is a mini-cautionary tale for any 21st century horror fan who is being seduced by our rapidly evolving technology to take the real characters from their actual lives for granted while life passes them by trying to recapture what made watching films in their youth so magical in the 1st place. Somehow, I doubt it will give people like Tim Cook or Elon Musk pause.
While not my favorite segment this season, I also felt it was the most telling. The biggest thing I took away from this episode is how much we desperately need to be producing new projects centered around the obsession of new, immersive technology/storytelling in horror fandom...especially for nostalgic, cisgender male-presenting horror fanatics. It's become the worst kept secret in the genre in quite a while and it's never going away at this point. It is like a sleeping dragon about to awaken and get up to feed. Finding ways to keep living in the past might be the new disastrous plastic surgery. As some of the previous segments of Creepshow this season have shown, we need to move the genre forward to create the best horror these days, not just wax nostalgic about the old ways. However, as the saying goes, "what was once shall be again." Or the more things change, the more they stay the same. Hopefully, the next season will continue in this direction and embrace strange....r.