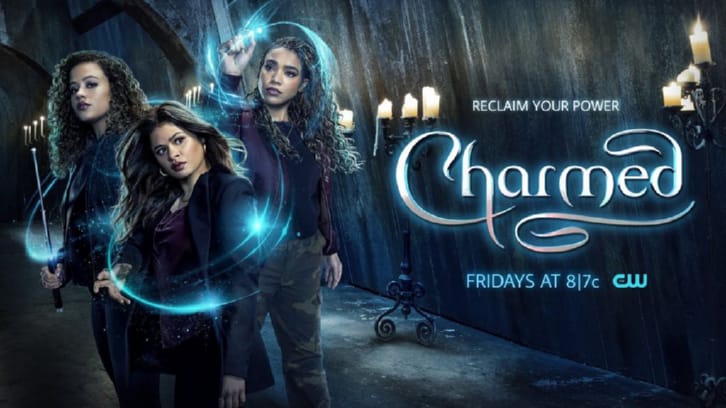 In its Friday timeslot premiere, Charmed delivered a twisty outing with some strong moments and some story discontinuity. Episode 11 of season 3 was directed by Ken Fink and written by Natalia Fernandez and Johanna Lee.
Picking up from the episode 10 cliffhanger, the sisters went on the search for the cure. The cure was a magical egg with immense power. The episode delivered some new information and explained where the allergy came from and why there wasn't a spell or potion to fix it. It was a security measure to prevent anyone to interact with the beings within the tomb if they were opening it so they could use their inhabitants. I am grateful for what the egg provided. The middle part of the episode with the sisters living their best lives was just so precious. The gloom and doom of the show is an intriguing part and provides for good twists and vanquishes but after a while it gets too much. Being so invested with the characters there comes a time you just wanna see them happy and careless and this is what the episode provided, and for that I am grateful. In general storytelling, it felt a bit rushed. The real effects of the wish-fulfilling egg and the consequences felt too fast and run over. The impact should've been a bit bigger and indicate more towards the sisters as it felt like it were coincidences and not really consequences. The scenes of the sisters "realizing" what the egg did and deciding to reembrace the allergy were potent though. The actresses transferred the uncertainty, struggle, and sadness so well. Saying goodbye to "normal" life was really hitting them hard.
During the allergy-free time, Macy and Harry took their long-awaited trip to Paris and it was a delight. The way the directing and writing played with their interaction and chemistry just made me smile. The two of them were so geek and adorable, a perfect fit to be honest. As said in the previous paragraph, the show needed this levity, to balance all the darkness and sadness. Also if allergy-free interaction will be neat as this I can't wait for it. Still, the writers woke up swiftly out of their blissful writing and put a Damocles sword over the relationship, an old one though. Harry struggled with the fact that he will eventually watch Macy die and the desire to become mortal grew stronger and I have issues with that. Harry is the last standing Whitelighter and while there is an option to create more, it is Harry's destiny and him throwing it away because of Macy feels faulty. Yes, love is the greatest motivation and Harry's motives are pure, but his purpose in the world is bigger than that. Just like the sisters' destiny is greater than their mortal desires. So let's hope <s>the writers</s> Harry comes to his senses and they strike this story.
Maggie put up a great presentation in front of the awful professor. Sarah's energy as Maggie was just everything the joy and strength she put into this scene were captivating. Sharing her success with Jordan was another sweet moment. Jordan means so much to Maggie and was a huge part of her development. The encouragement he provided through the last two seasons just makes their connection stand out, and I can't wait for it to unfold completely. One thing that irks me (and most of the fandom if you stopped by Twitter these days) was that Maggie didn't know that Jordan broke his curse and is available to "cuddle". Even in her therapy session, Maggie mentioned how she isn't able to indulge her desire cause of Shellfish "allergy". I hope it is only one of Maggie's references to the year of Me and that cause of the focus on herself she doesn't want to start something serious with Jordan. Let's hope that will be cleared up in future outings.
Last but not least, Mel was on the hunt for tenure. And while it wasn't as prominent as the other two stories, the episode gave Mel development through her interaction with Josefina. As Josefina's quest to gain active powers taking over, it provided for some great moments between her and Mel. Mentor/Teacher Mel is just a delight to watch. Melonie Diaz reflects that part of Mel so well and the way she was able to reach out to Josefina during her darkest moments just shows what an amazing teacher she is. This woman definitely needs to open a magic school and give the upcoming generations of witches proper guidance.
Josefina's hunt for active powers was fruitful at the end of the episode. The Taino witchual was the right choice and finally gave Josefina powers over nature aka chlorokinsesis. Josefina's road, even though short, was impactful. Mareya Salazar brought great energy through the show and her interactions with the Charmed ones were quite good. For now, Josefina returned to Puerto Rico but I am sure we will see her sooner before later. Josefina gives off quite a bit of OG Paige energy to me. I rarely compare the two shows as they are separate entities but Josefina's talent for magic and continuous work on her skills are so early seasons Paige that I've had to mention it.
This week's B-Story involved Abby and "Jordie". After her demon form tried to kill the Charmed ones, Abby decided it was time to bind her powers. But before she was able to do so with Jordie's pure soul she was transferred to the Tomb of Chaos, but not only that Jordan also was put into the Tomb, reasons unknown. Major shot out to Ken Fink for those two Abby scenes, Abby getting smacked out of her Demon form and getting taken by the Perfecti looked so powerful and creepy. The Perfecti are seemingly going rogue and capturing magical beings beyond their "jurisdiction". And despite that, Mo and Aladria are a blast. Heather Doerksen and Aryeh-Or are just a perfect fit for the roles, mysterious, awkward, and hilarious. The Demon Dog stuff made me cackle hard. Looking forward to their story unfold in the final episodes of the season.
The episode ended with a right of passage. And it was beautiful. The three sisters celebrating Mareya and their legacy just looked empowering, The Manor backyard is such a gem and looked perfectly in the provided lighting. Mareya revealing the book of Shadows to the sisters was a great way to wrap this story, even though it still being work in progress.
Other Tidbits:
- Macy geeking out after Harry announced a museum trip, where she can see the original Rabies flask, was weird and adorable at the same time.
- Maggie just leaving her therapy session felt weird and the scene overall forced.
- The outfits this episode were such a serve. Our Charmed Ones are just wOw.
- Also a round of applause for the writers giving us actual Macy-Josefina dialogue.
Charmed is slowly setting up the final showdown of season 3 and things will definitely heat up with the Charmed ones probably going head to head with the Perfecti. What are your thoughts on the episode? Share your thoughts in the comment section below and tune in to new episodes of Charmed Fridays 8/7 central on The CW.