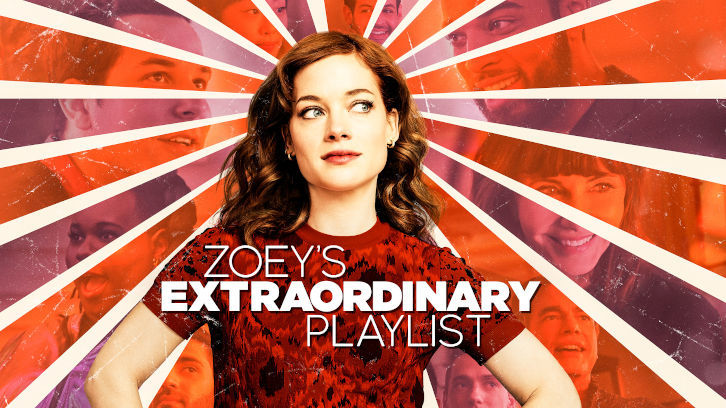 Zoey's already incomprehensible love life takes another (semi)surprising turn this week on Zoey's Extraordinary Playlist. Read on for my review of "Zoey's Extraordinary Birthday":
If the episode title didn't give it away, we open a few days before Zoey's 30th birthday. Looking forward to celebrating something after all of the sadness brewing in her life in the past several months, Zoey invites all her friends to a big birthday party to be held at the Clarke residence that weekend.
Meanwhile, Mo has been very committed to fire prevention at Maximo's - but not because of a newfound appreciation for safety so much as an appreciation for Fire Marshal (Perry) Haskins, who comes back to the restaurant to assess the new precautions - and leaves with a dinner date set up with Mo.
Meanwhile, the former half of Maximo's namesake has some interesting romantic prospects as well in the form of Rose, introduced last week as a former crush from Max's Summer Camp days. Max introduces her to Zoey, and Zoey has a hard time watching how much chemistry the two old friends have together - especially after they start singing and sexy-dancing to INX's "I Need You Tonight" (I need you tonight / 'cause I'm not sleepin' / there's something about you, girl / that makes me sweat).
This leads to an awkward stembling block in the rules of the Zoey and Max's relationship "pause," as both of them are beginning to show interest in others (Max to Rose and Zoey toward both Aiden and Simon). Zoey tells Max what she saw/heard him sing, and she also confesses to him that she might be interested in Simon again. Seeing the conversation for what it kind of actually was - Zoey seemingly searching for an excuse to be able to date Simon and still keep Max around on the side - Max gets frustrated and leaves.
Because of this falling-out with Max, Zoey decides to cancel her party, but is shocked to find that on her birthday, the employees at SPRQ Point throw her a surprise party - set up and coordinated by none other than Simon. Zoey tells everyone that her party is cancelled, but when Simon and her employees all begin singing "Don't Leave Me This Way" by Thelma Houston, she relents and decides to put the party on after all.
Zoey's party goes on, and everyone seems to be having a good time. An apologetic Max even shows up at the party and gives Zoey a framed plaque of "A Moment like This" (their song!). The two talk it out, and both agree that they're OK with each other pursuing other romances (although does Max really seem fine with it? Again, this does seem kind of manipulative on Zoey's part - kind of like having your cake and eating it too).
All of the happy couples present at the party start singing "Kiss Me" by Sixpence None the Richer - Mo and Perry, David and Emily, and even Tobin and Mackenzie! Zoey - who has been nervously circling Simon all night - is discouraged when she sees Tatiana singing it to Simon - but his back is turned and it's unclear if he sang it back to her or not.
This question, however, is quickly answered - as Tatiana leaves, she mentions having a Bumble date, indicating that Simon is free for the taking. Zoey heads back into the kitchen and they share a moment that is rife with romantic tension. She invites him to her house the next night for an intimate birthday dinner together, at which Zoey hears him singing Ariana Grande's "Into You." (Which - this is like - I get it. Simon is so hot. And that song was great. I'm mostly mad at the writers about this, to be honest. John Clarence Stewart, don't change a thing!). They kiss - the end!
A few other mini-developments: Mo's date with Perry is going swimmingly - until Mo finds out that Perry has two kids from his previous marriage. Mo is faced with a dilemma, because he really likes most of the things about Haskins, but kids are a completely foreign challenge to him. Ultimately, he decides to give the relationship a try anyway, but I can only assume that more on this plotline is yet to come.
Also, at Zoey's party, Aiden sings an original song that is (upsettingly) clearly about wanting to date Zoey, then leaves the event with his tail between his legs when Zoey rejects him. It seemed like this was supposed to be the comedic peak of the night, and yet I couldn't tell if I was laughing because it was funny or because it was unbearably cringe-y.
On that note, this week and last week's David/Aiden plotline truly just feels like the writers said "We need something for both of these characters to do," and then just went for it. Seemingly a classic case of a writers room's pride - the drug trip episode was a fun idea, for sure - outweighing the rationality that they had absolutely no use for Aiden's character beyond his first appearance. He's just not interesting - not a viable part of the love triangle (blob?) and not close enough to any character to make any sense in the story. Cut the fat!
Additionally, for being something that, promotionally, the Zoey writers insist is "not a big deal," the love triangle storyline becomes more and more of a big deal every day. This is not a light and breezy background plotline anymore - and a majority of this episode was dedicated to the same Max versus Simon back and forth that populated (and occasionally over-populated) season 1. Except, now, we're not just limited to a love triangle; there are new love interests popping up everywhere, like a game of Whac-A-Mole. Obviously Zoey is going to end up with either Max or Simon, so why are we spending so much energy on this? To emphasize how messy romances are in "real life?" Because I can tell you for a fact that this love blob is not realistic in the least.
What did you think of "Zoey's Extraordinary Birthday?" Can you even keep track of all the relationship drama at this point? And how do you feel about Zoey and Simon's new "thing" - a sign of maturity, as Zoey claims, or just another convolution in the never ending escape room that is this show's romantic throughline? Let me know in the comments!
Zoey's Extraordinary Quotes-List:
Zoey: I'm just gonna text him right now and see where we stand. Actually, I should do it in person, right? That's the mature 30 year-old way to do it, right?
Mo: Girl, why are you asking me? I'm still basking in my 20-somethings.
Zoey: 20-what, exactly?
Mo: You know, I've lied about it so often I don't remember either - bye!
Zoey: "A Moment Like This?" Max, it's our song!
Max: Well, I would say it's America's song.