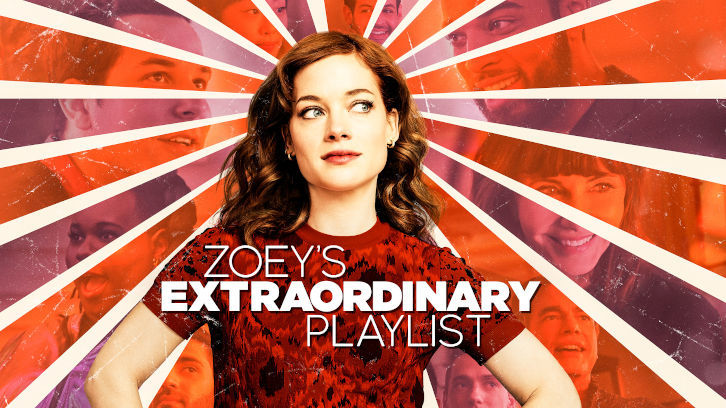 Zoey runs into a problem simply too large for any one person - even one with superpowers - to solve alone this week on Zoey's Extraordinary Playlist. Read on for my review of "Zoey's Extraordinary Girls' Night":
Picking up where the previous episode left off, Emily - who has just sung the most heartbreaking of "heart songs" - breaks down crying in front of Zoey, but quickly regains her composure, acting like it was just exhaustion and that she's actually OK. Zoey (knowing the way of the "heart song" all too well), is dubious, and determined to help her sister-in-law through her troubles.
The next morning, Zoey tells Simon about her concerns about Emily, and Simon advises her to persist in trying to help her, even if Emily seems closed off to the idea. On Zoey's second attempt to reach out, Emily continues to act as if she has everything under control. However, it seems like David can also sense her stress, as he starts singing "Make You Feel My Love" by Bob Dylan toward her. Consulting on their shared concerns, David and Zoey plan a family dinner to help encourage Emily to open up to them.
Maggie, disillusioned by friends who just see her as "widow Maggie" now, reaches out to Deb to hang out with someone who might understand what she feels like. This plan accidentally interferes with Zoey's plan to help Emily, however. That night, the Clarkes talk about their feelings over dinner, but just before Emily starts to open up, the event is interrupted by Deb, possibly tipsy, singing "Cheap Thrills" and ready to party with Maggie.
Unable to coax anything out of her, but determined to help, Zoey estimates that Emily is suffering from postpartum depression. She becomes obsessed with finding a solution that will help her, even when Simon advises her to step back and let Emily come to her in her own time. Zoey, somehow, interprets this advice as "throw a girls' night in to convince Emily to spill all her feelings at once."
Meanwhile, Rose is getting ready to leave town and Max is quietly struggling with the idea of breaking things off with her as they had originally planned. Additionally, Mo is working harder to accommodate Perry's kids into his life, but it doesn't seem to be doing much good on Perry's end. That night, as Zoey preps for her night with Emily, these individual stresses lead to Max, Mo, and Simon - who is frustrated with Zoey's distance due to focusing on her "heart singers," all singing "Tearin' Up My Heart" by NSYNC.
Zoey meets up with Emily for their "girl's night," but soon realizes that Emily expects a girl's night out, not in. Emily drags Zoey to a club to party and get drunk, which, as it turns out, is not the best venue in which to talk out your feelings.
Deb and Maggie, on their own girl's night, head to the casino. Maggie, in an attempt to shed the title of "Widow Maggie," pretends to be a well-to-do named Savannah (also from Savannah), as well as the oversharing Sheila from Long Island. While pretty inconsequential to the actual story, WHAT FUN this segment was! Just Mary Steenbergen and Bernadette Peters hamming it up. Love it!
At the club, Emily goes to the bathroom to pump, and Zoey tries to get her to open up one more time, this time prompting her to sing "Gasoline" by Halsey ("I think there's a flaw in my code / these voices won't leave me alone / well, my heart is gold and my hands are cold"). In a gorgeously shot scene (again, with a top-notch performance from Alice Lee), Zoey starts to understand that she's not going to be able to handle Emily's issues alone. Back at home, Emily finally opens up, confessing that she's feeling that Miles would be better off without her and she's been experiencing a lot of anxiety and depression since his birth.
The next day, Zoey and Simon attend a church service where Mo is singing a solo, "I Look to You." The song doubles as a reminder to Zoey (as well as Perry, who is also in attendance with his kids) that they need the people around them to help figure out the problems in their life. As a result, Perry introduces Mo to his kids (albeit as a friend), and Zoey accepts that Emily will need a lot more help than she can offer.
Additionally, Rose and Max mutually confess that neither of them want to break up, and they agree to keep their relationship long-distance (although remember how that worked out for Mo and Eddie?).
Emily tells David about her depression and confesses that she thinks she needs professional help, and he supports her. She's not the only one who seeks out professional counseling, however - the episode ends with Zoey confessing to a therapist of her own (played by Oscar Nunez of The Office fame) about her powers and how "I think they're ruining my life."
This was a pretty good episode, although I think it did bite off a little too much, trying to address a couple of tricky topics (both depression and women's mental health) that it really didn't fully know how to traverse. In all, the hesitancy of the writers to say or do anything major was clear, and the discussions about therapy etc; were scientifically correct but less affecting than they were overly-clinical. Overall, though, the topics were handled decently enough - not much to dwell on, for better or worse.
One thing that is starting to stand out as odd to me is that this season is specifically having a hard time balancing comedy and drama episode-to-episode the way the first season did so easily. We seem to be getting either/or now, with each episode being song heavy, joke heavy, and lighthearted, like last week's "switch-eroo" outing, or dramatic and rather serious, like this episode. This pattern sticks out as truly odd - again, especially because the first season was marked by its near-flawless blend of drama and comedy. Not really sure what happened there, but I guess we'll have to wait and see if this is a fluke or a purposeful move away from the "dramedy" gray area and into a single genre.
What did you think of "Zoey's Extraordinary Girls' Night?" How do you feel the show did on addressing postpartum depression? And on a scale of 1-10, how much do you want a buddy comedy starring Bernadette Peters and Mary Steenbergen now? Let me know in the comments!
Zoey's Extraordinary Quotes-List:
Zoey: You and I, we're a good team, right? We always found the hiding place for our Christmas presents.
David: Damn right. There were no surprises under that tree. We ruined every single Christmas.
Zoey: Oh, we definitely did!
Emily: Be honest, how many drunk messages did I leave you last night?
David: Four. One featuring a guy named Clay who you swore was not your type.
Emily: A phone is a weapon in my hands.