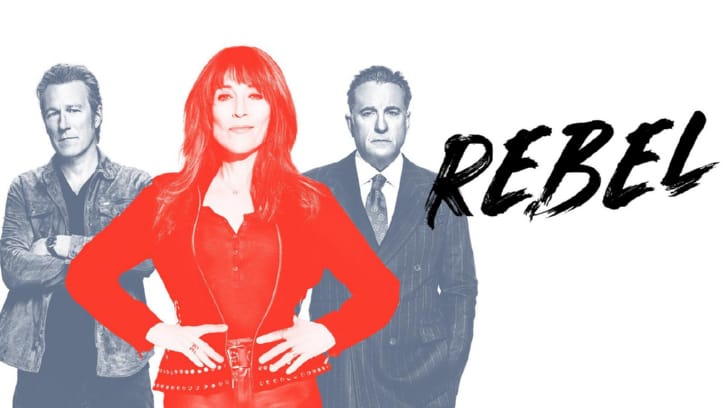 Good news, everybody! The television industry slowly (at a glacial pace, really) seems to be realizing that women past the age of 50 are more than capable of being the lead of a prime time show! A fact that we, mere mortals, have known even before Christine Baranski, Viola Davis, Jane Fonda and Lily Tomlin proved it. With ABCs Rebel Katey Sagal is joining the microscopic group of leading ladies over 50 and it's fair to say she did so effortlessly. In the show loosely based on Erin Brockovich's life, Sagal portrays Annie Flynn-Reid-Bell, a woman who picked up too many names along the way and therefore just goes by "Rebel". Because that is what she ultimately is: a rebel. Like Brockovich, Annie is an advocate for people without a voice and refuses to back down even when the fight seems already lost. She is a public figure with an already established reputation and several influential connections. Her three children, two ex-husbands and current husband do not always approve of her ways but they generally have her back.

In the pilot episode Rebel plans to take down a major medical company which produced and sold hundreds of faulty heart valves that made people even sicker. Within the first few minutes of the episode Rebel crashes a fancy party and ends up in jail where she apparently needs to be bailed out of on a regular basis. In order to win her fight for justice Rebel does not shy away from demanding her friends' and children's help. Her youngest daughter, Ziggie (Ariela Barer), who is currently recovering from an addiction, is usually a willing participant while Cassidy (Lex Scott Davis), an attorney who works for the same law firm Rebel is a consultant for, and Nate (Kevin Zegers), a gynecologist, seem more like the buzz kills of the family and try not to get involved.
In the case of the faulty heart valves even Rebel's boss Cruz (Andy García), her deceased best friend's husband, is denying her any kind of support which leaves Rebel and her private investigator friend Lana (Tamala Jones), who coincidentally is also her ex sister-in-law, with no other option but to fight on their lonesome.
For Helen (Mary McDonnell), one of the patients who is struggling with the aftermath of the faulty heart valve, and her pregnant daughter Maddie (Daniella Garcia), who is also dealing with the repercussions of her own heart valve surgery, Rebel is the last beacon of hope. Maddie's baby is not expected to survive more than a week after it is born and Helen seems to be getting worse every day. Rebel promises to get the valve out of them, she promises them justice and she fights with everything she has to keep that promise, no matter the costs. Her unending dedication to her clients and her strong urge for justice turn out to be a traits she passed on to her children after all, when her son decides to start a study looking into the many side effects of the heart valve. This is a significant step toward a successful lawsuit!
At the end of the episode, even Cruz chooses to assist Rebel in taking down the medical company. As the episode progresses we understand that his refusal to support his late wife's best friend has more to do with personal reasons rather than with his role at the law firm: His wife's death was possibly caused by the very same company Rebel is trying to hold accountable. She had received one of their heart valves and died not long afterwards. By not helping Rebel, he was trying to avoid the pain associated with this case but he realized he owes it to his late wife and to himself to take action. He has Rebel's back from now on.
While doing everything humanly possible to bring the capitalist company to its knees, Rebel's seemingly happy marriage is unexpectedly breaking apart right before her eyes during her own anniversary party. Their daughter announces that she found divorce papers in her dad's bag. Husband Grady's loving behavior was only an act when in reality he had been planning to serve her with divorce papers for a while now. Apparently he cannot deal with Rebel's independence, her demanding job and her frequent absence any longer. Well that's on you, Grady. You knew what kind of person she was when you married her. You knew exactly what you signed up for. Don't expect any sympathy from the audience!
There is no denying that Rebel is a force to be reckoned with. She is unapologetic, relentless and doesn't believe in personal boundaries of any kind, but just like she said in a scene at the very beginning of the episode: "
Everything in history that ever got done got done because someone like you got pissed off
", and she is right about that. Women did not get their right to vote by smiling at politicians and judges. They screamed for it! They fought for it! Righting wrongs is never easy, it certainly is not comfortable and it is even more challenging for women. They get labeled as "pushy" and "infuriating" while men with the exact same behavior are referred to as "persistent" and "determined". And this is exactly why it is so important to have women like Rebel on our TV screens on a regular basis: because she deconstructs long preserved stereotypes.
Created by Krista Vernoff, it is not a surprise that
Rebel
is just as much about Rebel's entire family as it is about herself. Almost all the characters are related to each other and work in jobs that come in very handy for Rebel. Is it realistic? Well it certainly is not less realistic than
Grey's Anatomy
or
Scandal
and both those shows are quite successful, aren't they?
You can like the writing or not but what pretty much everyone can agree on is that the performances by every single actress and actor on the show are extraordinary. There is not a single weak link. Be it Katey Sagal herself, Andy Garcia, Ariela Barer or special guest star Mary McDonnell. They all blew it out of the park. If the show is flawed it certainly isn't because of its thespians.
Lastly, I would like to mention one of my most favorite aspects of the show: The fact that Rebel is an older woman who deconstructs ageist stereotypes in almost every single scene. She dresses in tight outfits, shows off her cleavage and does not hide the fact that she is a sexual being. Hardly any TV show dares to portray their 50+ female characters in such a way. Thankfully, there are already a few women creators and producers out there who are trying to change that narrative and do away with antiquated views and prejudice. In my opinion, howeber, it is not happening fast enough.
What did you think of the pilot episode? Will you keep watching? I certainly cannot wait to see what this show has in store for us.