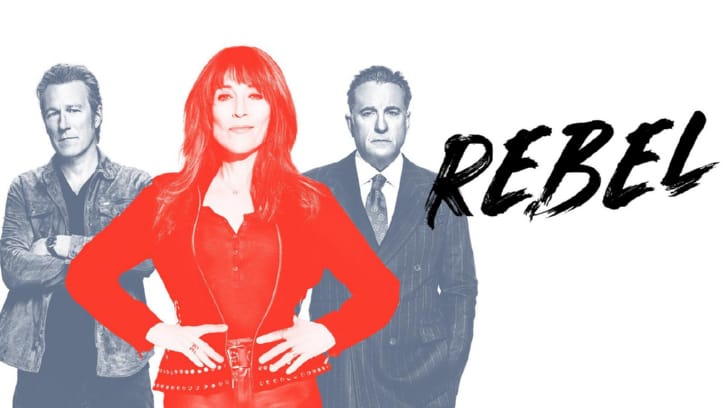 In last week's episode of Rebel we learned a very valuable life lesson: Do not piss off Rebel (Katey Sagal) unless you want to end up having a shotgun pointed at yourself.
It is not only Rebel's private life that is currently rather complicated, the obstacles she has to surmount to take on Stonemore Medical seem even more inexpugnable than expected. In order for Cruz (Andy Garcia) to file a lawsuit he not only requires a professional medical study that is way further along than the study Nate (Kevin Zegers) just started, he also needs a patient X which is a person who received the heart valve, developed an autoimmune disease, then got the valve removed again and consequently the disease reversed itself. There is no other way if they even want to have a chance of getting this case before a jury.
Cassidy's brother Nate is trying to get the heart valve study underway but has difficulties as he is not specialized in cardiology. He asks his cardiologist colleague Misha (Abigail Spencer) for help but she has no interest in assisting him with the issue. Apparently he ghosted her after spending a night together and now she cannot bear to look at his face. I almost liked Nate up to that moment but after finding out how he treated several of his female co-workers I'm mainly angry at him. Apart from that, I'm really not interested in seeing a romance between him and Misha. We already have a ton of stories about young, pretty doctors who work together and end up falling in love. I'd rather see Rebel fall for someone. Or Cruz. Or Lana. Those are stories we do not see on every other TV show.
I am very much looking forward to see what Rebel has in store for us this week! Let us know what you think about last Thursday's episode in the comments below!