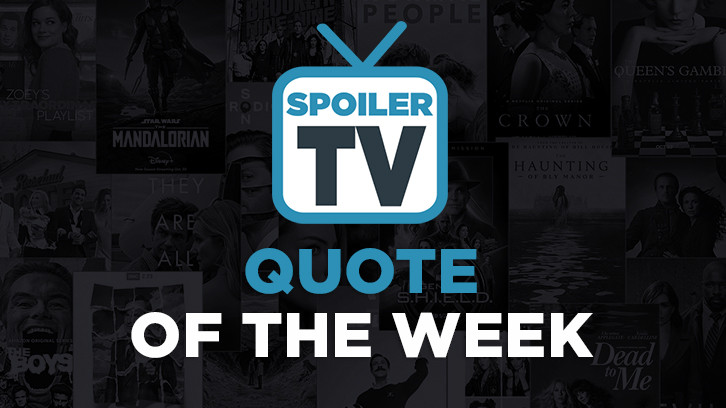 A weekly feature highlighting the best quotes on TV as picked by the Spoiler TV team. We'd love to hear your picks too so please sound off in the comments below.
What Else We're Watching
1. Rusty: "Buzz, uh, fixed the camera on my laptop." Visiting Agent Shea: "Buzz? Really? Hey, when's the moon landing Buzz?" Buzz [sarcastically]: "Wow I've never heard that before." Agent Shea: "Yeah, but it's still funny though, right?" (Prpleight)
1. Tamura [after Ace steals an evidence bone and a prisoner Nancy visited escapes]: "You and your friends, we're gonna have a real 'Come to Jesus' when this is over." Ace: "'Come to Jesus?' The man had a bar mitzvah. Pick a lane."
2. AJ [contemplating murder to end his curse]: "For 44 years I let the worst kind of monsters destroy me, every single day. I'm through." Nancy: "You think that this ends your suffering? Because it doesn't. I think it'll be worse. You can't avoid the monster when it's you. You are not a monster; you're a survivor, so give me the matches." (Dahne)
1. Brian: "I'm struggling to distill what happened to me this morning down into under 140 characters." Gerry: "Characters?" Brian: "Yeah, letters and spaces." Gerry: "What are you talking about?" Brian: "Twitter." Gerry: "Oh, god." Brian: "There's a countdown thing. Tells you how many characters you've got left. Turns red when you get under 10. It's quite intimidating." Jack: "Brian! I've been listening to you all morning an I can sum up what you have achieved in six characters. 'Sod all.'" Brian: "Seven. You forgot the space." (Prpleight)
1. Veronica: "Slushies! Get your ice-cold, frozen... sugar water..." Logan: "You had me at 'ice cold.'" Veronica: "What's your poison?" Logan: "Oh, emotionally unavailable women. Let's see, uh... I want something that suits my mood." Veronica: "Ooh, I'm sorry, we're all out of liquid evil."
2. Mrs. Hauser: "In less than three minutes, Veronica Mars has lost all the senior trip money." Veronica: "Is that a record?"