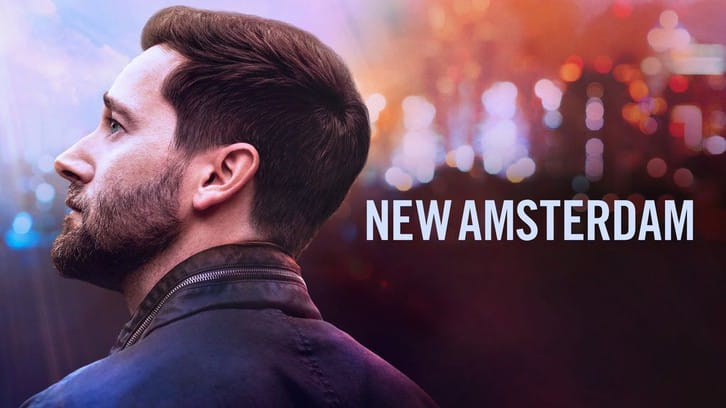 In this week's episode of New Amsterdam, we finally confirm one doctor's fate, realize Luna is actually a devil child, and that Helen is adopting the "I'm not a regular mom, I'm a cool mom" strategy, to not so great results. Let's dig in!

One thing about this episode: it opens and closes on an Iggy and Martin scene, but the progression between the two feels like a genuine, yet still amazing, sort of conclusion to Iggy's struggles for this entire season so far. This intimacy display is lovely, for one, but it's Iggy's stance on letting Martin see him in something else than almost complete darkness, that truly shows how far Iggy's been able to go since he started upon this journey to heal, or at least manage, his eating disorder. Not everything will be resolved just like that, but it's such a big step for Iggy and definitely deserves to be celebrated. It's also important to point out how supportive Martin has been, and their relationship is truly one of the most enjoyable and sincere ones on the show.

Unfortunately, it isn't all smooth sailing for Iggy because Vijay never shows up to the little celebration gathering Iggy had organized for his return to the hospital. Special mention to "KAPOOP" by the way, it did crack me up which just goes to show how primitive my sense of humor can be.
In real life, Anupam Kher who plays Dr Vijay Kapoor, has
indeed left New Amsterdam
because his wife is ill. Dr Kapoor will be sorely missed on the show, and I hope Anupam Kher's wife makes a full recovery.
Back to the show, I also hope Iggy will be able to withstand this loss, because their friendship was very enjoyable, and Iggy will need to fare for himself now. But as Ella so astutely puts it:
"And Vijay said that he might have saved the guy's life but... But you saved his soul. That's what you do, Dr. Frome, you just go around saving souls."
"I learned from the best."
Cue me tearing up a little because it's hard to picture
New Amsterdam
being
New Amsterdam
without Vijay and Iggy teaming up to save lives (and souls), and Ella brightening up the coffee shop every day.
New Amsterdam
's previous medical director, who faced the AIDS crisis back in 1985. His enthusiasm is cut short however, when he realizes the portrait has been defaced and he investigates to understand who could be behind it. Thus unfolds an underlying crisis: the fact that "sexually active gay men were banned from donating [blood] in this country, even if they knew they were HIV-negative", and said former medical director threw out all the blood that had been collected under a common name: Howie Cournemeyer when it could have saved countless lives. Back in 2021 (or whatever timeline this is on
New Amsterdam
), nothing has changed since again, according to Dale Rustin who orchestrated the blood donation back in 1985, "gay men can't donate convalescent plasma for COVID right now". Upon learning this, Max embarks on a promise to make things change, and one can only hope he can finally push against this baffling rule.
Several HIV positive patients are developing worrisome pathologies however, and it seems like the disease has been distigmatized to a point where the patients forget how deadly it can still be.
Max has other pressing problems however, in that his darling little daughter is actually more of a little hellion who bites, and has actually been banned from daycare. I did not know that a child actually
could
get banned from daycare at such a young age, but there's a first time for everything! After walking Luna around on a leash, Max finally tasks Sandra with handling Satan's spawn, which Sandra is not overly enthused about (and who would be).
"Um, you love kids."
"Very much the opposite."
"Right. Let me rephrase that. You love being my assistant, right?"
"Yes, it's my childhood dream come true."
Max wants to get a nanny, who, by the sounds of his requests will probably be as easy to find as a unicorn (seriously, he was one step away from asking her to also be a NASA scientist) but there's a ten month wait so Max, like most of us, will just have to lower his extremely unrealistic targets. Meanwhile, after scouring the internet for parenting advice, Sandra quickly realizes that Luna is acting out probably because she misses her grand-parents, and after spending the best part of a year being the center of attention, did not take too kindly to being just one charge amongst her peers in the daycare. Easily fixed: Max caves in and calls Georgia's mom, to ask her to come help out a few days a week. Sidenote: why didn't he think of this before? I was under the impression it was because Georgia's parents lived too far out but I guess not.
cool mom
front.
Dr Shin wasn't in this episode so we will have to wait another week to see how he reacts to Helen's new responsabilities. What's even weirder is that Max doesn't even know about this major upheaval in Helen's life. He and Helen seem to be living in parallel universes that never overlap anymore, which is a shame since their relationship is usually such a highlight of the show. I'm not sure how
New Amsterdam
is supposed to keep its appeal with Vijay gone and Max/Helen in some kind of emotional cold war. It's not like Reynolds and Evie's failed engagement is going to generate much allure, since they finally come to the realization that their relationship wasn't strong enough to keep Floyd in San Francisco, and their love not deep enough to survive any obstacles coming their way. The way Evie cut off the phone call was pretty final so it doesn't seem like there's a reconciliation in the cards there either.
New Amsterdam
. As usual, sound off in the comments!