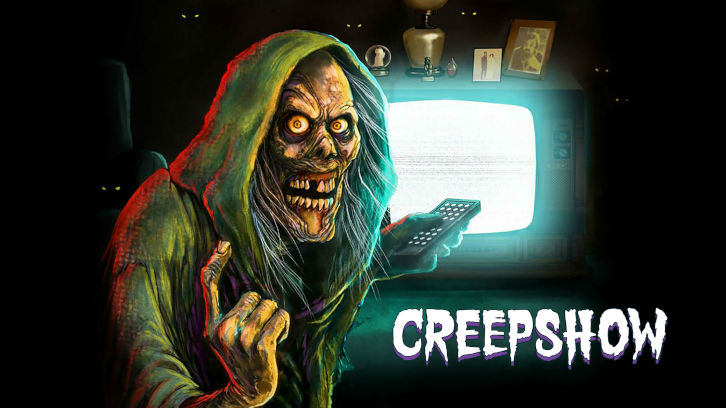 SPOILERS AHEAD - PLEASE DON'T READ UNLESS YOU'VE WATCHED CREEPSHOW 02.02! Yes, you've been warned!
Dead and Breakfast:
Actress/Director Axelle Carolyn directs this amusing opening segment. Heroes' Ali Larter and C. Thomas Howell play the ironically named Pamela and Samuel Spinster, who are the grandchildren of "Old Lady Spinster," a notorious serial killer who operated a bed and breakfast in 1939 and proceeded to murder anyone who violated her business' rules. Pamela and Samuel are attempting to capitalize on her notoriety by re-opening the bed and breakfast up for the modern-era as a sort-of haunted house attraction meant to surprise and scare the guests into submission.
Sadly, things are not going well as their performing and costuming skills are not up to par. Guests are literally fleeing in broad daylight once they get a taste of what surprises the Spinsters have in store for them. Fearing the loss of their business, they enlist a true crime influencer, Morgue (BlackAF's Iman Benson), to try to turn things around. Morgue is suspicious if Old Lady Spinster was even a serial killer in the first place and proceeds to use her sophisticated equipment to uncover if Pamela and Samuel are as phony as their showmanship is. Of course, there's a big, creepy twist ending that's not too hard to predict.
Writers Michael Rousselet and Erik Sandoval come from the comedy world of
5-Second Films
and the quick pacing and broad comedic strokes of this segment show that. While I found the twist ending rather rote and predictable, I actually enjoyed the story as a whole and almost wish to see this story expanded and explored more. It was actually successfully creepy in places while being cheeky and satirical in the right places. The acting was actually quite good and I loved the costumes, paintings, and even the cheap-looking props the Spinsters used in their performances. Worth a re-watch.
Pesticide:
Greg Nicotero returns to the director's chair to helm this truly disturbing piece of giant insect mania. In the beginning of the episode, we saw the animated Creep not kill an annoying fly, but catch it and release it into a spider's web...only to gleefully observe as the black widow spider had its way with the fly slowly as the spider prepares to devour it like a rare steak dinner.
Turns out, this was some pretty good foreshadowing. The Walking Dead's Josh McDermitt plays the non-accidently named Harlan King, who also bears more than a passing resemblance to the young version of Stephen King, an unscrupulous exterminator who claims to be able to handle and kill any insect pest. I would assume this means with his insect spray, not by feeding them to spiders, but more on that later. He gets contacted by a mysterious businessman named Mr. Murdoch (Keith David), who tells him that he wants to wear down an old building and he wants the local homeless population living in the building to be eliminated a lot more than any insect pest. Harlan hesitates and refuses, but Mr. Murdoch throws a lot of money and him and it's suddenly a done deal.
Entering their living space, Harlan kills a disheveled-looking homeless man by throwing a bottle of poison in his face. The rest of the homeless people are taken care of for good when Harlan drops another bottle of poison into their stew.
As one would expect, Harlan almost instantly begins to experience insomnia and mass hallucinations. He goes to see his attractive psychiatrist (Hellraiser's Ashley Lawrence) for help, but things escalate from bad to worse, having visons of being eaten by giant spiders while driving his van and shrinking to the size of an insect.
Is Mr. Murdoch who he claims to be? Is any of this actually happening? That is up to you viewers to decide as this segment doesn't give any answers, but is big on making the audience uncomfortable with horrifying visions of giant stop-motion insects and some of the grossest body dissolving shots I've seen since Street Trash. Writer Frank Dietz (whose early acting credits include 80s shlock horror classics like Black Roses and Rock n' Roll Nightmare) wrote this story and while he isn't exactly known for his subtlety, he infused this gross-out attempt with enough imagination and fun twists that it does more than try to make us all nauseous and puke into our toilets.
I would say to watch this again, but I'm not sure too many could stomach it.