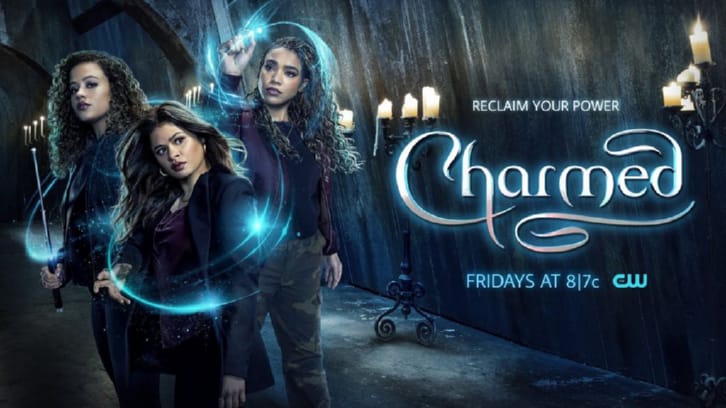 In episode 8 of season 3 Charmed tapped into some painful and infuriating moments, both positive and negative. Handling racism and other topics the show scored some powerful wins but shot a couple of shots at itself. Gary McLeod directed the episode, written by Sidney Quashie and Bianca Sams.
As a white cis male, I don't think I am the right person to comment on Macy's story. I do have to say it was truly painful to see what Macy went through in this outing. What is even more painful, is the fact that Macy's story is a harsh reality for so many women of color, and women in general. Being racially profiled, belittled, and experiencing a huge amount of microaggressions is a day-to-day experience for Women of color all over the world. I really appreciated the way they've told this story, using the flashbacks as a way to ease us into all the microaggressions while in present time Macy was going to the 5 stages of grief, sort of. First, she was in denial, then the anger came followed by bargaining, depression, and acceptance. Luckily Macy had Eriel in her corner.
The way the Shea bench touched, spoke, and looked at Macy, brought a fury inside me that made it hard to watch this. Madeleine's performance as she balanced her pain, anger, and disgust really took this one to another level. The nerve of the woman to play the victim despite wielding so much power was purely despicable. Seeing Macy being escorted out of the building cause of the fear of a white woman was so painful and it was perfectly handled by Madeleine. I just wanted to hug Macy and never let her go. Macy talking with her sisters about the event and reminiscing of what Marisol said to her back in the day closed of this story in a beautiful manner. Just celebrate Dr. Macy Vaughn.
While Macy was experiencing this despicable turmoil, Mel and Harry went on a mission to find the missing ancient Tablet piece. That put them into the middle of a witchy war. Mel going all superwitch is just a blessing to watch. The way she lives and breathes magic just gives this show live. Her going all the paths to safe Kyra was just a delight to watch. Kyra, played by Firefly Lane's Roan Curtis, played a nasty game, though. Pitting the Charmed ones against Willow and her coven was a poor move. Eventually, Mel and Harry brought peace to the two sides in the war and found the missing piece of the Tablet. I found it great how Mel used her matter manipulating powers to give the little witches a time out.
On the other side of this episode, Abigail got a lot of heat. And while Poppy's performance in this episode was almost as good as Madeleine's, it felt misplaced. Having Lory, the Shea bench, spreading her power all over, and having Abby doing the same to a POC, left a bad taste. The writers playing with the idea of this Abby-Jordan friendship in this abusive manner was entertaining to watch, Jordan is killing it with his one-liners. Still, it is abusive and it did defeat the tone of this episode the purpose of the episode. Poppy's performance as she struggled with her demon side was executed so marvelously. One thing is sure, Charmed has one talented cast, given the right material they will it. Is Abby redeemable? Of course, worse characters were redeemed. Should she be redeemed is the more important question.
Abby is the demon overlord and yes she should have the demons in line, but she can't be on the Charmed ones chopping block every time a Demon goes for a witch. What are even the Demons doing if they can't attack witches? Would demons even support such Overlord? That is a topic for a different day though. The face-off between Mel and Abby was fun though and the CGI team is doing a marvelous job this year. But I really didn't resonate with Mel's anger, it came out of nowhere and how in the world was that productive. So out of character.
Other tidbits:
- How did Macy and Maggie know about Willow's Jacket? They weren't even in the room.
- Maggie going after Macy and solving "The Macy problem". Why couldn't it be Mel? We need more Mel-Macy?
- The Joggie scene was just #TooHotTooHandle. The intimacy and power of this scene.
- The Tablet joined together in the presence of TCO, coincidence? I don't think so.
With the tablet completed, the sisters are getting closer and closer to solving the mystery of the magical allergy. Next week we're getting introduced to the sisters' cousin while Macy and Jordan are diving into Jordy's back story. Till then. . .