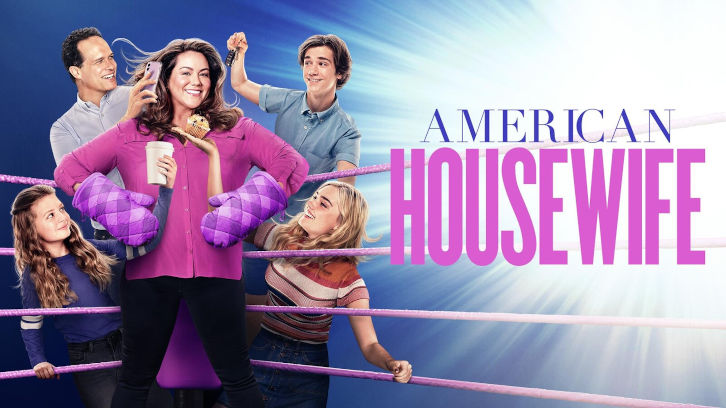 On this week's American Housewife, Katie and Tami meet a new friend, while Taylor and Trip look toward the future.
At home, Katie happily announces to Greg that they finally have the house to themselves for a while. Oliver and Cooper are holed up in their basement apartment (where Cooper is still trying to get used to living like a "poor person" by canceling all his luxury weekly deliveries.) Anna-Kat is on a Wildflower Girls retreat. And Taylor is spending the week at Trip's house while his parents are gone. (There was definitely a mother-daughter screaming match involved in her decision!)
Katie and Tami go to Second Breakfast, where the two meet and bond with JD, a young luxury hotel manager, over their mutual love of trashy reality TV. They're thrilled to be friends with someone younger, more adventurous, and who happens to have a cool job with lots of free perks for friends! JD's excited to finally be talking to someone in Westport about something other than green juice and spin bikes. Back at the Otto house Tami (and her demon spawn Grace) come over, and Katie and Tami decide to call JD up and invite him to Second Breakfast the next day, which he happily accepts.
At home, Greg, determined to prove his manhood to Katie, suits up in all manner of sports equipment and sets a makeshift trap to try and catch a raccoon loose in the attic. (Just call animal control, buddy! Rabies is not worth it!)
The next day, as Tami and Katie are dreaming of tagging along with JD to the 4 Seasons in Costa Rica, their new friend drops a bomb on them. JD's thinking of having a baby! He's super excited (Tami and Katie are the first people he's told!) and SUPER naïve. Tami and Katie, on the other hand, see all their carefree plans for fancy jet-setting trips with their new buddy go up in flames. Realizing JD obviously has no clue just how hard raising a child, much less on his own, would be, they decide to scare him out of his parenthood plans by having him watch the most hellish child in Westport - Grace!
Katie has Tami, Grace, and JD over to the house. Tami conveniently "couldn't" find a sitter for Grace. Of course, Grace immediately starts terrorizing JD, giving Tami and Katie a chance to lament all the difficulties of having children and how having kids means having to change one's whole life. Unfortunately for the ladies, JD catches on quickly enough that they're trying to scare him out of having a child. He tells them he knows having a kid means having to change his life and he was hoping they'd be supportive of him despite that, and then leaves to go call an Uber.
Katie and Tami start to feel guilty about trying to talk JD out of his dream and go find him before his ride gets there. They apologize and tell him they just want to make sure he's prepared for what he's getting into. JD assures them he's thinking everything though. He spent years thinking that as a gay man, he might not be able to have his own family, but times have changed and that's an opportunity he now has. He's more sure than ever that he wants to be a dad (and he knows that despite what Katie and Tami say, they love and enjoy their kids too!) Katie and Tami realize just how committed JD is and tell him they'll support him however they can.
At Taylor's university, she continues to bond with her TA Andre (He's definitely still got a thing for her!), who tells her all about his time traveling the world, which gets Taylor thinking about her own desire to get out and explore. Taylor brings up the idea of traveling the world to Trip and is dismayed to find he has no interest in living anywhere but Westport. (Also, he definitely doesn't know Greece is a country!)
Back at the house, Cooper refuses Oliver's offer of borrowing his bike to go over to his house and pick up the last luxury hair pomade delivery he ordered before he handed over his credit cards to Katie. Oliver assumes Cooper must think he's too good to slum it riding a bike and Cooper's finally forced to admit the embarrassing truth. He doesn't know how to ride a bike! He says that's one of the many things he wishes his dad would have done with him that he didn't. Thankfully, Oliver knows the perfect dad for the job!
After more than a few unsuccessful attempts at trapping the attic raccoon, Greg turns his attention to something he's much more prepared for - helping Cooper learn to ride a bike. A nervous Cooper gets on the bike, and under Greg's guidance, is soon soaring down the street. As the family gathers to watch him take on the open road, Katie reaffirms to Greg that he's exactly the perfect guy for her.
Taylor comes home and confides in Katie her worry that Trip may not be right for her. She's developed new interests, ideas, and goals since going to college. And Trip? Well, he still has the IQ and ambition of a doorknob. Katie tells her that change is good and that although she doesn't know if she and Trip will end up together, it will become clear as Taylor continues to grow and learn. And whether or not it's Trip, Taylor will eventually find the perfect guy for her, just like Katie found Greg.
Random Thoughts:
-Anna-Kat getting embarrassed and hanging up on Katie when she called her at camp was pretty funny!
-Cooper and Greg's "champagne and swords" activity was hilarious!
-The best line goes to Tami when talking about Grace - "She's a misbehaving prodigy, like the Mozart of raising my blood pressure!"
Will we be seeing more of JD? Are Taylor and Trip headed down different paths? Let me know what you think below!