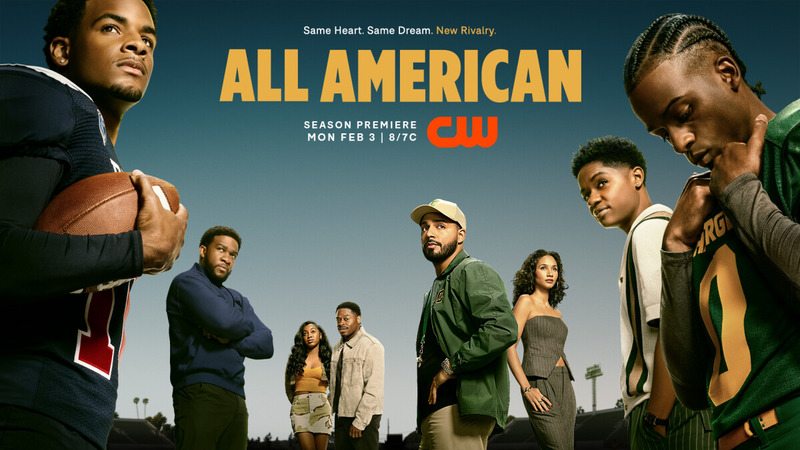 All American is back from their hiatus, and I have to say, this was a much needed episode. It's no secret that I didn't like the first part of season 3, and I was even debating if I wanted to keep reviewing the show. It was just too dramatic, secrets were drawn out for way too long, and some of the writing just didn't make sense. But "Testify" reminded me of what I love about this show.
At the end of the last episode, Olivia told Spencer she loved him before getting into a car accident. Once she heard the cop sirens, she told Spencer to switch seats with her because she wouldn't pass the sobriety test. I have so many issues with this. First, Olivia chose to drink and drive. She's lucky that she wasn't hurt or that she didn't hurt someone else. I know Olivia is an addict, but she still made the choice to drink and drive and that's something I have a serious problem with.
Second, she asked Spencer to switch seats with her! She didn't care about how this would affect Spencer, someone who she claims to love. Spencer could have been arrested, and his dreams of going to college and playing football could have been ripped away. I am so glad that Grace talked some sense into Spencer and told him this. Can we just take a minute to appreciate how amazing Grace James is? Everyone should be so lucky to have a mom like her.
Spencer did the right thing by telling Olivia's family about her drinking. I know she was mad at him, and she kept saying she doesn't have a problem with alcohol, just pills. "It wasn't a relapse." She's been drinking all summer! And she needed to drink in the last episode so she would have courage to confront Layla. Then, when she ran away to find Leslie, she ended up going through the trash to find her alcohol she threw away. If you need alcohol that badly, that's an addiction.
When she met with Leslie in jail, Olivia said she would never rob her parents or anyone she cared about. Maybe not. But she didn't care about throwing Spencer under the bus after the accident. And she's been lying to everyone for months. I'm glad she listened to Billy's voicemail and decided to go back. And I'm glad that Spencer declined to help her when she went to his house. I know Spencer cares about Olivia. He really does, but she needed to go home and deal with her family by herself.
I think Spencer made a good decision by going to his therapist. Spencer needs to stop trying to take responsibility for other people's choices. I know I was hard on him after what happened in Vegas. Yes, he was wrong for sleeping with Layla and leading her on for months when he wanted to be with Olivia instead. But he is not responsible for Olivia drinking. That is not his fault.
I'm relieved that Olivia's family made her feel loved at the end of the episode, and I'm happy she's going to go to an outpatient recovery program instead of being sent away. That seems like what's best for everyone. I hope that now she can start to move forward and face her problems instead of pretending like everything's okay. That's what led her to relapse in the first place. I hope that Layla and Olivia can get past their problems and start to become friends again. I know they have a LONG way to go, but Layla was obviously worried about her. I'm also hoping that Olivia and Asher can somehow become friends again, too.
The other story this week was the Crenshaw football team. I'm excited that there's going to be a female kicker! She seems fun, and this will bring some new excitement to the show. Hopefully, she will help the team not miss field goals. A kicker can make or break a football team. Although, I'm not sure how I feel about having to see her mom more. She's a lot.
Other Thoughts:
- Jordan and Olivia's relationship is one of my favorites. I'm glad that Jordan was there for her, and he backed Spencer up for his decision to tell everyone about her drinking. I hope these two stay close.
- Asher has a big decision to make about football. Does he want to switch positions? I like that Jordan told him to trust his gut instead of just listening to his coach and his dad. And listening to his dad hasn't exactly worked out for him so far.
- I did not miss Vanessa. At all. Anyone else? Didn't think so.
- Coop is wearing me out. Dropping out of school is a really bad decision. I just don't see this ending well.
I'm hoping that now everything is out in the open everyone can start to heal. And maybe we can start focusing a little more on football. After all, that's what All American is supposed to be about.
What did you think about "Testify"? Are you excited about the second half of this season? Let me know!