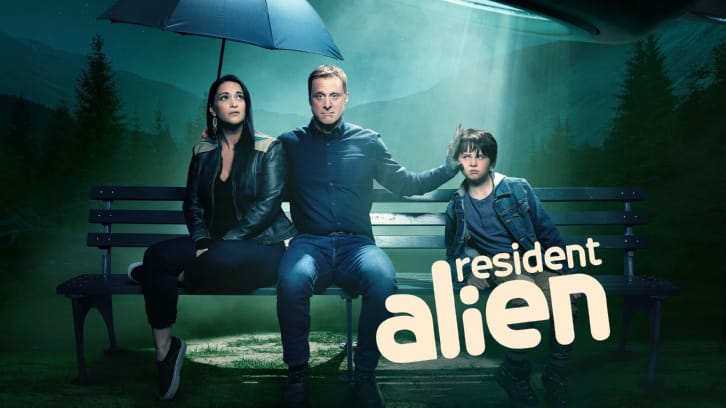 For an alien, Harry is incredibly human and completely unaware of it. He is still intent upon destroying all human life on the planet.

The new, permanent doctor arrived. He's one of those guys who is a perfect, name dropping, always smiling, know-it-all who hates Law & Order.

He's disingenuous, and I do not like or trust him.

Harry's very human reaction is to try and one-up young Doctor Ethan at every possible moment. And we were treated to some terrific internal commentary from Harry as a result.

Those sequences were difficult for me to watch though. I like Harry, and I didn't like watching him make himself look so pathetic. It was completely different than watching him lose an argument with Max.


I think the fact that those scenes were so uncomfortable is why they stood out so much stronger, for me, than the Barry Manilow montage between Harry and Isabelle that opened his part of the episode.
Of course these sweet, romantic moments were all about getting Isabelle out of the way so he could go hunting for the last fragment of the engine for his ship.
I gotta confess, I have never heard anyone refer to a mechanic as a "sexy beast", but I'll give it to Harry since he's not human.
The truce between Harry and Max gave the writers room to get back to the government alien hunters story. We also got a little the backstory on the leader of this hunt.
Huzzah, Linda Hamilton, as General McCallister. It looks like she's having fun. I hope she is, because I think she's going to bring the viewers a lot of fun moments like manipulating the poor Lieutenant into medical leave.
The opening sequence set the stage for the general having personal reasons for finding the space ship and its pilot. That's why the team we've watched cross the country are working off the books.
Things are going to get wonky before they get better. I'm looking forward to it.
I wonder if they're going to discover Harry's real purpose for coming to Earth.
Clarify something for me, guys?
How did they get the dead hiker's body off the top of the spaceship without dealing with the fact that they had to pull the body off something
invisible
?
I was expecting the ship to be surrounded by government scientists, not the quiet site the Lieutenant and his wife were examining.
Am I the only one who chuckled when Sheriff Thompson managed to declare the high school investigation successful by taking credit for his deputy's detective work. I don't know what I expected, but 'how genius of me was it to leave you the hall' wasn't it.
Honestly, I am waiting on her to blow her top and go off on the good sheriff one day.
I didn't expect him to acknowledge her work when he found her murder board in her closet/office. He finally scored a point with me (and Deputy Baker).
What did you guys think of the episode?
***
The coffee maker sight gag didn't really work for me. The solution was too simple for me to find the blank stare funny.
We finally get to see what kind of doctor Harry is without Google. Not good.
Love seeing Asta's high school "gang" hanging out at the bowling alley. They all had Asta's back. Is Asta's solution to the stolen prescription pad mystery going to stick? It makes complete sense for Jimmy to have stolen the pad.
***
Best lines:
Harry: "Now, I understand douche-bag."
Deputy Baker: "I can't assist you in assault anymore."