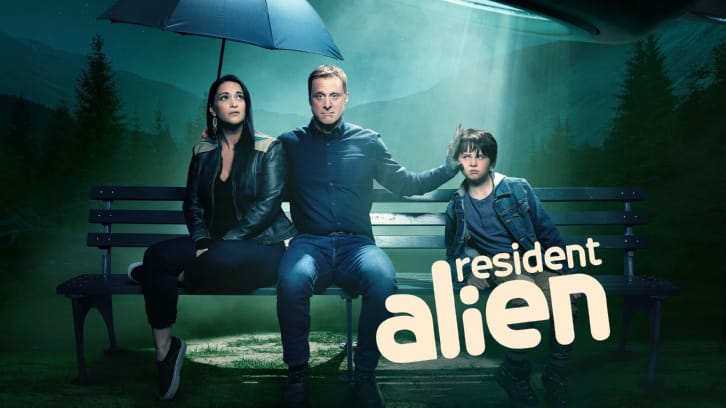 This week Harry learned about depression, temper tantrums, and that drugs and booze don't really help.

Way to fake us out with last week's cliffhanger. The headlights that rolled up on Harry belonged to a car being driven by a very angry Isabelle.

I'm assuming Harry's senses are better than ours, because he smoothly, if not awkwardly, stages a marital spat. It wasn't difficult to get Isabelle to work with him. She'd figured out she was being drugged and was not happy.

She finally left him. At least she already has the signed divorce papers.


She was, apparently, useful for cooking. (FYI Harry, there are a lot of recipes and instructions on the web if you want to widen your cooking repertoire.)
Harry's lost his wife, his job, his ship and his device. Very good reasons to be depressed.
The booze and drugs give Harry nightmares.
Which lead to the one scene that didn't really work for me. That Harry/Alien-Harry scene just felt a little out of place, in tone, for me.
It continues to surprise me (and yet it doesn't surprise me at all) that Harry has completely missed the fact that he's become so human.
Not only is he experiencing emotions, but he's made friends who try to help him through it.
That stoned Harry and Max scene made the entire episode worth it. So happy Max gets to stay in town.
Having Max able to see Harry's alien tech was a great way to put the two of them together. They are such a good team.
Deputy Baker blew her top sooner than I expected, and it was worth watching. I couldn't blame her at all but I didn't expect her to take it out on the poor hamburger.
The murder mystery didn't take any specific steps forward in this episode, but "The Pharmacist" was finally caught.
It fits in with the population of Patience that it would never occur to Jimmy that, after selling the prescription pad to "some guy", that guy turn around and sell the prescriptions to kids.
On the one hand, I think it's awesome that General McCallister now realizes why Harry is on Earth.
On the other...this could mean real trouble for Harry. I'm growing more curious about how they're going to wrap things up.
Although this does make me wonder (again) about the alien plan.
Was the wiping out of the Quimbaya people a test run for the device Harry brought 4 months ago?
Was it in someway a type of selective breeding?
Has the poor Alien-Dude in the aquarium reporting home all this time?
Why have the others been waiting on Harry?
Are they planning to displace humans on Earth?
I really want to know what their ultimate plan is.
So... I wonder how hard Harry will fight to save Asta and D'Arcy. Will that be the thing that helps him realize that he likes humans and doesn't want to eliminate them?
What stood out for you? Did you enjoy the episode?