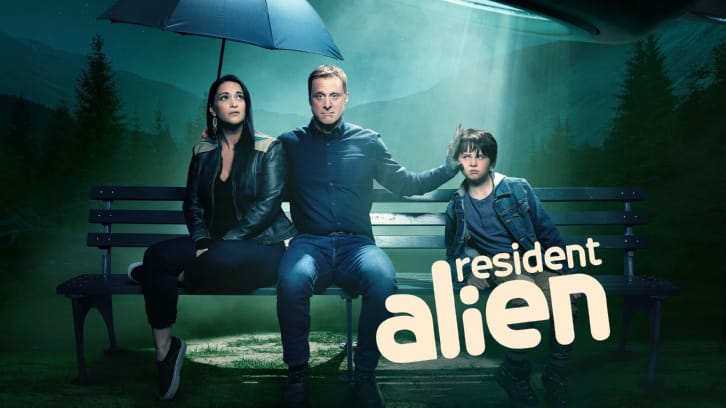 This episode was not what I expected, and that's a good thing. (I didn't watch the previews.) I was expecting Harry to have to make his choice while trapped in that crevasse.

It looks as though we'll have to wait to find out what his choice is. Will he save humanity or won't he?

After learning the truth about Harry, Asta seemed to go beyond her people's belief that every being matters. By the time they emerged from the crevasse, she was fighting for her friend's life.

Her acceptance of Alien-Harry worked because they took the time to establish their friendship.

Just how low does Harry think the human pain threshold is? I loved the return of the arrogant statement followed by evidence to the contrary.

One of the best things about this entire sequence was finding out more about Harry's race. I wouldn't mind finding out more...and why octopus and fish on his planet are worthy of an apology. Where are they in the hierarchy?


The way Asta announced she was going to dig up Harry's device did make me think she begun to doubt it was a radio. Did anyone else get this feeling?
It feels like the question of setting off the bomb has been academic up to this point.
He hasn't had to face the reality that setting off the device will kill his friends/community. When it comes to that will he be able to set it off?
It was nice to see a hint of pre-depression D'Arcy. She was a badass in this episode. I could finally see her as an Olympic Athlete.
***
There's a voice in my head telling me that I shouldn't have enjoyed the argument between the mayor and sheriff as much as I did.
But Ben is right. The sheriff is
not
the guy who should be handing out advice about women. Or about people, if you think about it.
Am I the only one who thinks Sheriff Thompson's feelings were hurt when Liv quit? Amazing.
Although, I do think he finally pegged the person who killed Sam.
***
Ben's anniversary dinner went about as well as I expected.
I was a little surprised to see Liv on a rather intimate date. I think it's because we've only seen her hanging with her girlfriends and frequently making comments that imply no one ever says a positive thing to or about her.
***
The government has finally arrived. Unfortunately, it was in the form of the nutcase and the brain. Sheer luck saved Logan's life.
I think the general would take issue with the loss of Logan. (He is the only reason she's gotten as far as she has with her quest.) Not really sure Casper thinks things out that much.
I was more than mildly concerned to see Casper talking to Max's mom, Kate, in the restaurant. I worry that she'll get to Max before Logan.
It's not a stretch to imagine Max confounding Casper, Logan and the General McCallister to the point that Casper wants to strangle him as well.
I like the way all of the pieces are beginning to come together. I'm looking forward to the reveal of Harry's decision (hopefully, not a cliffhanger).
Really curious about how things will play out once McCallister hits town with soldiers in tow.
We're at a point where I thoroughly enjoy all of the characters on the canvas. I'm really hoping SyFy has already decided to pick the show up for another season. (Update: Just saw the announcement.
HUZZAH!!!!
)
***
Do you think Asta fully believes the "It's a radio." story?
Will Asta and Dan continue to protect him?
What did you think about the episode?