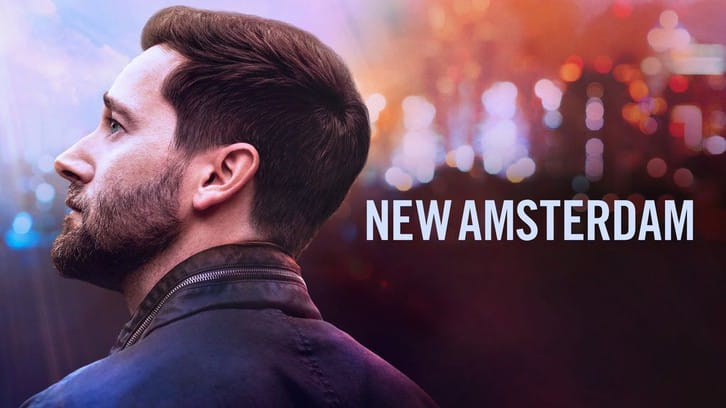 This episode of New Amsterdam may as well have been called "Out of Place" considering the increasingly distressing situations it put several of its characters in, from awkward job realities to heartbreaking relationship loss. I'm not sure if it's because I'm now watching this show weekly, as opposed to in one go when I finally decided to give it a shot, but I'm having a hard time feeling that compelled by the current storylines New Amsterdam is setting up. Or rather the bits of storylines that it's slowly sprinkling through this season's debut. Still, it's always watchable and there were a couple of nice moments in this episode.

First, let's talk about the easiest one: Floyd. Floyd is single, and ready to, if not mingle, at least get some quality time in surgery. Or so he thinks, since not only does he no longer have an office, but Helen is unavailable for his big return, Max is off to Connecticut, and the cardio surgery board is filed with just about every surgeon's name, minus Reynolds'. It's almost like he never was a cardio god at New Amsterdam, which, while it probably doesn't feel too great, I'm sure won't last and he'll be back to ruling the roost in a minute. As a recent hire in a hospital myself, I feel his office-less, aimless, not sure where you're supposed to be, begging for tasks, pain though. However, when he finally gets himself a case after pretty much begging to just help in any way he could, cardio or no cardio, he meets Cassian Shin. Now, Cassian isn't particularly well-mannered at the best of times, but when they get into a disagreement about how to proceed, he becomes pretty rude about it. If Reynolds was expecting a prodigal son returns comeback, he's sorely mistaken. This is also, quite literally true since he's now sleeping in his childhood bedroom, complete with maternal screams about how late he's sleeping in. Suddenly, he's 17 again, and not in the best way.
Speaking of time jumps, I'm still not sure how much time has passed but Luna is now a bonafide toddler who walks, talks, and, well, sulks. Max is off to Connecticut to finally bring her back from Georgia's parents' care, now that the worst of the pandemic is over, but neither the grandparents nor Luna seem to be particularly enthused by "Dada"'s return. In fact, Luna downright ignores him and Georgia's parents clearly wouldn't mind getting a secondshot at parenthood with their granddaughter. It's a little surprising that after seeing him facetime Luna pretty much every day, she'd be this indifferent to finally seeing her dad again, but I guess it served to drive the point that distance does not make the heart grow fonder when one of the hearts is only two(ish? Maybe she's only one? I don't have an eye for baby-ages and last I remember, Luna was still wrapped up like a burrito and I didn't think we'd flash forward to this little person, so clearly I know nothing) years old. It's understandable, of course, that Georgia's parents would cling to Luna and I'm sure Max was very grateful to have them take her in when things in New-York were so terrible. It's also quite hearbreaking to see him wonder if he's making the right choice, if selfishly he wants his daughter back even though he maybe can't provide quite as many toys, or as much space for her, or care for her constantly without putting her in day care. But he's her father, and of course they should be together. There's a nice little twist when he suddenly makes a U turn while driving back to Manhattan, when you wonder if he's going to drive her back, but instead he goes by Georgia's grave.
All is well that ends well when little Luna recognizes the appartment (how?) and settles in to play, before hugging her dad. I feel like I know Max's pain because it's basically the same way when I have to leave my kitten with my mom at her house because I'm travelling, and when I take her back to my much smaller, and sans garden, place I feel like I'm depriving her of her best life, but she's still
my
cat, so. (Just kidding, I'm not comparing my cat to a bébé, I promise).
On the more dramatic side of things, Iggy is dealing with a devastating case in which a mother no longer recognizes her own son, as in, believes he's an impostor. As usual with New Amsterdam, he manages to find a semi-loophole in order to tie the case up in a way that doesn't make you want to bawl your eyes out, but it's still pretty grim to basically lose your mother and have to pretend to be a stranger in order to still have a relationship with her. I can't imagine having her there, in the flesh, but incapable of knowing you're, well, you, and completely losing the relationship you had with her. Plus, I'm not sure how this syndrome works but if she forgot her own son, will this happen to everyone in her life at some point? Sometimes I wish that in cases like these, with repercussions that go well beyond the episode, there would be some kind of follow up if we're meant to get invested in the storyline, instead of them being one and done.
It's kind of similar for our main characters, to be perfectly honest. Helen wakes up (in bed, with Cassian, so I assume they did patch things up, then) to an alarming phone call about her half-brother dying. Did we know she had family in Iran? Or a half-brother for that matter? If we did, I have no recollection of it and while I love Helen Sharpe's character, it feels cheap to dump this on her when there's been no build up. Still, this was at least a real storyline, whereas Lauren's solutions to protect her ED from violent patients felt a little too PSA-y for me.
New Amsterdam
usually succeeds in pretty seamlessly integrating current world topics into its narrative, but this felt a bit forced. The unemployed bouncers finding work there instead was a nice touch though, and Max almost getting escorted out was a little hilarious.
All in all, a solid, if unexceptional episode, so I'm really hoping this seasons gears up into something more interesting soon. Obligatory: when is Vijay coming back? His replacement is fine, but she's no Vijay and just like Iggy, I missed his always insightful comments and their friendship in general. Iggy emptying the entire contents of his binge-drawer felt painfully familiar to me, and while it does feel cathartic on the moment, it can spell trouble for later. That's it for today, as usual, sound off in the comments!