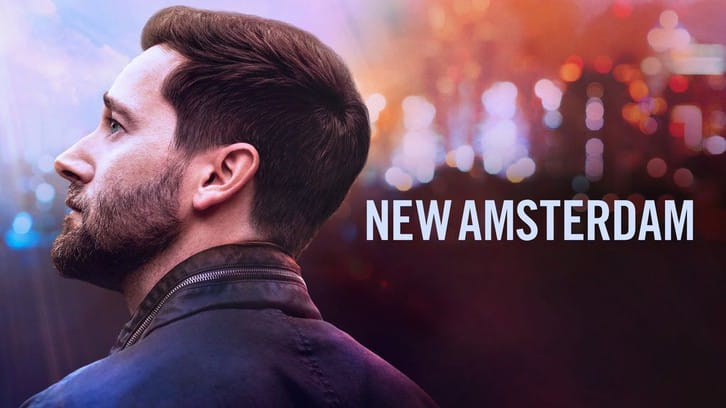 Another week, another episode of New Amsterdam gracefully handling the pandemic without being overbearing about it. I may be repeating myself, but I'm always pleasantly surprised by how the show succeeds in integrating topical subjects such as a newfound hospital phobia and isolation, without losing what makes the show so watchable.

This episode was sadder than most, with scarce levity to be found, but it touched upon important subjects all while moving forward our favorite doctors' own personnal challenges, and I enjoyed it. Starting with Floyd, who was living in San Francisco and engaged at the beginning of the episode, only to end up a single NYC resident at the end. I'm not going to pretend I'm not somewhat happy about this, because I never wanted him to leave in the first place, and especially not for Evie. THat being said, she was actually pretty great during this episode, to the point that by the time she and Floyd were waiting for their cab, I was thinking it might not be so bad to have them together... and then she broke up with him and left for San Francisco without him, sooo I guess this was a case of absence makes the heart fonder and so on. In between these two extremes in one's life though, we learn that after saving Dr Kapoor's life, Floyd was actually all set to fly back to his covid-light haven in northern California. Until, that is, his mom suffered from a bad fall and ended up at New Amsterdam, somewhat unwillingly. As anyone who's been living through a year of pandemic, she's understandably worried about throwing herself in the lion's den and offering up her arm for some vicious biting.
This is currently a very real, and very oppressing fear in our lives, as one evaluates if the risk of getting sick at the hospital overrules the actual ailment you're suffering from. Case in point: one of Max's former chemo crew members lands in the ED after her cancer surges up again, and we're quickly led to realize that she'd been forgoing treatment since the pandemic started. The reason? Getting covid 19 at the hospital, after facing cancer for several years was a risk she wasn't willing to take. It's obvious she isn't the only one, with non-urgent procedures being canceled left and right when hospitals are dealing with increasing numbers of cases, people who were sick before the pandemic and in dire need of treatment are left to wonder what their best bet is. Of course, in cases like this one, the answer is obvious, but one has to wonder what the post-pandemic will look like, if regular pathologies have been put on the back burner in the meantime. Helen is clearly heartbroken about Millie's situation even before she has to announce to her teenage son that his mother is brain-dead. The look on her face when another of her former patients, Willow, turns up after not being treated either, is devastating. Willow didn't just turn up because she was worried though, or even because she knew what had happened to her friend. She turned up because Dr Helen Sharpe is now a viral sensation on the news!
Max's crisis of the day was to convince patients to come back to the hospital, for their own health, but also, and mainly it appears, because elective procedures are how the hospital stays afloat. To this end, he's invited (read obligated) to shoot a disturbing ad where he flaunts the safety of the hospital. Except it's not safe, not even close, and Max was not having it. Enter someone who would do it ("you've been recast!"): Helen. After what happened to Millie, of course she wants patients to stay in treatment despite the risks, if it can save their lives. Unfortunately, she quickly realizes reading a script that's technically accurate but emotionally manipulative, isn't as easy as she thought, and she ends up having a (warranted) meltdown that Dora quickly turns into a marketing opportunity. But at least it's finally honest, and that's what
New Amsterdam
is all about.
Sidenote: I didn't take time to read the fine print on that "Get Help" poster behind Max and Helen during the shoot, but the wording seemed strange.
Meanwhile, Lauren was having a little meltdown of her own, which seems reccurent at this point. On a scale of 1 to 10, 1 being Lauren worrying about Iggy, and 10 being stealing patients after she didn't want to let them go from her care in the ED, this one was a mild 5 or 6. As soon as the alleged driver diagnosed the girl she'd brought in with something other than what it seemed (a broken) risk in the first 10 seconds of her being there, you could see the whole "doctor from another country who isn't allowed to practice in the States" from a mile away. Not Lauren though, her usual deductive skills were missing and far from thanking a stranger who seemed to know quite a bit about medicine, Lauren quite rudely made fun of the driver, to the point of putting "UNDESIRABLE #1"posters all over her ED. Talk about overreacting. I get that it can't be easy to be a doctor and have people try and self-diagnose based on WebMD, but this situation clearly wasn't that, and her reaction was over the top. Time will tell where this will lead, maybe nothing, maybe something darker, but Lauren. Needs. To CHILL. Fortunately, her hippocratic oath bested her pride and she finally followed the Leyla's advice, which saved Riley's life. I'm kind of hoping Lauren can find something to help Leyla be the pediatric attending she used to work as again, but more than likely this was just a one off. I won't pretend I know (or understand) how diploma equivalency works in the U.S. but surely someone who has the diplomas and experience to be a pediatric attending shouldn't have to live in her car and grab sporadic showers where she can...?
Speaking of cleanliness, Iggy's patient of the week is an isolated teen who's been stuck at home for months on end, because of her overprotective parents. As a germaphobe myself, I get being very careful but not going outside at all or letting her see her friends seemed more destructive than risking germs on a carousel. Also, not to be nitpicky but when said parents are wearing cloth masks and not surgical ones, when it's been proven they're less efficient... I would not have been as patient as Iggy was. Iggy's own issues were still acting up, and I felt so much for him when his finger hovered over the video button but he ended up not taking part in the Eating Disorder Anonymous Group. It's a really good step though, that he even wanted to join and almost did. But wanting to and doing are two very separate things when it comes to joining groups of people who are going through something similar to you, even if on paper it seems obvious. I do hope Iggy feels comfortable enough at some point to join, but it's not for everyone.
Aaaand, that's it for this week! These episodes really do go by fast. No Vijay or Ella this time around, but I hope they're both recovering nicely. No Cassian either (how did that date with Helen go?!), but I'm sure we'll see him again soon (I'm also hoping he'll get more to do than just be around for Helen to date, and cherry picking patients from the ED). What did you all think of this episode? Sound off in the comments!