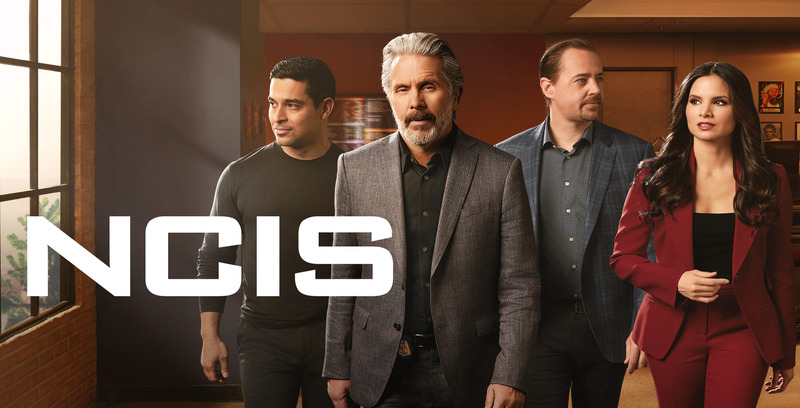 18.08 - "True Believer"
Written by Jill Weinberger
Directed by Terrence O'Hara
Reviewed by KathM
Sloane has left the Navy Yard. Carl remains behind.
All in all, this seemed the most logical way out for her character: once we knew she was going to Afghanistan with Gibbs, popular opinion was that Sloane would remain for some reason.
The reason for their return is that Darya, a woman who secretly cared for Sloane when she was a prisoner, has disappeared. She was working for a nonprofit that helped young girls get an education, and was chaperoning four of them on a secret route to school when their bus was ambushed. The driver is dead, Darya and the girls are gone. The only things left are their shoes, their workbooks, and two words written on one of the dusty windows: "Sloane NCIS".
Leon was very much involved in getting Sloane released from captivity and knows she will want to try and get Darya back, and he doesn't seem to mind that Gibbs is going to go along, too. Practically before Leon could tell them where their transport is they were out of MTAC and heading for the airport. Meanwhile, Leon tells McGee and Co. to find out who leaked the bus route to the Taliban and apprehend them.
Sloane is kind of a hot mess as soon as they get there, wanting to dive into looking for Darya and the girls immediately while Gibbs tries to rein her in. Don't go out in the middle of the night, for example, because the Taliban like to shoot at things out of boredom.
The storyline in Afghanistan moves from dire situations to quick resolutions, the most pressing being, "Is Darya working for the Taliban?" Well no, she isn't, but there are instances where things seem hinky (Darya changes the bus route at the last minute, Darya reading out instructions about where to send payment in an online video offering the schoolgirls for sale). Sloane doesn't believe for a minute that her friend would betray the girls, which is confirmed when Darya's body is thrown from a truck near where Gibbs and Sloane are camped with a note warning them to go home. It is at this point that Sloane has a little breakdown.
"I'm done," She shouts at Gibbs, tears falling. "This is why I want out. This. We chase bad guys. We put them away and nothing ever changes except for us. Darya risked her life to help me. We're all so twisted we couldn't see that basic act of humanity for what it was. So call it what you want: quitting, running, I don't care. I'm out. I'm done!"
Well, she's not done, and once the girls are recovered and the bad guys are handled Sloane decides to stay in Afghanistan and continue the work Darya lost her life doing. This is what she needed, it seems, not bartending and living in a condo in Costa Rica. It is a change after all, and she isn't good behind a desk. Gibbs isn't too sure about that, but what can he do? She's as strong-willed as he is, and he knows he won't win no matter what argument he may come up with.
Gibbs kissing her goodbye was weird. Just...weird. It seemed out of place which surprised me, as I was used to seeing the odd touch and the smiles that made Sloane and Gibbs seem very comfortable together. Maybe because it was a close-up (ick!).
Points to Ponder:
How weird was it seeing Gibbs trying to be the calm, rational one while Sloane was the hothead?
Oh, the person McGee and Co. were looking for was a hacktivist gone over to the dark side. He gave the location of the girl's bus to the Taliban and was then killed by his friends for violating the hacktivist code of only doing good.
At one point a bug the hacker put in his code took down the internet throughout the Yard, and as McGee struggles to fix it Kasie complains that having to do her work by hand is making her feel "like an Amish Columbo." Thank you, writers. You give Kasie these tiny gems now and then and they are just perfect.
Why did Sloane leave Carl in Torres's care? I think to give him something to take care of and be responsible for that he couldn't just run away from. But I still think it's strange that she left him at all. Either she didn't think she'd be coming back from Afghanistan for various reasons or she wanted to give Torres a taste of what it was like to wake up and not reset.
See you next week, where we see hints of how Sloane's departure impacts the team, along with some scarily dramatic moments in the previews. A seemingly devastated Ellie hugging Torres was disturbing, and you never want a scene with Gibbs and Fornell in a hospital waiting room.