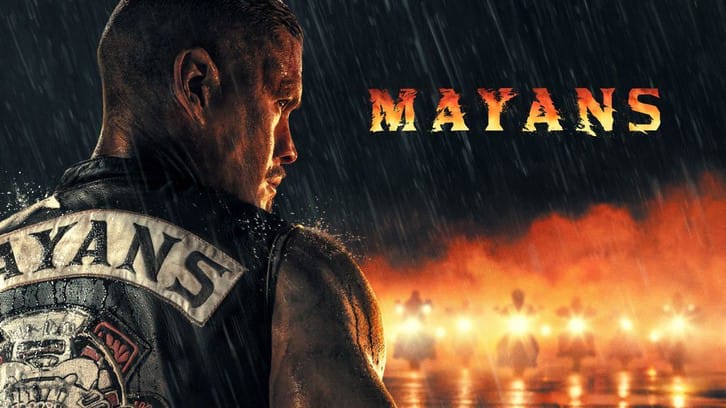 Mayans MC "Overreaching Don't Pay" was written by the team of Andrea Ciannavei and Jenny Lynn and was directed by Rachel Goldberg. Things start to heat up in this episode – and go wrong for a number of characters. This episode felt like more stage setting than really pushing the action forward – but there will definitely be consequences coming.
EZ (JD Pardo) does some of the overreaching with his audacious plan to bring in a lot of heroin – and of course, his plan goes sideways because there's nothing more vindictive than a woman scorned and Vicki (Elpidia Carrillo) is clearly angry with them for abandoning Celia (Ada Luz Pla). It's actually pretty fitting that the women are setting up to take down the men when the creative force behind the episode is all female! After getting the heroin through the tunnel, the Mayans have to hustle it back in and abandon it when the cops show up.
Bishop (Michael Irby) lies to Alvarez (Emilio Rivera), and Happy (David Labrava) shows up with a warning not to ride across Sons' territory without clearing it first. Clearly, there is trouble brewing there over the loss of the gun trade. I did love the nice touch of "who's Jax Teller" to solidify that we're not in that story anymore – nor Kurt Sutter's (though I'm not as much a fan of that sentiment). The temporary loss of the heroin, however, also means that the prisoners counting on it will also now be in trouble.
Coco (Richard Cabral) comes to after his beating only to find Hope (Vanessa Giselle) shooting him up with heroin – something he promised his mother he would never do. We also get a little more insight into how horrific his childhood was. But he's already an addict, so naturally once is never going to be enough. When he comes to, he is consumed with self-loathing and tries to get out of Meth Mountain – which is populated by a delightful band of freaks! He does get away, going back to the club and promising that he's done with the drugs, only to end the episode back on Meth Mountain, letting Hope shoot him up again – definitely NOT going to end well…
I'm still not a fan of Erin (Holland Roden) and wonder what her end game is. Does she want to break up Emily (Sarah Bolger) and Miguel (Danny Pino) to get Miguel for herself or does she care about her sister? She does get Emily to get out of herself enough to go for ice cream and appreciate Erin standing up for her. Erin also suggests that Miguel is "getting it" elsewhere if he's not sleeping with Emily. Emily is utterly humiliated when she tries to have sex with Miguel only for him to walk away, pretty much proving Erin's point. Will Emily get it together? I'm betting if she does, Miguel will live to regret it.
Two things that I really loved in the episode, is the continuing sweet relationship between Gaby (Sulem Calderon) and EZ – and the fact that she's clearly won over Felipe (Edward James Olmos) – and Juan Denver (Keong Sim)!! Please more Juan!!
The episode ends with Angel (Clayton Cardenas) clearly in some serious hot water when he and Nails (Justina Adorno) come out of his bedroom to find Adelita (Carla Baratta) sitting in the living room! Neither woman is going to be happy, but I'm betting Adelita is going to get the last word!
So we end this episode with EZ, Angel, Bishop, and Coco all potentially facing some very serious fallout. And the season is just getting started! What did you think of the episode? Let me know your thoughts in the comments below!