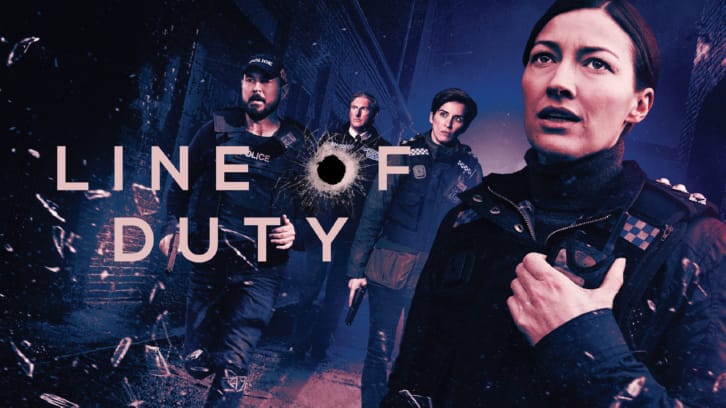 And AC-12 is back. After the four-week build-up of the turbulent, predictable Line of Duty knock-off Bloodlands that failed to capture the same impact of the series, the BBC have returned with an inspired premiere, if very much, a very typical procedural that lacks the thrill that fans might have been expecting coming off Series 5, arguably the peak of the show. But having achieved a record smashing viewing figure that's north of 9 million in overnight viewing figures, even beating Bodyguard, this is very much going to be the centre of UK TV conversation for the next several weeks: The Falcon and the Winter Soldier doesn't stand a chance, but it's good to have two big shows reviewing at the same time! (I'm also covering For All Mankind and reviewing movies on a near-weekly basis, so expect plenty of content over the next several weeks or so.)

Our characters are still very much picking up the pieces from last series and they know that AC-12 is damaged goods following the accusation of Ted Hastings as being a potential suspect as the mysterious top-dog criminal "H". His reputation has taken a beating, even Vicky McClure's Kate Fleming has been demoted to a DI, working for a new organisation – leaving Steve Arnott behind, only Steve is angling for a move, beard in tow, being confident enough to expect the new job before walking into it: he very much sees himself as a Columbo-type figure and an experienced veteran. As they're looking to leave the gaffer behind, a murder mystery begins its slow build in classic Line of Duty style, the show that tells you it's going to be a predictable cop show and then goes and does the opposite the following week and takes you in a direction you weren't expecting it to. It's best to come prepared to take notes on police nicknames and code-names for the next six weeks too, as Jed Mercurio rarely shies away from them.

After the Stephen Graham-starring Series 5 stuck the landing, Series 6 almost feels like a down-to-earth, relatively grounded premiere in comparison. The opening scenes introduce us to DCI Joanne Davidson, who's leading an armed team – MIT (Murder Investigation Team) into the investigation of a group who murdered a journalist. But things are never cut and dry as they seem – on the way there's an armed robbery in progress, and one of the robbers is shot dead – and one of the robbers is just a kid.

It's a botch of a job – which makes it convenient for AC-12 that Kate is there. Only Kate is not AC-12 anymore, and she risks being caught in the enquiry. This makes the interrogation of murder suspect all the more pressing, and the final revelation upends all our expectations: there's a messy fallout of Joanne leaving her ex, PC Farida Jatri (Anneika Rose), last seen in Series 4, who has been tipping off AC-12 about Joanne's supposed dodgy mishaps. Farida accuses Joanne of not telling her about her family – however Jaonne insists she has no family. I'm assuming this hint into her past will become more prevalent as Series 6 progresses.

Various returning supporting characters who have cropped up in previous series return throughout this premiere to remind us that Like the MCU, you're better off the more Line of Duty you've watched, but you can come to Series 6 afresh. I wouldn't recommend it though, especially when all five prior series are waiting for you on BBC iPlayer. A commited viewer could breeze through them long before the end of this current series.

Boardwalk Empire's Kelly Macdonald adds a touch of enigma to proceedings here, she's off to a promising start. It's certainly a tall order being the guest star on a Line of Duty series – Thandie Newton, Keeley Hawes, Lennie James and most recently Stephen Graham have all knocked it out of the park. Macdonald steps into a world where nobody is safe, even at this point in the show, which I'm left wondering how much of a lifespan it has left in it, the death of Kate or Steve wouldn't be off the table if Mercurio is feeling particularly bold.

Everybody is on edge in Line of Duty, and that extends right up to the top: Ted is struggling to rebuilt AC-12's shattered reputation and Adrian Dunbar relishes in playing a more vulnerable Ted Hastings, on the defensive, still able to come up with some spitting dialogue. There are plenty of zingers here; even though the bombastic touches are gone, this is a more subdued animal, a different beast entirely. Think back to the days of Series 2. Only we don't quite know if Joanne is guilty or not yet, there's plenty of incriminating evidence against her but it reads as though Macdonald's been told to act shady on purpose, it almost feels too obvious if she ends up being the person responsible, especially this early on in the series. And wouldn't it be refreshing to have someone turn out to be innocent rather than guilty in the series?

One of the series' best assets so far has been the eclectic dynamic between Steve, Kate and the gaffer, and take that out of the equation for much of the first episode, and Line of Duty suffers as a result – its new characters have some growing pains before we develop a sense of familiarity with them. The show itself almost feels like it's been forever since its returned, and its age is hanging over its characters: this is a proper, veteran crime show that has been on air for nearly a decade now, having debuted back in 2012, which feels like a lifetime ago, especially given recent lockdown events making time feel like it is progressing ten times longer than it actually is.

We're about to find out whether Jed Mercurio has any surprises left to throw at us, and I'm sure he has. It's also interesting that, in an age where everything is released all at once, Line of Duty sticks to its rigid weekly release schedule that further almost reinforces it as a relic of the past: between this and The Falcon and the Winter Soldier, it's almost like we're back in the pre-streaming age of television again despite The Falcon and the Winter Soldier being on Disney+. Traditional, broadcast storytelling may not be quite as dead as you think. It's still like Ted Hastings, very much sucking diesel.

Line of Duty continues next Sunday and is available to stream on BBC IPlayer now in the UK.