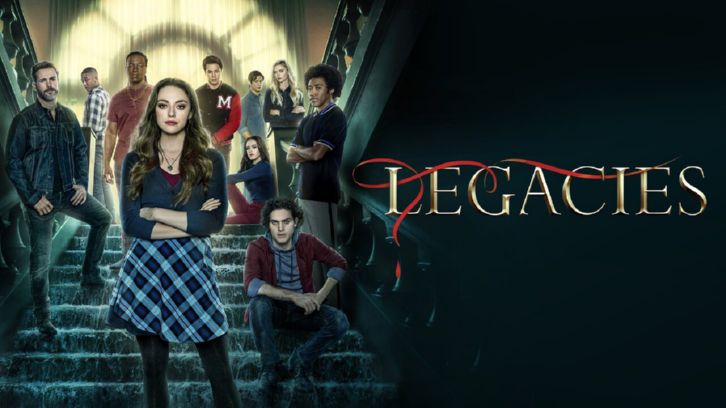 This week on Legacies, Lizzie and Hope have to give a tour of the school to new students but no one shows up. Apparently, parents think it's too dangerous for their kids (duh). Hope loses control of her magic after the 568th flashback of Landon, but bonds with a new student, Cleo. Josie starts her first day at Mystic Falls High but it feels weird without Lizzie. MG decides to stand up for himself (good for him). Landon takes on Ted inside Malivore and finds his way out… into the prison world.
Looking on the bright side: So, I'm trying something new. I decided to try and write a positive review of this show. I may be a bit rusty. Let's start with Landon. Obviously, he's not dead. And I'm not sure I fully understand the logistics of what happened to him (how did sex with Hope lead to being consumed by Malivore in a prison world?), but him being on his own does have a lot of potential. I'm not gonna lie, when I saw Ted within the first minute of the show, I nearly threw something at the tv. But he does seem quite stuck where he is, hopefully never to be seen again. Landon is on his own now in the prison world, without any powers. We've learned in the past that it should be pretty much impossible for him to get out of the prison world on his own. I'm gonna assume he'll somehow find a way, but I wouldn't be surprised if it takes him a few episodes to get back to the real world. This means we might not see a whole lot of him (which would be refreshing but is probably wishful thinking).
At least someone is paying attention: Technically, I'm against bringing in new characters when the current ones barely get any development, but I am glad to see that at least someone is concerned about Hope's mental state. I'm not sure how much time has passed since the previous episode, but it can't have been that much. Yet, while Hope is still grieving, everyone else seems just fine. And no one seems particularly concerned about Hope not being in control of her powers or the fact that she can't look at a room without seeing her supposedly dead boyfriend. Also, why didn't they send her home to New Orleans during the break? A change of scenery might have helped. But Cleo, a total stranger, seems to be able to get Hope to open up. Which makes me think that no one has really put in that much effort. Either way, I'm already a fan of the new girl. It also helps that Danielle has chemistry with literally everyone.
I feel nothing: Speaking of chemistry. I'm not sure it was a smart idea to throw another love interest at Josie when the previous one only just left. I don't know if it was just too much too soon, or if it's the character but I feel nothing for Josie and Finch. Honestly, even the friendship between Ethan and Josie (whom I do not want to get together) has more chemistry.
Still the queen: Before this week's episode aired, it was announced that there would be a mention of Penelope. Personally, I at least expected the mention to come from Josie or for Josie to have been in the scene, so I was a bit let down. But still, Penelope was trending online during the episode. She's been gone for more than a season, yet she's still one of the most popular characters on the show. Any chance we'll see her again? She was one of my favorites and I miss her a lot. She had a great dynamic with the main characters. Plus I think it would make A LOT of fans very happy. And they can use some happy fans right about now.
I'm worried: I'm really proud of Lizzie for being so supportive of Josie. But I'm a bit worried about her. She doesn't look happy. And I noticed it earlier in the season as well. And it's not just about MG. She always relies very heavily on the people around her. I don't think we've seen her on her own very often. I'd love to see a Lizzie-centric episode.
Listen to the German guy, he's making sense: I'm not entirely sure what the point was of confronting Alaric with someone from his vampire hunting days if the writers are not going to follow through on it. I expected to see some kind of scene where Alaric reflects on what happened, but nothing. And the kid had some good points. What is a former vampire hunter doing running a school for the supernatural? Running it into the ground, no less. They now have only 30 students, no teachers, no curriculum as far as I can tell (not that we've ever seen one) … Where is Caroline in all of this? Isn't it her school too? I'm sorry, Caroline Forbes would never let this happen to something she is responsible for. I vote for moving the show to Belgium (and not just cause I live there) to Penelope's new school that is clearly being run a lot better. And it's in a castle!
Best quotes: Hope: "I'm in, for whatever crazy thing you were about to say." Lizzie: "But I had a whole speech."
Lizzie: "How long has that letter been sitting on your desk?" Alaric: "That's not important."
German guy: "You're not fit to be the headmaster here."
That's it for this week. Check in again next week for an all-new review and let me know in the comments what you thought of this week's episode.
Please be respectful in the comments, any unnecessary rudeness isn't welcome.