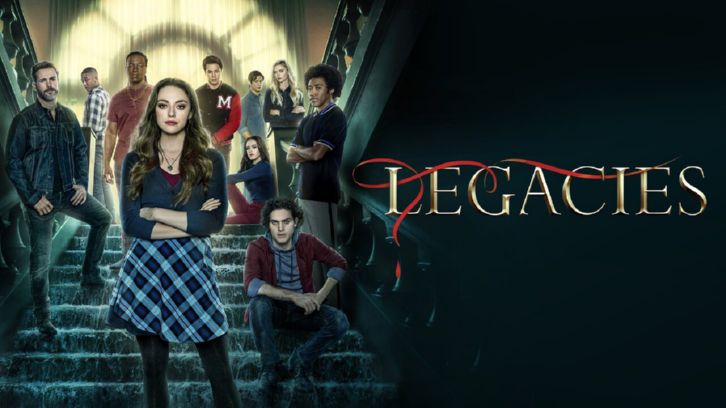 This week on Legacies, MG gets shunned for hiding the ascendant. Lizzie refuses to help Hope with her dangerous plan to bring Landon back, so Hope ropes Josie into the plan instead. Lizzie betrays MG to save Josie from Hope and nearly gets consumed by dark magic along with her. Elsewhere, Kaleb and Cleo save the day by summoning a monster and signing to it. It brings Landon back who stops Hope just in time. MG wants to leave the school.
Disclaimer: As you may have noticed, I haven't been writing the most positive reviews lately. Yes, I've been incredibly disappointed by the writing direction this season and have grown frustrated by the lingering elements (Malivore, monsters,…) When I write a review, I'm gonna express those feelings. There's no point in writing a happy review if I don't believe it. And it seems to me that most of the fandom is as frustrated as me. Why am I still here? Why haven't I quit yet? I don't actually hate the show. There's so much potential here and it infuriates me that it goes untapped. The characters and the relationships (platonic and romantic) are the reasons I'm still here. That said, I have been considering the possibility of no longer reviewing this show next season if it keeps up like this. It's not bringing me joy anymore.
MPV: I'm gonna start this review with the best part of this episode and that was MG. I know he's been standing up for himself more lately, but when he started saying no to everything, I didn't really take him seriously. This week, though, I took notice. He got a lot of hate that was undeserved. Half the people hating him probably didn't even know what was going on. And I still believe he was right to do what he did (maybe not the lying part, but still). After all the trouble they went through to get rid of Malivore and the monsters, all it cost them, the risk of him coming back was too big. At a certain point, you have to ask yourself, is saving the life of one person worth risking everyone else's? But aside from that, despite everyone hating him, he stayed calm, explained his point of view, even apologized. And then Lizzie betrayed him as well (granted, she didn't want to, but that doesn't make it hurt less). It's no wonder he wants to leave the school. This was supposed to be a place where supernatural kids could come to learn in a safe place. But it hasn't been safe for them in a while.
Escalating: I've been saying for weeks now that the situation with Hope has been getting out of control, but I sure as hell wasn't expecting it to go this far. Let's first address the fact that people are actually terrified of her right now. I noticed it last week with Lizzie and MG. I noticed it this week again with Lizzie. She betrayed MG because she was scared that Hope would get Josie killed. That's where we're at right now. Hope tricked Josie, then tried to get her to take her magic back despite Josie not really wanting to. And when they tried to open the prison world, and the dark magic was leaking out, she didn't stop. Josie yelled that it would get both her and Lizzie killed, and she still didn't stop. So am I to assume that she was going to let Lizzie die just to get Landon back? You know, she actually reminded me of Klaus in 2x21 of The Originals this week. I hated him in that episode. And I'm not against Hope going dark, not even in the slightest. But I fear that the writers are just going to gloss over this again next week. There will be some forced teamwork, an apology and all will be forgiven. I would love a Dark!Hope storyline, but I don't think this writing team is capable of giving us a good one.
Consequences: So, Alaric cleared Josie of dark magic but what about Hope and Lizzie? Those lines got all the way up to their faces. Am I just supposed to believe that will have no consequences, it's all just gone? But that would be a shame, it could make for a really great storyline for both of them. For Hope, it could be the thing the pushes her completely over the edge. For Lizzie, it could be a chance to showcase her strength (because I actually think she would be able to handle that dark magic really well).
Maybe I'm getting paranoid: For about half the episode, I expected Cleo to turn out to have an ulterior motive. I'm not entirely sure why. There were a few moments where her reactions seemed off. Maybe I was reading too much into it. Or maybe I don't understand why anyone would join a school where the tour guide nearly killed them. But I have been browsing social media a bit and there is another theory that I do find credible. That bone warrior guy, it's struck me as odd that he was the only one we saw in the prison world this week. My first guess was that it's Landon adapting to the rough terrain. But what if it is actually Landon? Then who is the guy with Hope? Am I crazy here?
Let the guessing begin: So, Josie is going to be staying with a friend of Alaric and Caroline's. Why so vague? Tell us who it is. Is it someone we know? Or is it a random stranger who we'll never actually see on screen? What do you guys think?
Best quotes: Hope: "I have a feeling dealing with one Saltzman sister is gonna be hard enough today." Lizzie: "That's the spirit."
Lizzie: "And if you hadn't moped off from that meeting, you'd know that I stuck up for you." MG: "Seriously?" Lizzie: "I know. It was pretty epic."
That's it for this week. Check in again next week for an all-new review and let me know in the comments what you thought of this week's episode.
Please be respectful in the comments, any unnecessary rudeness isn't welcome.