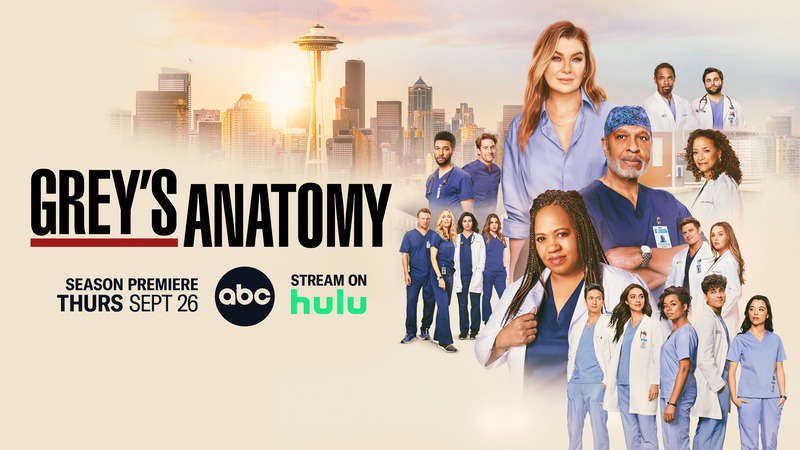 Episodes 8 & 9 continued the dark ways of season 17, catering to the melancholy of the pandemic the show explored grief and depression in the times of Covid while keeping Mer's behind beached. So let's dig into the events of the last two weeks.
It's All Too Much
Episode 8 of Grey's current season handled all the backlash of the midseason premiere. The episode directed by executive producer Debbie Allen, was written by Adrian Wenner. The episode examed the different ways of mourning and dug deep into the fresh wounds of our favorite surgeons.
Richard and Bailey struggled the hardest with DeLuca's passing and the two of them had a couple of frontal crashes during this outing. Bailey couldn't make peace with the way DeLuca died and searched for some reason. Some reason to fix all that's wrong with this messed up world that made an outstanding man lose his life by hunting down sex traffickers. This hunt for the impossible made her question Hunt and Teddy, and Richard wasn't taking it. Richard during this outing was on a philosophical hunt for the reason behind DeLuca's death and motivation for fighting another day. During these times I appreciate Richard's calm nature and the peace James Pickens Jr can transfer to the screen. Not only he sees the light but he is the light that will illuminate the darkest times with love and strength to lead his people to the light. Schmidt's speech to Bailey was another home run during this episode. Schmidt just like Richard is this bundle of hope and light that against all odds fights through the darkest moments. Schmidt reminding Bailey that her strength is what will help others grief easier was just wonderfully scripted and executed.
In a different corner of GSMH, I was asking myself why Jaicy Elliot's Helm wasn't a series regular. Helm is just a so well-rounded character with all of her flaws, Lol-moments, and her sincerity. The way Jaicy executed the pain of the pandemic and DeLuca's death during her few scenes in this episode was just so compelling. Her scene with Maggie where she talked about the need for intimacy was really captivating and resonated so well with me. Maggie and Winston's scenes this week were very sweet as well. I am supportive of this couple and can't wait for more of them this season.
DeLuca's memorial was just perfect. Major shout out to Stefania Spampinato, her performance during this outing felt just so sincere. The moment I saw her on the screen I started crying, you really could feel how heartbroken she was and how grateful she was for the love and appreciation the workers of GSMH had for her and Andrew. The memorial was just perfect, Debbie Allen did an exquisite job in captivating all the pain and love during this scene. I really appreciate her as an actress and a director as she definitely always brings her A-game.
Meredith in the meantime was still trapped in her idyllic Limbo. This time we got another glimpse of Derek and gosh, it was just that damn good. The chemistry between the two former leads is still so breathtaking. It was like from the best drama-free times, carefree interactions. Beach Derek teasing Mer and their playful talk about Elis and her similarities to Mer. All this interaction was there just to show how all these beach interactions are part of Mer's subconscious. She knew about Zola's letters, she sees herself in Elis and all this talk was a painful reminder that this is just a "dream". On the other hand, I am growing a bigger fan of Hayes. Despite his thicc layered Irish accent, Hayes is turning into a solid character and Mer's biggest Fanboy in GSMH. The way he talks about Mer and her kids is just so adorable. I could see him as Endgame material.
Other tidbits:
- The scenes between Jo, Linc, and Jackson were awkward AF. Like they could've shown them grieving but not make it awkward.
- Amelia and Linc's fight was also very awkward. Not a fan of that type of writing for them.
- Teddy seeing DeLuca everywhere was quite creepy it was a great way of amplifying her grief and pain and also a good step into the next episode.
In My Life
Episode 9 of season 17 was all about Teodora Grace Altman. The deep dive into all of Teddy's questionable choices was directed by fellow series regular Kevin McKidd and written by Tameson Duffy.
The highly emotional twisty and manipulative outing revisited some of Teddy's most painful memories and fears. Transitioning from so many stages of Teddy's life and parts of her life the complicated deep dive into Teddy's psyche let her rethink all the decisions she made and the ways she could fix her life and the life of all the people she hurt.
Once again Kim Raver made me fall in love with her and her Grey's Anatomy character all over again. Her performance in this episode was layered with so much strength and power. Seeing and feeling all these variations of Teddy through time and space showed just how complex and amazing she is. Her continuous attempts to fix her life and choices were simultaneously powerful and heartbreaking. From trying to save DeLuca, to saving her relationship with Owen and eventually trying to save Allison, Teddy in her subconscious had to make peace with the fact she couldn't save them no matter what she did or didn't do or say or didn't say.
Teddy was broken the day Allison died and no one ever tried to fix her. Teddy was always in control, in power, not allowing weakness to the surface so no one ever offered help. Teddy's PTSD is so deeply routed that self-sabotage and self-doubt were mechanisms that she used to dig herself into a corner.
Using Meredith at this point of Teddy's journey was very smart. Mer herself was a person who doubted herself a lot and sabotaged herself with stupid decisions and reckless escapes. Using her to give show Teddy the light at the end of the tunnel was a smart writing choice and Ellen's Grim reaper energy resonated with Teddy's emotional torture perfectly. Teddy's journey had an abrupt end as 'Mer's" words struck a hard cord and brought her from the abyss she was hanging from. Teddy's road definitely isn't over yet but it was the right step from getting the shackles of the past off of her.
Once again Kevin McKidd's Owen peeved the hell out of me. I doubt any TV character strikes the cord so hard with me like Owen. His self-absorbed nature and tone of voice just enrage me week in week out. He is an extremely exhausting character and his energy is just running my watching experience. After 12-13 years you would think I would get over it, but I really am not. On the other hand, Kevin McKidd did an outstanding show directing this episode. The way he divulged this script and made this episode his own was simply perfect. Amelia busting his ass for all his hate towards Teddy was simply amazing. Catherine was just so good this weak, sincere, unapologetic just like we love our girl, Amelia. I hope she rips Owen a new one every time she meets him, cause it felt so damn good watching her do it.
That is a wrap on my side dear GA fans. What are your thoughts on the two most recent Grey's Anatomy episodes? Share your thoughts in the comment section below and let us discuss the events of 7x08 and 7x09. Next week features one very unexpected return, to get spoiled about the return click HERE. Till next week. . .