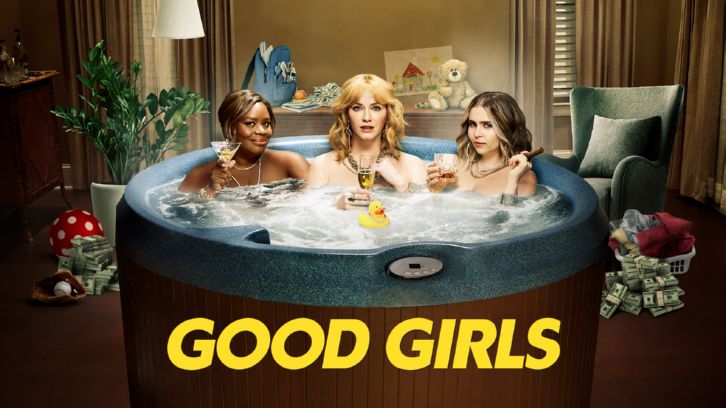 After watching her husband get arrested in last week's episode, Beth has been trying desperately to find a way to get him out of jail. She promises Dean that she will find a way to get him off the hook. Dean, however is really only interested in one thing: was Rio involved in Boland Bubbles and the entire scheme going on behind its scenes? He probably already knows the answer but he needs Beth to confirm it. So she does. There is no point in denying it any longer. Dean feels betrayed. His disappointment is not about his wife's many illegal activities it is almost solely about the perpetual presence of Rio in their lives. Yet again the criminal has pulled the strings in the background without Dean even noticing. He has not only slept with his wife and tried to kill him but now he has also taken away his new business and, ultimately his freedom. Beth sure is anything but innocent but the root of it all was and still is Rio.

Whilst Beth, Annie and Ruby are looking for ways to get Dean out of jail Agent Donnegan blackmails her boss to get five minutes alone with Dean. She tries to convince him to turn on his wife but her plan fails. Even after everything Beth has done to him, Dean still is ready to take the fall for her. This episode includes some flashbacks of how Dean and Beth met in high school and how hard he tried to make her like him. They were such clueless, innocent, adorable fools back then. It was rather hard to watching knowing where it all ends.
With Ruby and Annie's help Beth finally comes up with a plan that could get Dean released. They simply need to find another person who willingly takes the blame - they need a fall guy. Eric, an employee of Boland Bubbles not only seems like the perfect candidate, he is also a very willing participant. He lives with his roommate and aunt and has no space nor time to himself. He wouldn't mind a few years in prison, especially since the ladies promised him some serious cash once he gets out. The only thing the three friends still need to implement their plan is a big amount of single one dollar bills. This is where Stan comes into play. It really hurts one's heart to see how sweet, genuine Stan gets dragged into the "good" girls' mess yet again. But there really is nothing he wouldn't do to protect Ruby and the kids. Anything to keep the family intact. Apart from that he owes Beth. After all, she helped get him out of jail too. So he steals the money from the club and hands it over to his wife.
Finally owning enough one dollar bills, the ladies start to print money again. This time however, their goal is to make money that is obviously fake. Eric is supposed to deposit it in the bank and get caught. This is their grand plan to get Dean released. However, it turns out getting Eric arrested is way more complicated than expected. The bank manager calls the cops on him but instead of arresting Eric they take the fake cash and drive off. What?! Did the police seriously just steal the fake money from him? While this seems very unrealistic it sort of fits the insanity of the entire storyline.
Eric is actually disappointed that he was not taken into custody. He has been invisible his entire life. Even now, when he was committing a crime, no one paid him any attention. Dean was the first person he met who ever treated him like a real person. This is one of the reasons why he is willing to take the fall for him. To him Dean is one of the best people he knows.

Glum that her plan failed, Beth takes the kids to the park where she runs into Agent Donnegan. They both share some truths:


Donnegan: "I don't really teach boot camp."
Beth: "I don't really sell hot tubs."
Donnegan: "Yeah I know."
Beth: "It all started about a year ago. I robbed a grocery store. It was supposed to be one and done."
Donnegan tells her that none of this matters anymore since Dean has plead guilty. That Beth did not expect. He does not seem to be interested in her help anymore but simultanisly he continues to protect her.
Back at her house Beth finds Fitzpatrick, the hitman, in her kitchen. He still wants her to go to Fiji with him. Beth is fed up. He has been stalling and playing around long enough. To finally get things into motion she decides that she is going to sleep with him. "Get naked, come on! Let's go!", she orders as she gets rid of her panties. She needs Rio gone and if she has to pay with sex for Fitzpatrick to get the job done then so be it. She is done waiting, she cannot have Rio rule her life any longer. Fitzpatrick, though, seems to actually have feelings for her. He is not interested in a one time thing. He never wanted sex as payment.


Fitzpatrick: "I thought you wanted more."
Beth: "From you?"
Fitzpatrick: "From your life."
Beth: "Oh and I need a man to do that?"
Fitzpatrick: "What do you want?"
Beth: "To be nothing like you."
Fitzpatrick: "A little late for that."
Beth: "Why?
Fitzpatrick: "You hired me. Remember?
Beth: "Then why don't you pull up your pants like a big boy and do your job?"

Fitzpatrick then promises to do the job once he gets paid. He was under the impression that Beth was interested in him as well but he was obviously mistaken.
It is probably naive to hope that he will finally get his sniper rifle and remove Rio from the three women's lives permanently, right? While I really want the ladies to have an easier, less dangerous life Rio is a big part of the show. His absence would change the dynamics of the series, even when another villan gets introduced. And are we really ready to give up on all these Beth and Rio scenes? I don't think so.

Toward the end of the episode we circle back to Stan again. His boss from the night club has gotten suspicious and is now forcing him to be his debt-collector. He knows exactly that Stan is not the kind of guy who would ever want to hurt someone on purpose. As a punishment Stan has to do whatever is necessary to get the person owing the shady club owener money to pay. Violence included. My heart seriously broke for Stan in the moment.
The episode closes with Agent Donnegan finding the family photo of the Bolands on the back of which Beth has written a letter for Dean on in the last episode. Can Agent Donnegan use it as proof that Beth is actually behind everything?

What did you think of the episode? Do you think the Feds will have Beth arrested? Let's talk about it in the comments below!