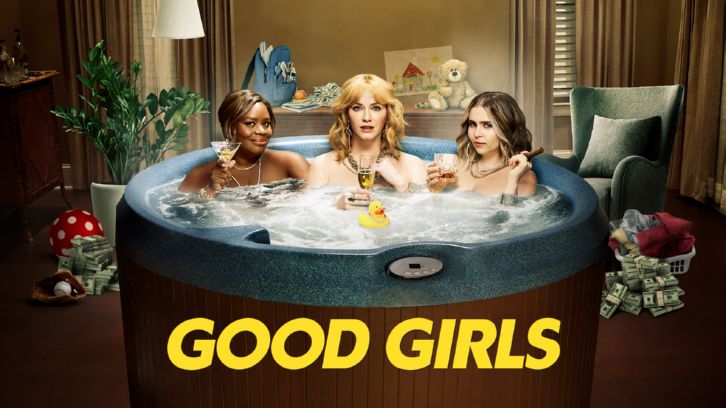 In last Sunday's episode a big, new business opportunity has arisen for Boland Bubbles. Dean is thrilled and ready to sign the contract right away. Beth, however is anything but pleased when the potential business partner insists on seeing the company's books. At this point the viewers already know that this entire offer is a big sham set up by the Feds. It is somewhat surprising that neither Dean nor Beth suspect that there is something shady going on. After all, they only just opened their business. It is unusual to get such an offer so early on. With their criminal record one would think they would be much more paranoid.I sure would be!

Beth tries to get the firm's books in order by spending a serious amount of money to compensate the increased cash flow. In the meantime, Dean goes behind his wife's back and hands over the books to his alleged business partner. And once again one can only shake their head at Dean's naivety. Did he really think think there is no actual reason why Beth refuses to give him the books? Don't you remember the last few seasons, Mr Boland?

Ben:
"You make fun of everyone but no life's a bigger joke than yours"
In the meantime the Hills get a surprise visit from Sara's donor family, Jenny and Carl. Misfortune has found them yet again. They lost their apartment and therefore decided to move to Detroit. Ruby and Stan are worried the family expects more money from them. Carl and Jenny keep hanging out at their place and incessantly hint at how nice a life the Hills have compared to them. Oh if they only knew!

Your life is not our fault. We don't owe you a thing!
" Ruby exclaims at some point. Turns out, though she got it all wrong. The couple actually wants to offer the Hills some money. They decided they want to pay off the car Ruby and Stan gifted them a few months ago. Well, that was unexpected! I already had my money on them being moved in with the Hills by the end of the episode.
When Stan has one of his police friends run a background check on Kevin and Jenny, he finds out that Sara did not actually receive their child's kidney. Jenny and Kevin's daughter died the day after Sara got the transplant. She can't be the donor. Apparently, there was a mix up. Ruby and Stan decide not to tell them anything about it. The couple has already lost enough.
The episode ends with Beth and Dean getting startled out of their sleep by incessant knocking at their front door. The Feds came to arrest Beth. Or so she thought. To her surprise they handcuff Dean.
Agent Phoebe Donnegan has spent the entire episode trying to convince her boss that they are after the wrong guy. However, she is not taken seriously, not even when she finds proof that points toward Beth being the person they are looking for. Even though the majority of the audience wants Beth, Annie and Ruby to get away with it all, it was infuriating to see how Donnegan gets ignored by all her male colleagues. There sure are many women out there who know exactly what that feels like #sexism

What did you think of the episode? Do you think Dean is going to sell out Beth? Share your thoughts in the comments below!