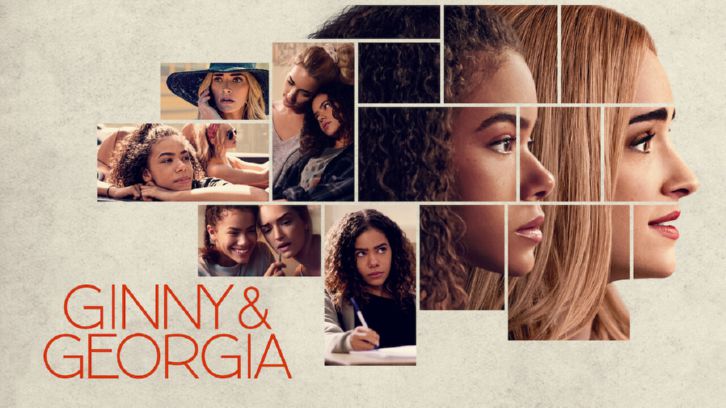 Created by Sarah Lampert, Ginny & Georgia dropped on Netflix on February 24th. It's one of those shows that appears on the platform without much noise but still manages to get people talking about it. It's Gilmore Girls with a dash of Desperate Housewives, and it's definitely worth a watch. Let's review.
Ginny & Georgia tells the story of Ginny Miller (Antonia Gentry), a fifteen year-old teenager who moves to Wellsbury, Massachusetts with her flamboyant mother Georgia (Brianne Howey) and her little brother Austin (Diesel La Torraca). Ginny often feels like she is more mature than her mother and the first season of the show explores the relationship between mother and daughter as they try to build a new life in a new town.
Ever since the show came out, a lot of comparisons have been made between it and Gilmore Girls. The show itself addresses that comparison in the very first episode when Georgia tells her daughter "We are like the Gilmore Girls, but with bigger boobs." And sure, to some extend, they are a lot of similarities between the two shows. They are both set in the northeast of the United States, they both focus on a mother-daughter relationship with a mother who was a teen mom, they both have a coffee shop owner who has a crush on the mother, they both feature a teenager who doesn't have many friends and is experiencing her first relationships, etc. But Ginny & Georgia is also a completely different show. It's Gilmore Girls unhinged, it's modern, and it's edgy.
Ginny is no Rory Gilmore. Ginny is a mixed-race young woman who is on quest to find who she is and where she belongs. Throughout the season, we see her changing as she is trying to fit into her new life, and tries to find her voice. At first, she seems a bit like she wants to blend in, and not stand out too much. But if she hides under her hoodie initially, that does not last, because Ginny doesn't want to blend in, she wants to belong. It starts with her standing up to her ignorant teacher in class, and keeps evolving as she makes friends, dates a boy, and starts feeling at home in Wellsbury. Changes are noticeable through her clothes, her makeup, her hair, and her demeanor. As the season goes on, Ginny looks more like her friends Maxine, Abby and Norah (
Sara Waisglass
,
Katie Douglas
and
Chelsea Clark
) than she looks like the girl who first walked into her new high school. The more Ginny starts to feel like she belongs in this new life, the more she transforms. Of course, all that reverses back at the end of the season when, after learning chocking news about her mother and falling out with her friends, Ginny realizes that who she's been trying to be isn't who she is and decides to go back to her old self before leaving Wellsbury, and her mother, behind.
Indeed, if there is one thing that gets Ginny really mad, it's her mother Georgia. To be fair, from a teenage point of view, Georgia is a handful. She is described as a free-spirit, but really Georgia is much more explosive than that. She is a wild card, and someone who's faced enough troubles to leave the reins of her life to anyone but herself. She's been on her own since she was a teenager, and she always has a plan. A question remains throughout the season: is Georgia a bad person? We know from the very first episode that she is a murderer, and we find out that she has done a series of questionable things throughout her life in order to survive. But she's also been through quite a lot of trauma. It's no wonder she has secrets, and it therefore is no surprise that those would be a source of upset for Ginny. No one wants to find out that a whole side of their family has been hidden from them, and no little boy should have to find a gun in his mother's closet along with letters she never sent to his father. No, in all fairness to Ginny's feelings, her mother is indeed a lot. Their relationship is complicated and the show actually does a great job of showing the struggles of adolescence both for teens and their parents.
Ginny & Georgia
isn't just about a mother-daughter relationship though, it's about all kinds of relationships. Among those, of course, there are love stories. The show actually has various side characters who are all rather solid. While Georgia develops her own set of love interests throughout the season (Mayor Paul, Ginny's father Zion, Joe the coffee shop guy -
Scott Porter
,
Nathan Mitchell
and
Raymond Ablack
), Ginny is torn between two boys. There's Hunter (
Mason Temple
), the "perfect on paper" guy who sings and tap-dances for her, and then there is Marcus (
Felix Mallard
), the guy next door who she is ineluctably attracted to. Marcus is actually one of the most touching characters in the show because, although he makes a series of misguided choices (he gets a pass though, the kid is only 15 after all), he embodies a vulnerability that isn't often portrayed when it comes to teenage boy characters. Plus,
Felix Mallard
does a wonderful job bringing Marcus to life and conveying that vulnerability. Of course, Marcus isn't perfect like Hunter, but that's what makes him so endearing. He has been through a lot and sometimes forgets that it doesn't give him the right to treat others badly, but in his heart Marcus is a good guy. In the end, it's actually less clear whether or not Ginny is good for him than the other way around.
There's a lot of drama in
Ginny & Georgia
, and when it comes to Georgia's life, it's at time
Desperate Housewives
-level kind of drama. Like when we see the bickering between Georgia and Cynthia (
Sabrina Grdevich
), or when a Private Investigator comes sniffing around Georgia's past to prevent her from getting her dead husband's inheritance. Oh yes, lots and lots of (sometimes over the top) drama, but that's part of the show's charm! And what also gives the show strength is that it does not shy away from tackling some tough subjects, and manages to do it without coming across as opportunistic, and going over the top. There's for instance the issue of race, and how Ginny struggles with her mixed-race identity, unsure where she fits in a world still deeply steeped in racism and stereotypes. There is also the questions of body image, self-harm, mental health and more, which the show navigates fairly well, without ever using these themes gratuitously. It's always about illustrating the arrays of struggles teenagers face nowadays, and never used for shock-value.
In the end the first season of Ginny & Georgia is a truly enjoyable journey where the characters become more and more compelling and where the story ends on a promising note for a second season. Indeed, lots of storylines remain open at the end of this first season and it is clear the writers have a good idea of where they want to take the show next (for instance, it would not be surprising to see season 2 explore the story around Austin's dad more deeply). Netflix has yet to officially renew the show for another season, but if they do we surely will be watching.