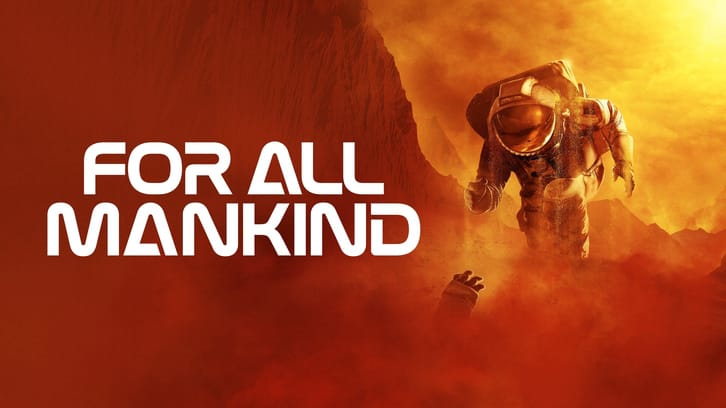 For All Mankind hit the ground running with its premiere last week but one of the main obstacles to the premiere succeeding was the lack of character focus; thankfully The Bleeding Edge almost seems to realise that the lack of character focus is a key issue as it brings pretty much all of our major players back down to Earth for a crash-course in readapting to the environment that left them behind. A new generation is coming up around these characters and they're getting left behind, dealing with the ramifications of being the settlers: getting up there before Jamestown is colonised. They are part of history now, but every one would rather be living in it.

Molly starts to have troubles readjusting to Earth's atmosphere with the threat of cancer looming over her head from the radiation burns, but that still doesn't change the fact that she's good enough to school Ed at golf despite his practicing in his office. This is going to be a long-term thing for Molly going forward, and the show makes that very clear that long-term things seem to be very much weighing on everybody's mind across the board. Tracy and Gordo, whilst having parted, put on a brave face together in front of the kids – Gordo's family meal that he shares to welcome his son back from his time in the Navy is wholesome, sweet and really well shot – but unfortunately, it's the calm before the storm as what follows is Gordo spiralling out of control to the point where Ed is called into bring him home and make sure his friend gets out of it okay. Ed in turn – is annoyed about Tracy for announcing the engagement on national television rather than telling Gordo, but Tracy reminds Ed that he's not perfect, of course – and he has his own issues that he needs to deal with. Bringing these characters back down to Earth has almost led to a different, darker season two that has lost none of its cutting edge, the storyline so far is shaping up to be almost entirely different. If Season 1 was about exploring the frontier, Season 2 looks at the effects of that exploration on the characters in their own different ways.

The characters seem bored with being back on Earth – no matter how much Ed tries to hide it, and they, like the audience, knows that everyone would be far better off back in space fulfilling their dream. Some characters take this better than others - Molly takes this badly, lashing out on Wubbo for giving up and essentially quitting to live out the rest of his days in the Netherlands. But the problem is that although the show knows that its characters would rather be back on the Moon, I don't particularly find any of the character drama that compelling: Gordo's struggles being repeated again in a different environment almost lends to a sense of repetitive nature that For All Mankind can't shake and there's several unanswered plot threads that feel completely tonally different from how they were approached in the first season – what happened with Aleida? She didn't show up at all in the first episode, and now is relegated to off-screen namedrops in episode two.

NASA are struggling with funding for the Mars mission – Paine for example brings up the idea in that an American who's popular shakes hands with a Russian cosmonaut on the moon to showcase a renewed stance of friendship between the two powers. Everything feels like it's being weaponized here around the characters for the arms of propaganda – not so different from the actual Cold War itself, and the writers have done an excellent job in recapturing that essence, even if the tonal troubles of this show feel eerily out of whack as it switches storylines back and forth across the narrative – for example, there are moments where the musical montages, this week – we get The Specials' A Message to You Rudy – almost feel like a completely different show.

Whilst For All Mankind's biggest feat remains its worldbuilding and its budget the main problem continues to be its characters. They just aren't that interesting enough – and there's too many of them with similar plot threads that the show is content with subjecting us to. But it's important to remember that the first season took a while to click into gear too – maybe, for the second time, third time's the charm here? And I do like Time Has Come Today playing over the end credits, the Ramones' cover almost makes for a welcome change given how often The Chamber Brothers' original has been used. Hopefully we get greater variety in For All Mankind's storylines next time out.

For All Mankind airs this Friday on AppleTV+.