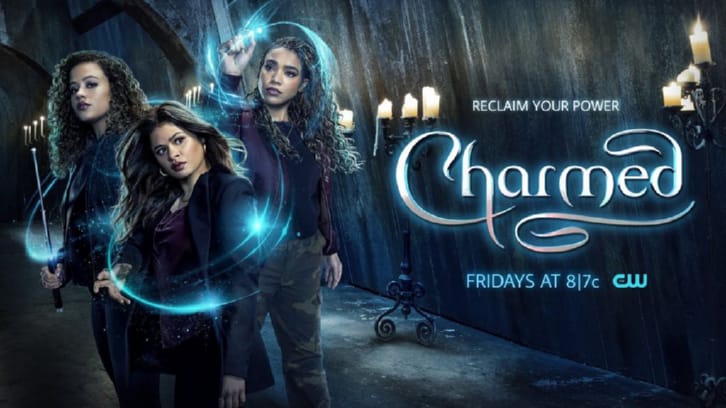 Episode 7 of Charmed's current season served us the first bottle episode of the show and damn that was an almost perfect serve. Witch way out was directed by Menhaj Huda and written by Natalia Fernandez and Carolyn Townsend.
Credit Tw @jelevision
Back when I saw the promo for this episode, I've believed that the sisters were trapped by a Monster from the Tomb of Chaos but the writers took a whole 180° and put the sisters directly into the Tomb. It was so brilliant and well-executed. The writers had such a clear idea and as the episode unfolded all the pieces came together delivering an exciting and tension-filled outing, with a good pace and great sisterly and character moments for each Charmed one.
What I am really happy about were the Macy-Mel scenes. The two characters rarely spend time alone and the writers gave me everything I wanted for such a long time. As the two sisters found themselves in the prison world they did what the two of them do best, Macy overanalyzed and carefully approached the topic and Mel went full strength ahead. Their distinct personalities of course clashed and the interaction between them sparked some really good scenes and underlying sisterly bonding. As someone who has a sibling that is the complete opposite of myself I completely resonated with the bickering between them and how they found common ground through their sisterly bond.
While Macy's personal development wasn't so much forefront this episode, we did see how she is struggling against Shea Corporation and how passionate she is. Safe Space wasn't something she wanted but she saw the bigger picture and wasn't backing down from it. Her taking a piece of Mel's attitude and strong-arm the Shea group into giving her the legal clinic was so well executed. It resonated with the events of the episode so well.
Mel's journey in this episode was a bit rougher than Macy's as she had to face the consequences of her "hot-head" attitude. Despite all the emotional havoc, it caused Mel, I love this Mel. So powerful, so unapologetic and Melonie Diaz is really kicking it out of the park with her performance. The micro- and macroagressions she experienced from Dean Eldon just made her so furious that she had to act. She wouldn't stand it and she went freaking viral. Mel winning this fight cause of the activism from her students was a great way to close this chapter started in episode 304 (You Can't Touch This). I do hope this isn't the end of Kevin's journey with Mel. We definitely need a lot more of him.
Sarah Jeffery's performance was just that good this episode. She was so believable in her craziness and made me laugh so hard with her facial expressions. I do have to say, the writing really supported her performance in such a great way. Mary's journey since the failed wedding with Parker is just magnificent. She really came to peace with who she wanna be and the writing supports her personal growth in a really powerful way making her the most powerful Charmed one, in my humble opinion. Seeing how smart she was thinking and how she broke these glitches one by one felt just right and good. Also found it great how they've explained Maggie's confusion. Her being separated from her sisters and entering the Tomb first, just so good. As earlier said, everything fell so well into place during the episode, it makes me just so giggly.
Other Tidbits:
- Another Major shot out to Menhaj Huda, after he did a great job in Triage (303), he once again excelled during this episode. The way he overlapped the memory scenes with the sisters watching it, the transitions and the CGI in the Tomb, it all looked perfect. We need him to direct more scenes.
- Macy running up the stairs and slowly losing against the Tomb was just a hilarious writing decision. The running and vibing were just so hilarious. Madeleine's face was just so funny.
- Harry being so calm and confident about the sisters succeeding was so sweet.
- What the fudge was that ending? What is hunting Jordan and where did it find him?
- The cast attended WonderCon this weekend, you can watch the panel by clicking on
HERE
.
That's a wrap on my side. A very good episode, but very hard to review too be honest. The eventful outing closed with an interesting cliffhanger and an intriguing promo. So what are your thoughts on the episode? Share your thoughts in the comment section below. Charmed airs it's next episode this Sunday 28th March at 9/8 Central, you can stream it the next day for free on the CW App.