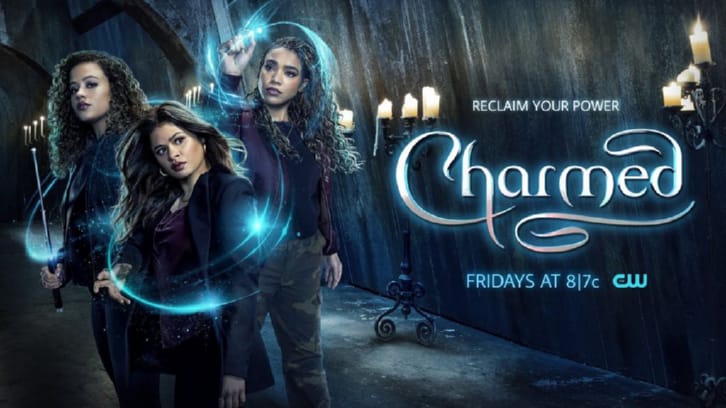 Season 3 of Charmed continued with some potent storytelling during the sixth episode of the season. Yet there the episode wasn't without its flaws. Let's dig into the good and bad of "Private Enemy No. 1", directed by James Genn and written by Aziza Aba Butain and Nikki Renna.
The standout of this episode by far was Poppy Drayton's Abigail. I am a harsh critic of Abigail's storyline, while I see a lot of potential in her potential storyline the wishy-washy writing is failing her deeply. This week Abigail enlisted Mel to help her capture the newest threat to her Demon Overlord title. Abigail being the Demon Overlord is a good plot point but the writer's room already failed to execute it properly so it should be interesting to see if they're up to it this season.
In other news, the writers were quite playful with the scenes between Mel and Abigail during this episode. The way the script was written, the way Poppy and Melonie executed those lines it was quite a bit of baiting. Nevertheless, their interactions were interesting, the banter was playful and entertaining and the exchange of looks quite hot and bothering. Them having a go at each other insecurities was painful and powerful at the same time. Poppy's interpretation of Abigail's inner fears and struggle to keep herself at the top of the Demon world, were really executed well. Abby is so busy trying to radiate strength and power it is always a pleasure seeing her being vulnerable. The revelation that Abby's demon side was the one trying to get the best of her wasn't really a surprise. But the face-off with the Charmed ones was a pleasure to watch. The bursting flames against Mel's freezing power looked just so good. I am quite intrigued to see
Abigail wasn't only good for Demonic drama, she brought the heat to Mel and Ruby's relationship as well. But it wasn't only Abby's fault that the relationship was crackling. The lack of intimacy was starting to put a dent in Melby's relationship. Mel and Ruby's relationship was not really well explored until this episode and them finally getting some spotlight this week was a good surprise. Yes, it was a bit of unnecessary angst but it played out really beautifully as they met up at the porch and enjoyed the muffins, in a very salacious way. The two of them have such a beautiful connection and their interactions are embedded in respect and love. It wasn't the healthiest way to make their relationship stronger but it did pay off in the end.

On the other side of the spectrum, Macy and Harry were following a new lead that led them to Alien conspiracist Eliot Larson (played by Chris Gauthier). The duo's interaction with Eliot was quite funny and Chris really brought out all the crazy. The interaction between Macy and Harry at the start of the episode was just so good, angst-free, natural, and just so cute. Things got messy as they once again introduced the age issue. It was so unnecessary and took away the focus from the orb, which played a big number on Harry. Kudos to Rupert Evans at this point as his crazy was petrifying and cute at the same time. Madeleine was just as good this episode, as Macy used her inner voice and fears to calm down Harry. And while Madeleine executed the scene well, it didn't make sense she didn't call Maggie to manipulate Harry's feelings.
Overall the episode had pacing issues and the way the scenes were aligned dragged the episode down. At times the breaks between stories were so long that I forgot some of them were even happening. That way Maggie's story went a bit under reader this week. I truly enjoyed the bits of Maggie we've got here and her scenes with Jordan just work so so well. Jordan is really angel-like and his positivity and sense of honesty are just a driving force. The way he continuously uplifts Maggie and gives her support to be the best version of herself, and he is looking smashing while doing so. Maggie raising her level of pettiness in her fight against Antonio was quite funny. Seeing her masterplan just falling apart like that was hilarious. The work Sarah Jeffery does with her face is just so precious. Her premonition of having a go with Antonio could be an interesting development, especially as Maggie isn't ready for any time of relationship at this point. Her talk with Jordan about how she can't go through a relationship now was really poignant and opened up all the struggles she was going through right now. I enjoy the slow burn between but let's get there before we are out of matches.
Jordan's story is slowly progressing as well. As the major internship is turning out about profit and not really helping people. Of course, that isn't a right for our golden boy. I can't wait for him to inevitably join forces with Macy and be the big shot at her free legal clinic.
Other tidbits:
- Abby was serving looks though. Even her Demon side went all Queen Bee and out of that lousy pajamas.
- Harry and Macy found out that merging the source with the tree opened the door to an ancient Demon tomb, something like Tartarus but not Tartarus and older than it I presume.
- With Maggie getting close to Antonio, he seems to be out of the Magical being rotation. Let's hope at least Kevin lights up some spark when touching the Charmed ones.
That's the wrap guys! What are your thoughts on the latest episode of Charmed? Are you enjoying the direction the writers are taking? How will Abby's demon side come into play further into the season? And when should the allergy stuff be over? Share your thoughts in the comment section below. Till next week. . .