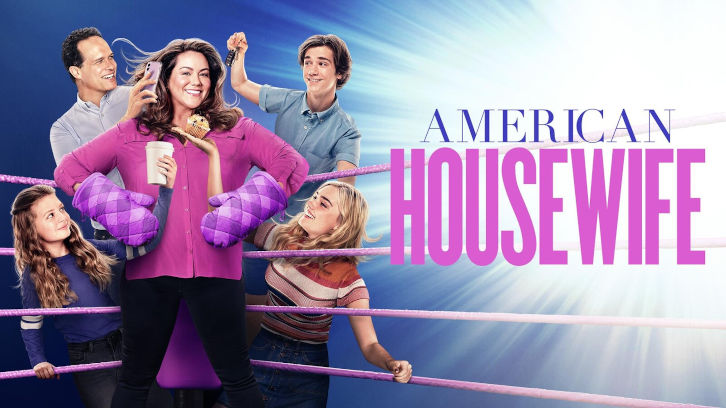 On this week's episode of American Housewife, the Otto kids each face growing pains, and not surprisingly, they all react in VERY different ways.
Anna-Kat and Franklin are busy enjoying bird-watching. Katie decides to sneak up on them and pelt them with water balloons for the vlog. And they're not happy! Katie is dumbfounded why they would rather do something boring like look at birds instead of a water-balloon fight. Anna-Kat and Franklin say both prefer safe activities like bird-watching versus dangerous activities like water-balloon fights. This leads Katie to the conclusion that kids in the world are getting too soft and cautious. She resolves to push Anna-Kat and Franklin out of their comfort zone to combat that! Oh yikes...
Oliver, meanwhile, is trying to convince his parents to get him a prescription for ADHD meds so he can focus better on his midterms. Katie and Greg, of course, are not on board and tell Oliver to get a grip. Oliver insists he needs the drugs to get the midterm grades Harvard will require. He even suggests Greg take them with him so he can better focus on his city council debate. Greg isn't having it and tells Oliver he's just going to have to make good grades on his own.
Taylor continues to spend time with her TA Andre. After admiring a sculpture on campus, he invites her to an art exhibit. This leads to a very awkward exchange where Taylor blurts out that she has a boyfriend and Andre blurts out that he does too. (Except he doesn't - he was just so embarrassed he just said the first thing that came to mind!) Andre fumbles for a way to make things less awkward and tells Taylor that she should bring along her boyfriend, which Taylor agrees to. After-all, Trip loves art (tracing stuff that is!).
At home, Oliver, Cooper, and Trevor get together to work on the Gifty app. Oliver tells Trevor that they have to get the app up and running so he'll have something impressive on his resume for Harvard. Since Katie and Greg are refusing to get him an ADHD prescription, he tells the guys he's given up on being able to get in based on just his grades. Trevor says he has a prescription for ADHD and offers to spot Oliver a few pills for midterms, which Oliver happily accepts, despite a nervous Cooper's warnings that Katie and Greg won't be happy.
Katie Facetimes with Doris to discuss her plan to make Anna-Kat and Franklin take chances and have some good old-fashioned (and slightly dangerous!) fun. "If your friend's psycho brother hasn't chased you with a BB Gun, you haven't lived!") she laments. (And having been in at least one very similar situation growing up, I'd have to agree!) So Katie tells Franklin and Anna-Kat that she's going to teach them "a few adventurous games so that [they] can have some actual fun!" She starts with trying to teach them "Shark in the Water" (more commonly known as The Floor is Lava") but Franklin won't even jump from the couch cushion to the piano bench! (He thinks he'll lose an eye and not be able to achieve his dream of becoming a tennis-line judge!)
Taylor takes Trip to her favorite sculpture, hoping he'll be as moved by it as she was. Unfortunately, he's not. (And I hate to say it, but I'm with Trip. All I see is a bunch of triangles, feelings be damned!) Taylor's obviously disappointed that Trip doesn't share her interest in art, and he's bewildered why she's disappointed.
At home, Oliver nearly gets caught with the drugs, but shoves them in a vitamin bottle before Katie walks in. (After-all, Katie "doesn't believe" in vitamins, so she'll never look there!") When Oliver says he plans on hitting Trevor up for more pills for future exams, Cooper becomes even more concerned. (He's seen what addiction did to his uncle who became hooked on collecting Fabergé eggs!) Oliver insists to a worried Cooper that since he's not rich and can't buy his way into college, this is the only option.
Cooper goes outside to fess up to Katie, who's in the middle of installing a net-less trampoline for Anna-Kat and Franklin to get some "cool" scars on. Cooper tries to tell Katie what's happening, but as soon as she hears the words "unnecessary risk," she shuts him down and continues on her rant that kids need to live a little. (Oh Katie, if only you knew just how Oliver was planning to "live a little" I don't think you'd have that attitude!)
Katie gets on the trampoline and almost immediately falls off. She's fine, minus a dislocated shoulder that she nonchalantly pops back in! (much to Franklin and Anna-Kat's horror!) Katie later finds Anna-Kat and Franklin in her room, where they've decided they're just going to sit on the floor and play a new game they've invented called "Be Safe." (It's where they sit there and do nothing!)
Upstairs, Greg goes to take vitamins...and unknowingly takes 4 times the recommended dose of Oliver's illicit meds. When Oliver and Cooper find the empty bottle and then walk in on Greg doing upside-down push-ups (Yes, that's a thing!), it doesn't take too much effort for them to figure out what happened.
With the debate at hand, the two watch in horror as Greg takes the proverbial stage and quickly has a full-on overdose meltdown - shaking hands, excessive blinking, dizziness, fighting off imaginary bees, you name it. He's tripping balls.
Katie isn't stupid and immediately looks to Oliver for an explanation. Although he plays dumb, Cooper quickly fesses up ("We accidentally drugged Dad!") Katie's furious that Oliver caused Greg to throw the debate and forces him to admit what happened as soon as they get home. Oliver admits that he thought the drugs would help him with his midterms, but he promises he will never go near them again. Greg (quite understandably) grounds him for the indefinite future!
Meanwhile, Taylor is just about to text Andre about being excited for the art show when Trip shows up to take her on a surprise date. He tells Taylor that he spent three hours staring at the statue trying to find something to say about it and all he's figured out is that it's "not sturdy enough for a human to climb on." (LOL!) He tells Taylor that he's "not doing something right, and [he's] trying to do better." Taylor realizes that even if Trip will never understand art, his kind heart more than makes up for it.
Katie finishes her vlog by reflecting on the fact that she thought she was doing Anna-Kat and Franklin a "disservice" by always letting them take the safe route, but she's not so sure since she's found out about the risks Oliver's taking. So she, Anna-Kat, and Franklin have found the middle ground - by combining "Shark in the Water" and "Be Safe" into a new game where the kids (wearing elbow pads and knee pads) carefully jump from the table onto the couch right behind it. (In case you're wondering, the new game is called "The Water's Dirty So Don't Get Wet Unless You Absolutely Have To Because Everyone Wins When You Put Safety First.") Unfortunately for Katie, she still manages to re-dislocate her shoulder in the new game!
Finally, Anna-Kat and Franklin decide to get on the trampoline (which now has a net). And surprise, surprise - Franklin can do flips so effortlessly he might as well be a professional gymnast!
Random Thoughts:
-Have the school's really banned dodgeball? That was the one PE game I was good at - mainly because no one ever noticed me so I was the last one standing!
-Katie really is letting her inner Florida (wo)man shine this episode!
-The best quote goes to Oliver when trying to convince Greg to get him the meds - "It'd be like a father-son camping trip. Instead of roasting marshmallows, we'll be taking performance-enhancing drugs!"
Were you surprised with Oliver's scheme? Is this the end of Greg's city council run? Let me know what you think below!