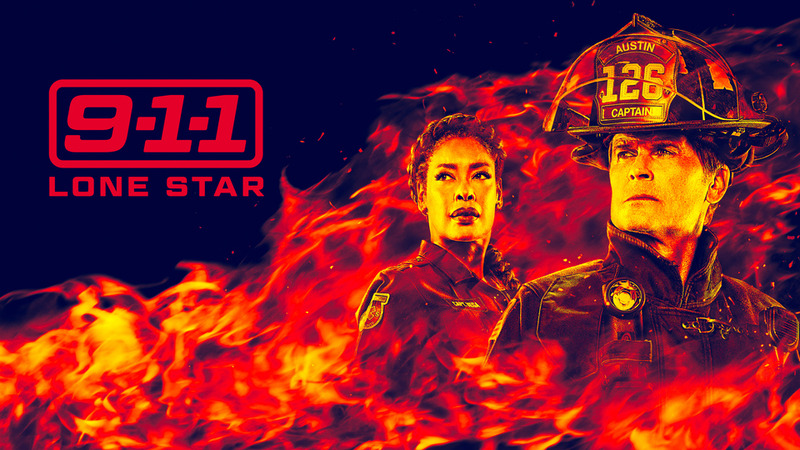 What 911: Lone Star lacks in season 2A, they almost completely make up for it in what I think is their best episode to date, "Bad Call." I'm hoping 2B continues on this trajectory, but let's talk about the last two episodes first.
In the week before the (Winter) finale, the episode, "Displaced," was a bit of a mess all around. I still, even after weeks, really don't care for the Owen/Gwyn storyline. They're both great characters, and the whole "this-baby-isn't-yours-oops" was a fun twist, but yeesh that storyline just absolutely drained me of any interest for Gwyn and Owen. There was also this insinuation that he's been talking to her about his problems, which, yeah I guess, but when is he going to act on them? When we see Owen in therapy, that will be the moment.
In "Displaced" everyone is feeling the episode's namesake, even if it's all in very different ways. Tommy is desperately missing her daughters, Nancy is feeling that TK is out of place on their team, and Owen is feeling it because of Gwyn moving in and basically redecorating.
Let's start with the latter. I knew the second Gwyn didn't want to display that bowl that it was from an ex. What I didn't know was that they were married for fifteen years. And then she just came to Texas and rekindled with Owen? Owen finally puts the pieces together towards the end and realizes that he's the rebound guy, which, yeah dude, fifteen YEARS. They find out the baby is not Owen's, he smashes it, fin.
The next episode, "Bad Call," doesn't elaborate on their situation much, and frankly, it doesn't need to. Owen got his strange heartbreak story, Gwyn was (as predicted) written and used extremely one-dimensionally, and now their story is finally complete. It felt like half of 2A was just about Owen and Gwyn.
I loved seeing Nancy, Tommy, and TK all work out their discomfort together. TK tried to help Tommy and was quite unsuccessful, but Tommy ends up figuring it out. Nancy and TK on the other hand had to really sit down and confront their emotions. The ambulance dedication for Tim, that Nancy got to put the final touches on, was beautiful and meaningful, and I loved that they didn't immediately forget about him like a lot of shows tend to do when characters die.
Now, onto "Bad Call." I absolutely loved this episode for many reasons. While nerve-wracking for everyone's families both inside and out of the office, it gives us a glimpse at the lengths Tommy will go to to do her job and protect her team. Her sacrificing herself at the end for Nancy was selfless, and I know she'd do it again a thousand times.
Tommy reacts very well under pressure when she, TK, and Nancy are taken hostage and forced to perform surgery on a bank robber to save his life. Her reaction isn't just on a call, and I think that was much different, and much more exciting, than what we've seen out of her before. This also proved to anyone still doubting Tommy's replacing of Michelle that she knows what she's doing, she's earned her spot, and she's here to stay.
Elsewhere, TK is justifiably angry about Gwyn and Owen already breaking up again. At one point, he says, "boy, you guys really gave that a chance" followed by a sentiment of "if I'm not enough to keep you together, what is?" Yikes. He's getting the news that his baby brother will be a half-brother, and it's hitting him harder than expected. He leaves home and is soon called away on this never-ending hostage call.
Eventually, after Carlos realizes that TK isn't showing up for their date, he goes to the fire station looking for him. There, he gets to disclose to Owen what's going on with him, which is rough. He had a case where a man with a bomb attached to him robbed a bank, then begged Carlos to let him go because he would be killed. Carlos let him go and then was immediately put under investigation and on leave.
That totally makes sense, and I loved seeing some Carlos-centric storytelling. After he's pulled and someone comes in to question him on the incident, we realize it's actually his father (Benito Martinez - Sons of Anarchy), which, how is that ethical?! Owen said the same thing. Apparently they're short-handed. Regardless, Carlos keeps his stance that he genuinely believed the robber was about to be blown up, and his father essentially calls him silly for it.
It's clear that Carlos and his father, Gabriel, have issues working together — as any father and son would have, honestly — and this case is absolutely no exception. Throughout the episode, Gabriel displays distaste for Carlos' career choice, and obviously, this isn't the first time he's been like this towards Carlos. As annoying and condescending as it is, this is unfortunately pretty common between families who work in the same environment.
This storyline for Carlos allowed us to see the softer side to Carlos – not too soft to do his job, but soft enough that he can be a cop with a heart. It finally gave him the individualism I think they've been craving to give him but didn't know how. Before, he was Michelle's friend, then TK's boyfriend, but now, as we're given a glimpse into who he is both in and out of uniform, we have a fully fleshed-out character. We finally get to meet Carlos Reyes.
While TK is being held hostage, everyone, of course, worries that TK is drunk or high as he just hit his one year of sobriety and was hit with a lot at once. He of course wasn't, and Carlos and Owen went out looking for him. After figuring out that they were at Charles' restaurant (because Carlos is a wonderful cop) they both race there to try and help. Carlos calls it in, is told to stay still by his father, and, being Carlos, completely ignores that.
Seeing their reunion was one of my favorite parts of this episode. They both clearly love each other so much, and we even find out that Gabriel and his wife knew that TK was Carlos' boyfriend when they first met weeks ago. I mean, duh, but also, I thought it was nice that his parents allowed him the time he needed to tell them about TK, and not making assumptions and accusations that were unfounded.
Then… the end of the episode. Good lord, y'all. I watch a lot of TV and let's be real, you always know when a crash is coming on a show you're watching. The camera never shows them from a wide-angle, the characters are always overly happy about something, and the weather is usually always bad. Judd and Grace's accident was no exception. When they drove off of that bridge and into the water I lost my mind. I am very nervous about what the writers are going to do with them, considering apparently they love to come out with shocking deaths.
What were your thoughts on the last two episodes of 911: Lone Star? Do you ship TK and Carlos? What did you think of Carlos' dad? What are your predictions for what will happen with Judd and Grace?